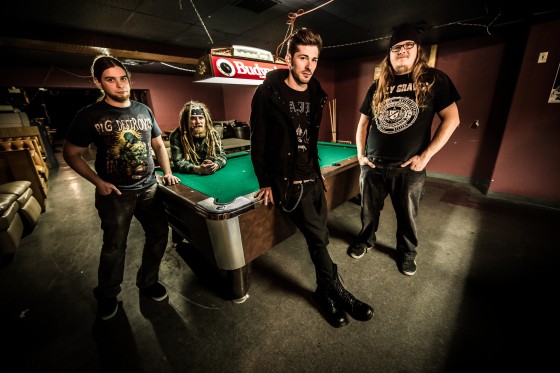 Relapse Records is preparing to release A Presentation Of Gruesome Poetics, the label's first title from Washington's THE DRIP, in just days.
THE DRIP's violent effectiveness, the intensity of their high-speed grindcore and vicious riffbeatings, easily showcase this band right alongside their brutalizing predecessors and peers including Misery Index, Rotten Sound and Nasum. Now just days in advance of its street, the entire A Presentation Of Gruesome Poetics EP is now playing at American Aftermath alongside a quick interview with the band.
Be afraid, and do it anyway… unload the EP right HERE.
In conjunction with the release of A Presentation Of Gruesome Poetics, this Saturday, April 12th, THE DRIP will tackle a hometown crowd out in full-on rage mode for the band's headlining record release party and official video shoot for a track from the EP. Subsequent gigs have the band confirmed to share the stage over the next several weeks with labelmates Fuck The Facts and Ulcerate as well as Capitalist Casualties and more, with more widespread touring to follow.
THE DRIP Live:
4/12/2014 Rays Golden Lion – Richland, WA (video shoot)
4/23/2014 The Hop – Spokane, WA w/ Fuck The Facts
5/04/2014 The Highline – Seattle, WA w/ Ulcerate
5/09/2014 The Hessian Lair – Richland, WA
5/17/2014 The Hop – Spokane, WA w/ Capitalist Casualties
Following several self-financed EPs, THE DRIP now brings their ferocious, blasting arts to the Relapse roster with the release of their label debut, A Presentation Of Gruesome Poetics. A relentless, skull-crushing, pissed off, high-energy, blast-riddled explosion of violence, the EP rips through six tracks in barely twelve minutes, the first release to be fully recorded at Audiosiege in Portland by Joel Grind (Toxic Holocaust), after which it was mastered by Brad Boatright (Tragedy, From Ashes Rise, Integrity). Relapse will release A Presentation Of Gruesome Poetics in North America on April 15th preceded by its April 11the release in Germany and Benelux and April 14th release in the UK, in digital, available HERE, and on CD and vinyl platforms, the first pressing of the wax with a B-side etching, available HERE.
https://www.facebook.com/thedripgrind
http://thedrip.bandcamp.com
http://www.relapse.com
http://relapserecords.bandcamp.com
http://www.facebook.com/RelapseRecords