THE DREAD CREW OF ODDWOOD has deployed a visual warning shot advancing their impending maiden European invasion later this month. This will be the brigade's maiden voyage across the high seas to hornswaggle the land-lubbers of the European continent with their tantalizing brew of heavy mahogany.
Continuing to plunder on behalf of Lawful Evil, THE DREAD CREW OF ODDWOOD has set their sights on European shores, and declares their reckless pillaging of several countries in the months ahead. The Lawful Evil European Tour 2017 will see the armada crossing the Atlantic with two weeks of live engagements on their battle plan. The voyage sees the band invading the Netherlands and Germany, beginning in Eibergen on November 24th and ending in Munnekezijl December 10th. The band has pulled double-duty on December 8th, confirming a TV show performance for Noardewyn Live in Holland ahead of the evening's set.
See moving pictures of THE DREAD CREW OF ODDWOOD's Captain Wolfbeard O'Brady preparing for the invasion through THIS PORTAL.
Lawful Evil is available direct from the band on CD HERE and digital HERE, or through most digital providers. See the band's "Star Wars Medley" and additional visual mayhem from Lawful Evil HERE.
THE DREAD CREW OF ODDWOOD Lawful Evil European Tour 2017:
11/24/2017 Irish Pub Home – Eibergen, NL
11/25/2017 T Beest – Goes, NL
11/26/2017 Bolwerk – Sneek, NL
12/01/2017 Freakshow – Essen, DE
12/02/2017 Das Greif – Lünen. DE
12/03/2017 Stellwerk – Hamburg, DE
12/06/2017 De Engel – Den Helder, NL
12/07/2017 Melkweg – Amsterdam. NL
12/08/2017 Noardewyn Live – Holland, NL *TV show performance
12/08/2017 Scum – Katwijk. NL
12/09/2017 De Meester – Almere, NL
12/10/2017 De Sluys – Munnekezijl, NL
Southern California-based squadron THE DREAD CREW OF ODDWOOD released their fourth full-length Lawful Evil in 2016, a rampant collection of violent shanties, delivered in the band's singular brew of all-acoustic pirate metal. Amidst critical acclaim for the album's creative explosiveness, the band issued several official videos for the album, and toured several times throughout the year, including a massive tour last year which saw them assaulting townsfolk at a wide array of clubs and Renaissance Faires across the North American map. Lawful Evil was recorded at Seahorse Sound, mixed by Aksu Hanttu (Korpiklaani, Shade Empire). and mastered by Svante Forsbäck (Korpiklaani, Dragonforce, Rammstein) at Chartmakers Audio Mastering. The record bears contributions from several guest vocalists, including Brittney Slayes (Unleash The Archers), Admiral Nobeard (Swashbuckle), and others. The cover art for the album was created by Mark Gibbons (World Of Warcraft, League Of Legends, Warhammer).
Gear Gods issued, "A fully acoustic band playing pirate music that isn't corny or too ren-fair-y – it's just badass." Angry Metal Guy commends the band as, "strong songwriters with a knack for hooks and effective time management." We Love Metal's praise-filled review includes, "The heaviness is there song after song, and although I'm not a big fan of comparing bands to one another, when it comes to THE DREAD CREW think of Dropkick Murphy's drunk; kicking the shit out of Alestorm." Toilet Ov Hell commends, "The lack of amps and electric instruments only strengthens the band's throwback sound, allowing all the instruments time to shine."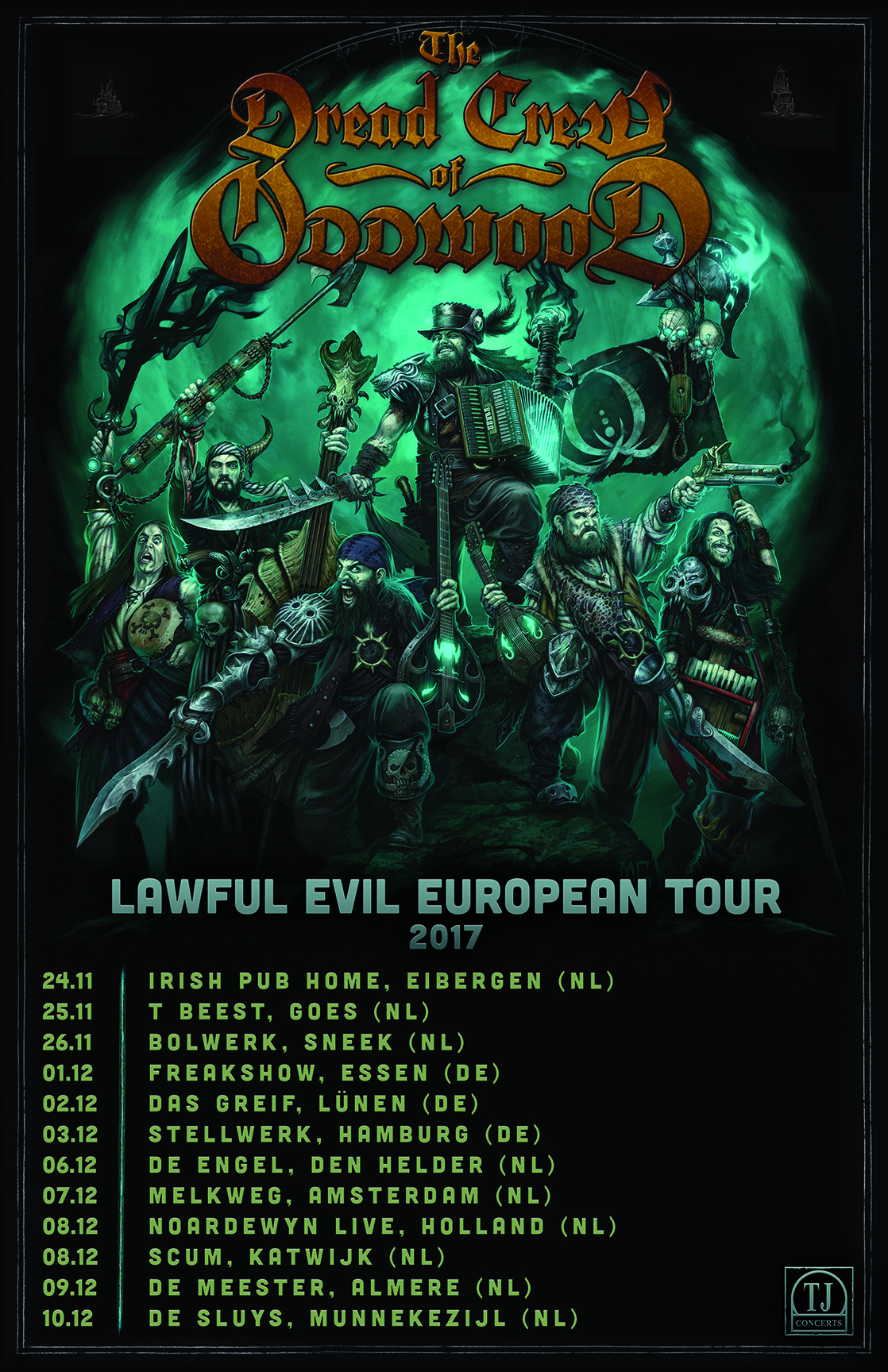 http://thedreadcrewofoddwood.com
http://www.facebook.com/thedreadcrewofoddwood
http://thedreadcrewofoddwood.bandcamp.com