[photo by Flip Cassidy]
Dispatching their high-octane heavy mahogany across the continent, Southern California acoustic pirate metal platoon THE DREAD CREW OF ODDWOOD continues their wanton North American tour, raiding the East Coast this week.
From amidst the trek, the band issues a new visual companion to their latest album, Lawful Evil, in the form of a lyric video for "Raise Your Pints." The video was created by Jaarad Nageer/Motion Graphics, and the song features guest vocals by Admiral Nobeard of Swashbuckle.
Decibel Magazine hosts the official premiere of this belligerent bar shanty; "Raise Your Pints" with THE DREAD CREW OF ODDWOOD at THIS LOCATION.
THE DREAD CREW OF ODDWOOD's Lawful Evil North American tour kicked off on August 12th. The bandits have plowed their way across the continent for the past three weeks, and are now on the East Coast, with multiple shows in the Northeastern states and Canada this week, including four shows at the New York Renaissance Faire. From there they make a pass through the Southeastern states and carve their way starboard, back across the Southern edge of the US, going back to Cali, the final show taking place in San Diego on September 30th.
Reports quartermaster Stark Cordwain from the road, "We are just past the halfway mark of our Lawful Evil Tour and we have been doing our part to drain every city of its whiskey and hot sauce. The east is next, and hot sauce goes great on pizza and poutine!"
THE DREAD CREW OF ODDWOOD Lawful Evil 2016 remaining dates:
9/08/2016 PA's Lounge – Boston, MA
9/10/2016 NYRF – Tuxedo Park, NY
9/11/2016 NYRF – Tuxedo Park, NY
9/12/2016 L'anti – Quebec, QC w/ Wilderun
9/13/2016 Katacombes – Montreal, QC w/ Wilderun
9/14/2016 Coalition – Toronto, ON w/ Wilderun
9/15/2016 House Of Targ – Ottawa, ON w/ Wilderun
9/16/2016 Tobacco Road – New York, NY w/ Wilderun
9/17/2016 NYRF – Tuxedo Park, NY
9/18/2016 NYRF – Tuxedo Park, NY
9/19/2016 The Maywood – Raleigh, NC w/ Wilderun
9/20/2016 The Haven – Orlando, FL w/ Wilderun
9/21/2016 The Orpheum – Tampa, FL w/ Wilderun
9/23/2016 Trees – Dallas, TX w/ Urizen
9/24/2016 Dirty Dog – Austin, TX
9/27/2016 Yucca Taproom – Phoenix, AZ
9/30/2016 Merrow – San Diego, CA
THE DREAD CREW OF ODDWOOD is on the warpath in support of their fourth album, Lawful Evil, which was released earlier this year. The album showcases the band's unique style of heavy mahogany, capturing their relentlessly energetic, dynamic, and entertaining sound in pristine audio, recorded at Seahorse Sound, mixed by Aksu Hanttu (Korpiklaani, Shade Empire). and mastered by Svante Forsbäck (Korpiklaani, Dragonforce, Rammstein) at Chartmakers Audio Mastering. The record bears contributions from several guest vocalists, including Brittney Slayes (Unleash The Archers), Admiral Nobeard (Swashbuckle), and others. The cover art for the album was created by Mark Gibbons (World Of Warcraft, League Of Legends, Warhammer).
View the riotous "Sulfur" video RIGHT HERE, see the "Dead Man's Medley" play-through at Gear Gods HERE, and stream Lawful Evil in its entirety HERE.
Lawful Evil is available direct from the band on CD HERE and digital HERE, as well through as most digital providers.
Gear Gods offers that Lawful Evil is, "A fully acoustic band playing pirate music that isn't corny or too ren-fair-y – it's just badass." Angry Metal Guy commends the band as, "strong songwriters with a knack for hooks and effective time management." We Love Metal's praise-filled review includes, "The heaviness is there song after song, and although I'm not a big fan of comparing bands to one another, when it comes to THE DREAD CREW think of Dropkick Murphy's drunk; kicking the shit out of Alestorm." Cryptic Rock proclaimed, "Making the audience feel as if they were in the 1500s at a pub filled with rum-drunk pirates, their music was melodic with pounding drums and catchy choruses." National Rock Review dubbed the record, "an entertainingly fun hour of some of the best folk metal you would ever hear," and Toilet Ov Hell commends, "The lack of amps and electric instruments only strengthens the band's throwback sound, allowing all the instruments time to shine."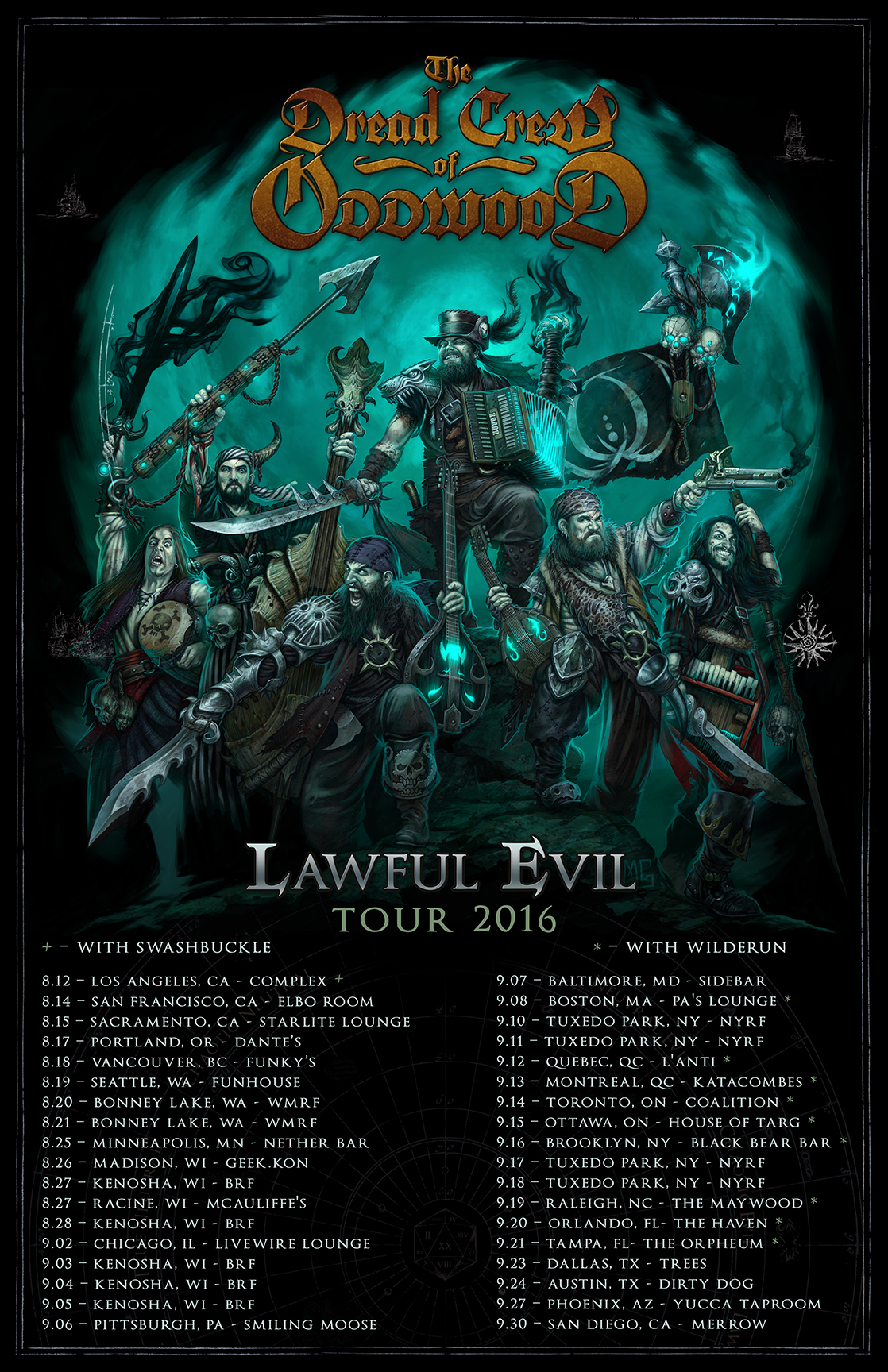 http://thedreadcrewofoddwood.com
http://www.facebook.com/thedreadcrewofoddwood
http://thedreadcrewofoddwood.bandcamp.com