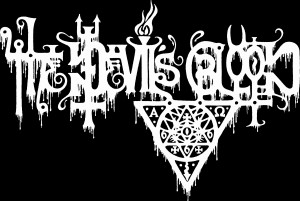 Dutch occult rock wizards THE DEVIL'S BLOOD recently completed a phenomenal new promo trailer in support of both their debut album The Time of No Time Evermore, which features live footage of the band, artistic film manipulation, and commentary from founder and guitarist SL. Check it out to fully understand their firm stance on life and death, the messages they try to convey, and definitely their beliefs in the intense music they create more as an entity than a band.
THE DEVIL'S BLOOD's debut full-length The Time of No Time Evermore was released in North America May 25th, 2010. The album showcases 54 minutes of the act's unique style of ethereal, occult, classic rock, and has received amazing fan and media reactions around the globe over the last several months.
Current tour plans for the band include a rash of European Metalfests through the rest of the Summer — including Wacken, Party San, Summerbreeze, Hole In The Sky and more — as well as a return trip back to North America this September for The Noctis IV: Thrones of War Metalfest and Conference in Calgary, Alberta. More excursions are in the summoning stages now and will be released as they are confirmed.
THE DEVIL'S BLOOD Summer Live Actions:
7/08/2010 Grindwerk-Dynamo – Zurich, Switzerland
7/09/2010 Metalcamp Slovenia – Tomlin, Slovenia
7/16/2010 Zwarte Cross – Lichtenvoorde, The Netherlands
8/07/2010 Wacken Open Air – Schleswig Holstein, Germany
8/12/2010 Party San Metal Open Air – Thüringen, Germany
8/19/2010 Summerbreeze – Dinkelsbühl, Germany
8/27/2010 Hole In The Sky Festival – Bergen, Norway
9/25/2010 Noctis IV: Thrones of War Metalfest – Calgary, Alberta, Canada
In North America, interviews with THE DEVIL'S BLOOD as well as promotional copies of The Time of No Time Evermore are available now via Earsplit. Please get in touch with all requests!
+ + + + + + + + + + + + +
"…its ten songs hearken back to the dark, folky rock lore of classic '70s groups such as Led Zeppelin, Jefferson Airplane and Heart. Witchy numbers… will have you feeling like you dropped acid and woke up at a séance." – Rue Morgue Magazine
"A refreshing blast against what is currently happening in the underground, The Devil's Blood parlay Satanic psychedelic rock into a shimmering, no-filler offering that as far as full-length debuts go, is nearly unbeatable." 9/10 – Blistering
"Her voice is haunting, captivating, maddening, like she is trying to get her minions to go shatter worlds for her. The vocals have this character of being both blissful and raging, and they sound like the blissful celebration of lunacy." 9.5/10 – The Metal Observer
"…The Time of No Time Evermore sees the Dutch band achieving what much hyped (especially in retrospect) '70s bands like Black Widow and Coven never could: a visionary blend of hard rock, psych rock, acid rock, and even art rock, dripping with obsessively detailed satanic ritual." 4/5 – All Music Guide
http://www.myspace.com/thedevilsblood
http://www.van-records.de
http://www.myspace.com/vanrecords
http://www.youtube.com/user/vanrecords