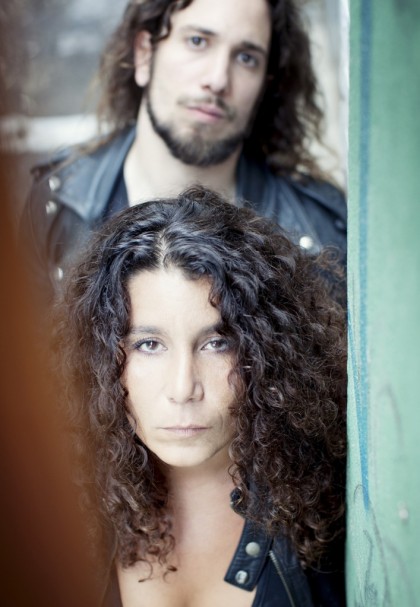 Dutch occult rockers THE DEVIL'S BLOOD are gearing up for a near month-long run of North American dates on the forthcoming Decibel Magazine Tour alongside Behemoth, Watain and In Solitude. The band will be touring in support of The Thousandfold Epicentre, released earlier this year via Metal Blade Records.
Comments founder and band leader SL: "THE DEVIL'S BLOOD are proud and extremely eager to travel the New World alongside some of the world's most dedicated metal bands. Dedicated not to some pathetic notion of 'scene' or 'unity' but to a clear, totally individual, spiritual path that although not understood by most is perhaps the most valid and urgent one available for wandering feet to travel in the twilight of the Iron Age. We share many opinions and disagree on many more, yet our offerings all speak of that great mystery which we all aspire to with passion and fury. Praise be to all those who accompany us on this particular path."
In related news, the cover of the May 2012 issue of Decibel Magazine is devoted to the tour and offers up in-depth coverage on all four bands. For ordering info, go to THIS LOCATION.
THE DEVIL'S BLOOD is a dedication to principles and principals more ancient than Time, a branch of a tree greater than the World, an exclamation of both the profound and the profane. THE DEVIL'S BLOOD has always been one of the many vessels through which the Light of the Devil shines upon the darkness of the world and shall always be the possible entrance to a path walked alone. But only for those who have eyes to see and ears to hear. This path starts not in understanding but in confusion.

Decibel Magazine Tour 2012
Behemoth, Watain, The Devil's Blood and In Solitude
4/11/2012 The Brewmaster's Gate – Columbus, OH [TICKETS]
4/12/2012 Mr. Smalls – Pittsburgh, PA [TICKETS]
4/13/2012 Bottom Lounge – Chicago, IL [TICKETS]
4/14/2012 Station Four – St. Paul, MN [TICKETS]
4/16/2012 Granada Theater – Lawrence, KS [TICKETS]
4/17/2012 Summit Theatre – Denver, CO [TICKETS]
4/18/2012 The Complex – Salt Lake City, UT [TICKETS]
4/20/2012 El Corazon – Seattle, WA [TICKETS]
4/21/2012 Rickshaw – Vancouver, BC [TICKETS]
4/22/2012 Hawthorne Theater – Portland, OR [TICKETS]
4/23/2012 Slim's – San Francisco, CA [TICKETS]
4/25/2012 House of Blues – Los Angeles, CA [TICKETS]
4/26/2012 Nile Theater – Phoenix, AZ [TICKETS]
4/27/2012 Sunshine Theater – Albuquerque, NM [TICKETS]
4/29/2012 White Rabbit – San Antonio, TX [TICKETS]
5/01/2012 Orpheum – Tampa, FL [TICKETS]
5/02/2012 Masquerade – Atlanta, GA [TICKETS]
5/04/2012 Amos Southend – Charlotte, NC [TICKETS]
5/05/2012 Ram's Head – Baltimore, MD [TICKETS]
5/06/2012 Trocadero Theatre – Philadelphia, PA [TICKETS]
5/08/2012 Opera House – Toronto, ON [TICKETS]
5/09/2012 Club Soda – Montreal, QC [TICKETS]
5/10/2012 Imperial – Quebec City, QC [TICKETS]
5/11/2012 Palladium – Worcester, MA [TICKETS]
5/12/2012 Irving Plaza – New York, NY [TICKETS]
"…an 11-track opus of maximum cosmic significance…" – Decibel
"Earnest in its execution and ambitious in its scope, The Thousandfold Epicentre is an otherworldly journey to spaces both familiar and alien." — Revolver
"…this daring, mysterious album sees this promising band starting to sound closer to being fully realized than ever before." — MSN
"…if rock 'n roll is truly the devil's music, then THE DEVIL'S BLOOD could be headliners in Hell…" – Verbicide
"…THE DEVIL'S BLOOD bring to mind what Jefferson Airplane's sound would have been if they abandoned their love of psychedelic drugs for good old-fashioned Satanism." — L.A. Weekly
"On their sophomore album, Dutch act THE DEVIL'S BLOOD deliver NWOBHM-kissed riffs and melodic female vocals like it's 1980 all over again" — Noisecreep
"…dynamic and luminous…" — Terrorizer
"THE DEVIL'S BLOOD are entity onto themselves, and could very well be considered metal's most valid Satanic band." – Blistering

"…one of the most captivating releases of the year 2012. A superlative effort…" — Metal Assault
"The Thousandfold Epicentre is capable of alluring visions, a veritable siren's song of majesty and grace." — Blood Good Horror
http://www.thedevilsblood.com
http://www.facebook.com/thedevilsblood
http://www.metalblade.com/thedevilsblood