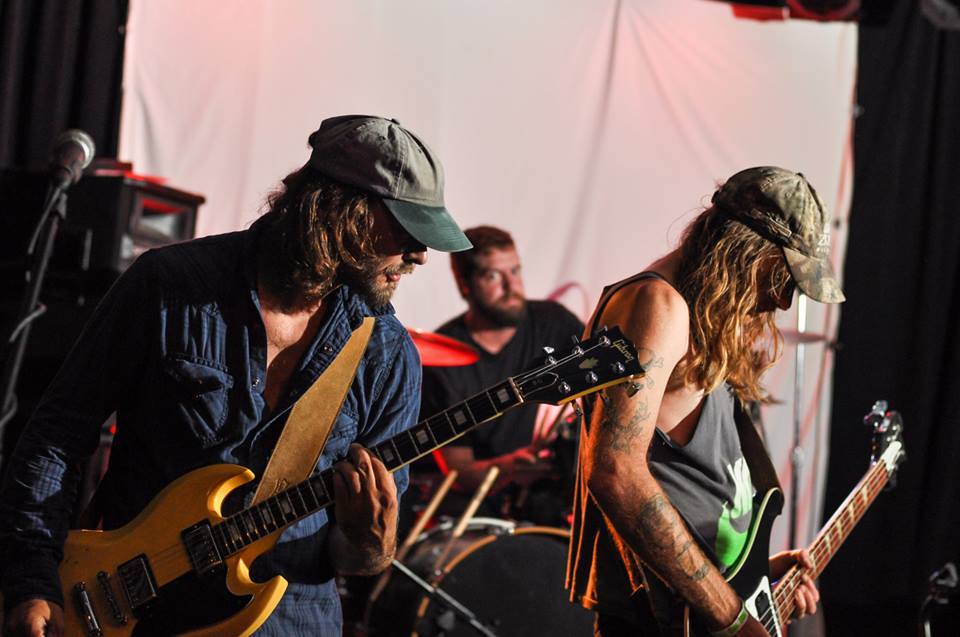 Philadelphia-based THE COMPANY CORVETTE has completed their third full-length recording, Never Enough, with the final details being put in place for an independent, late Summer release, in conjunction with the band's performance at Psycho Las Vegas and more.
Remaining true to their heavy riff-laden, psychedelically inclined, occasionally laid back, mostly loud, stoner rock-gone-metal-and-back stylistics, THE COMPANY CORVETTE has been fine-tuning and intensifying their sound, reaching towards new levels of sonic honesty that they are drawn to. While the band likes to think of their two earlier releases as "glorified demos," the new album is a huge step forward for the band in virtually every department.
THE COMPANY CORVETTE's new LP, Never Enough contains seven songs recorded at Gradwell House Recording in New Jersey with Matt Weber at helm, and mastered by Brad Boatright at Audiosiege (Sleep, Yob, Corrosion Of Conformity) in Oregon. The album features cover artwork by the excellent Drew Elliott (Sunn O)), Amorphis, Rwake, Necrophagia), which captures the imagery within the track Devilwitch and takes band's visual presentation to new heights. Soon after the recording of Never Enough, Zach Price joined the co-founders, guitarist Alexei Korolev and bassist/vocalist Ross Pritchett taking over the drum duties. Once again releasing the album on their own, as with their prior two records, the trio is feeling super focused and prolific, already demoing a new batch of tunes and looking for opportunities to get out of town.
Stream the track "Devilwitch" via Bandcamp HERE, and Youtube HERE.
THE COMPANY CORVETTE will independently release Never Enough on cassette and digital on August 5th, to be followed by a vinyl pressing approximately a month after, all through their own imprint, The Company Records. Stand by for audio samples and more on the album to be issued in the coming weeks.
Never Enough Track Listing:
1. Foot In Mouth
2. Devilwitch
3. Sick
4. Stomach
5. Burn Out
6. The Stuff
7. Pigeon
The release of Never Enough is set in conjunction with THE COMPANY CORVETTE's performance at Psycho Las Vegas 2016 with Alice Cooper, Electric Wizard, Blue Oyster Cult, Sleep, Boris, Converge, High On Fire, and tons more, the massive festival running from August 26th through 28th. Additional live actions from the band will be posted shortly.
THE COMPANY CORVETTE Live:
7/06/2016 The Acheron – Brooklyn, NY w/ La Otracina, Fox 45.
8/26-28/2016 Hard Rock Hotel & Casino – Las Vegas, NV @ Psycho Las Vegas [info]
Conceived as a three-piece jamming out simple stoner blues rock heavily rooted in metal, THE COMPANY CORVETTE delivers high-energy, yet haze-ridden grooves mixed with chilled out, but alarmed vocals, and blistering, wah-drenched guitar action. Though the initial goal was just to play with the bands they knew or liked, the group increasingly looked for opportunities to play live, making occasional road trips, and has been billed with such names as Pentagram, Spirit Caravan, Windhand, Weedeater, Black Tusk, Bang, Truckfighters, Inter Arma, Elder, and many others.
https://thecompanycorvette.bandcamp.com
https://soundcloud.com/the-company-corvette
https://www.facebook.com/The-Company-Corvette-97424333874/