THE CALLOUS DAOBOYS will play a short run of US headlining shows this May surrounding their performance at this year's edition of Bamboozle fest. The week-long journey begins on May 5th in Knoxville, Tennessee and closes on May 11th Nashville, Tennessee. Support will be provided by Hazing Over. Find tickets at THIS LOCATION.
The tour follows the band's performance at Knotfest's Pulse Of The Maggots SXSW Showcase this weekend alongside labelmates Creeping Death, Escuela Grind, and more! See all confirmed dates below.
THE CALLOUS DAOBOYS:
3/18/2023 Knotfest's Pulse Of The Maggots SXSW Showcase @ Elysium – Austin, TX w/ Creeping Death, Escuela Grind, Militarie Gun, Soul Glo, VCTMS
w/ Hazing Over:
5/05/2023 Karns Community Center – Knoxville, TN
5/06/2023 Canal Club – Richmond, VA
5/07/2023 Bamboozle – Atlantic City, NJ
5/08/2023 Preserving Underground – Pittsburgh, PA
5/09/2023 Local 506 – Winston-Salem, NC
5/10/2023 New Brookland Tavern  – Columbia, SC
5/11/2023 The End – Nashville, TN
THE CALLOUS DAOBOYS released their critically adored Celebrity Therapist full-length in September 2022 via MNRK Heavy and Modern Static Records.
Reviving noise rock like they're summoning the dead, the curious collective conjures a sound that's unapologetically dense and impenetrable yet confusingly inviting as each song deliriously swerves across stylistic lines.
Revolver crowned Celebrity Therapist, "one of the year's wildest rides." Lambgoat lauded, "an album that possibly stands to make a permanent mark on the current heavy music landscape," and, "an essential listen to anyone interested in extreme music reaching outside the box." Bandcamp Daily wrote, "Even as avant-minded metalcore albums go, Celebrity Therapist is exceptionally chaotic…But don't dare call THE DAOBOYS' sophomore breakthrough 'random'… Frontman Carson Pace twists his rage against cultish conservative/neoliberal groupthink into a dense tangle of absurdist-tangent lyrics. The result is pyrotechnic protest music that wields the young DAOBOYS' conversance with information overload as a weapon against algorithm-age ignorance." Celebrity Therapist earned the #6 position on Billboard's Top New Artists chart upon its first week release and continues to reap critical accolades globally.
Celebrity Therapist is available on CD, LP, cassette, and digital formats. Preview and purchase the record at THIS LOCATION.
View the band's previously released videos for "A Brief Article Regarding Time Loops," "What Is Delicious? Who Swarms?," and "The Elephant Man In The Room," at THE CALLOUS DAOBOYS Youtube channel HERE.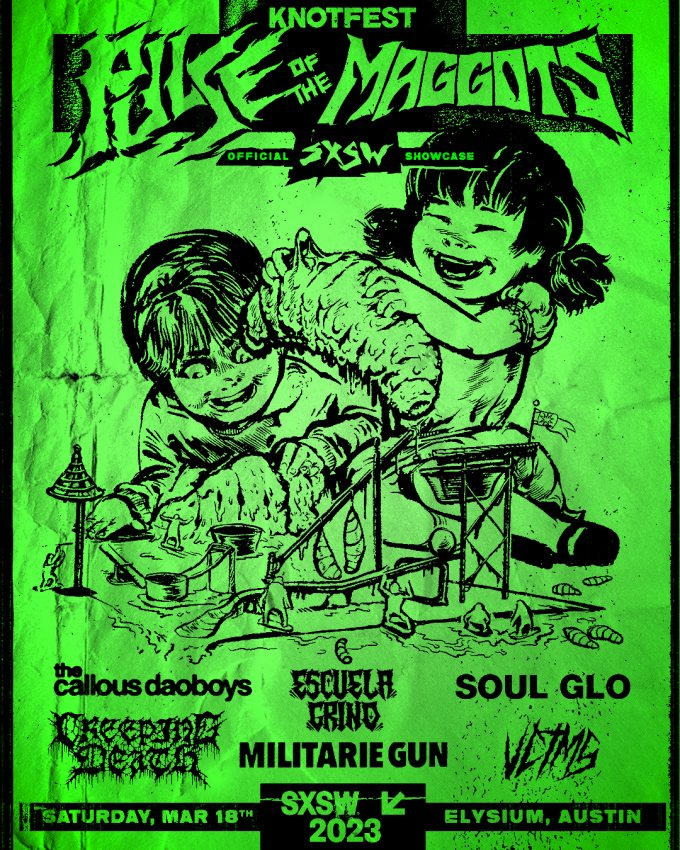 http://www.facebook.com/thecallousdaoboys
http://www.instagram.com/thecallousdaoboys
http://twitter.com/callousdaoboys
http://www.mnrkheavy.com
http://www.facebook.com/MNRKHeavy
http://www.twitter.com/MNRKHeavy
http://www.instagram.com/MNRK_heavy