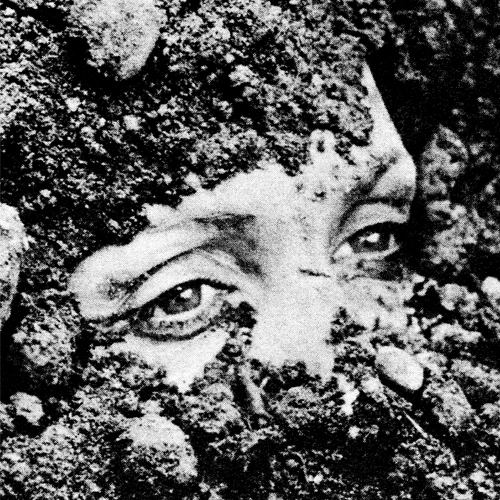 Vinyl-only independent label, Vinyl Rites, this week releases Released From Love, a fully collaborative recorded effort between THE BODY and THOU.
With three original tracks as well as a harrowing cover of Vic Chesnutt's "Coward," recorded last year with James Whitten and mastered by Machines with Magnets, the entire lineup of Baton Rouge's noise-soaked doom/sludge quintet, THOU, and now-Portland, Oregon-based apocalyptic/experimental doom cult, THE BODY, orchestrate their wretched, noise-drenched tones and horrifying lyrical deliveries into twenty minutes of material through this four-movement mini-LP. On this collaboration, everything comes to its peak. Everyone's voice is heard, through instrument or otherwise, clearly defining their role in the project. All the things that make both groups special are apparent and fleshed out.
Invisible Oranges is now playing the entire Released From Love 12″ in its entirety, stating of the opus, "Chip King's distinctive shriek punches through the mire and then retreats; caustic electronic sounds seethe up through seams in the riffage. If these bands were a street-fighting tag team, Thou would be the big hulking dude who occupies your attention long enough for the small, shifty Body to sneak up behind you and jam a knife between your ribs."
Listen to Released From Love now AT THIS LOCATION.
Released From Love is a vinyl-only release, pressed on 180-gram black vinyl with heavyweight covers and letter-pressed inserts by Beck Levy. There will be no CD pressing nor any form of digital distribution of the material. Orders for the wax can now be placed HERE.
Released From Love Track Listing:
Side A
1. The Wheel Weaves as the Wheel Wills
2. Manifest Alchemy
Side B
3. In Meetings Hearts Beat Closer
4. Coward (Vic Chesnutt)
THOU has been active for over seven years, honing their sound over dozens of releases. Stereogum called their most recent full length, Heathen (Gilead Media), "…dark, bombastic, hugely ambitious album of great sorrow, but perhaps even greater beauty." THE BODY is two men who have been recording, playing, and consuming heavy metal together for most of their lives. Their newest LP, Christs, Redeemers (Thrill Jockey), is so original and devastating that The New Yorker called THE BODY "[One] of the most remarkable acts bubbling up from the extreme-metal underground."
Having already toured extensively together in the past, in the coming months both bands will be playing live in support of the release. On the last day of June, THE BODY and THOU will tour out of Baton Rouge, and up the East Coast, and out to the Midwest playing a wide array of clubs, galleries and DIY venues into the third week of July. On the trip, both bands will perform solo sets as well as collaborative material from Released From Love. While the final details of the tour are still being confirmed, some of its highlights will include a radio set on underground radio station WFMU in Jersey City, and the end goal is a collaborative set from both bands on the opening night of the massive three-day Gilead Fest in Oshkosh, Wisconsin on Friday July 18th, alongside Ash Borer, Hell, Inter Arma, Protestant, and Oozing Wound that evening, as well as a set from THE BODY on day two and a set by THOU on the final day, July 20th.
THOU / THE BODY Summer Tour:
6/30/2014 TBA – Baton Rouge, LA
7/01/2014 The Forge – Birmingham, AL w/ Lume
7/02/2014 Legitimate Business – Greensboro, NC
7/03/2014 Empire the Bar – Richmond, VA (2pm matinee)
7/03/2014 TBA – Washington, DC
7/04/2014 Sidebar – Baltimore, MD w/ Curse (12pm matinee)
7/04/2014 TBA – Philadelphia w/ Hirs, Pissgrave, Backslider
7/05/2014 WFMU – Jersey City, NJ (matinee)
7/05/2014 ABC No Rio – New York, NY (matinee)
7/05/2014 TBA – New York
7/06/2014 The Orphanage – New London, CT (1pm matinee) w/ Empty Vessels, Snow Orphan
7/06/2014 TBA – Amherst, MA w/ Rozamov
7/07/2014 TBA – Boston, MA w/ Curmudgeon
7/08/2014 Machines with Magnets – Providence, RI
7/12/2014 TBA – Syracuse, NY w/ Bleak, Blood Sun Circle
7/13/2014 The Shop – Pittsburgh, PA
7/14/2014 Trumbullplex – Detroit, MI
7/15/2014 TBA – Grand Rapids, MI
7/16/2014 Carbon Room – Michigan City, MI w/ Angry Gods
7/17/2014 Club Rectum – Chicago, IL w/ Ash Borer, Hell
Gilead Fest:
7/18/2014 Masonic Center – Oshkosh, WI THOU/THE BODY collab set w/ Ash Borer, Hell, Inter Arma, Protestant, Oozing Wound
7/19/2014 Masonic Center – Oshkosh, WI – THE BODY w/ Bastard Sapling, Mutilation Rites, Kowloon Walled City, Geryon, False, Sea of Bones, Owlfood, Hexer
7/20/2014 Masonic Center – Oshkosh, WI – THOU w/ Barghest, Loss, Uzala, Lychgate, Seidr, Generation of Vipers, Alraune, Northless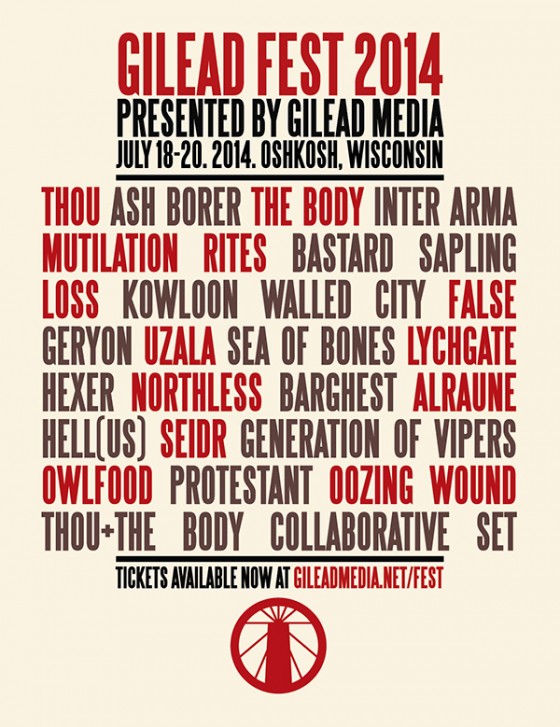 https://www.facebook.com/pages/the-body/334047229514
http://www.noladiy.org/thou
http://www.vinylrites.net