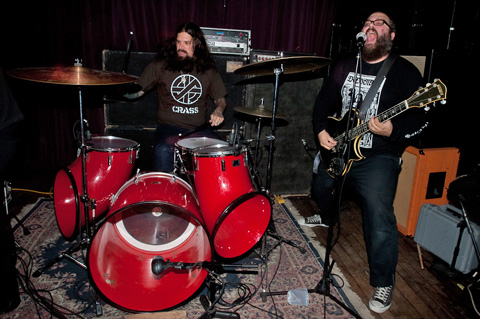 With the release of All The Waters Of The Earth Turn To Blood in July 2010, THE BODY has rabidly risen from a virtually unknown underground act to a household name, reaping massive acclaim via year-end lists worldwide, including Decibel, BrooklynVegan, About.com, Popdose, Stereogum, Crustcake, MetalSucks, NME, The Quietus and countless more, not to mention the #4 spot on NPR's top 10 metal/drone albums of the year as well as a #6 spot on Pitchfork's Reader's Choice top 10 metal albums in their year-end reader's poll.
While the massive All The Waters Of The Earth Turn To Blood was released on CD by At A Loss Recordings, it bore a very limited initial vinyl pressing released on THE BODY's Aun War imprint, which sold out immediately. Now, At A Loss has commissioned a full-on 2xLP repressing of the album, set for release later this spring, with a final release date and more specific album details to be announced shortly.
THE BODY have confirmed three Northeast shows in Providence, Worcester and Brooklyn with support from Brave Young (The End Records). These three shows in the later part of this month are just the beginning, as THE BODY are in the midst of finalizing the last few dates of a massive upcoming tour schedule. Many of the shows are still in the final confirmation stages and a full update will follow in mere days outlining the entire six week tour schedule, which includes THE BODY performing at Scion Rock Fest with Bastard Noise, Integrity, Morbid Angel, Obituary, Christian Mistress, Nails, Black Breath, Necrite and more, a half-dozen or more shows during this year's SXSW in Austin, an appearance at Bro Fest with Horse The Band, Liturgy, The Funeral Pyre, Owen Hart and others, and several weeks of heavy regional touring connecting it all. Stay tuned…
THE BODY Confirmed Live Appearances:
2/20/2011 Machines With Magnets – Providence, RI w/ Brave Young
2/21/2011 The Firehouse – Worcester, MA w/ Brave Young
2/22/2011 Union Pool – Brooklyn, NY w/ Brave Young
Stay tuned for confirmed details on the massive upcoming tour schedule, the vinyl re-release of the latest album and other new upcoming releases from the band to be announced in mere days, and continually through the rest of the year.
The Body from James P on Vimeo.
http://www.myspace.com/thevisionshallcometopass
http://atalossblogs.wordpress.com
http://www.atalossrecordings.com