Providence, Rhode Island's crushing duo THE BODY are preparing to wage war on the East Coast once again this June, this time bearing opening and collaborative support from their hometown allies in The Assembly Of Light Choir!
Devotees of THE BODY's acclaimed, oppressive 2010-released full-length, All The Waters Of The Earth Turn To Blood, will know the name of The Assembly Of Light Choir, as these several dozen women added some of the utmost creepiest moments to the unique album. This special tour will feature a full set by The Assembly Of Light Choir, followed by a full set by THE BODY, then a collaborative set with both bands. A fully-seated performance is planned for Manhattan and the tour will play a church in Washington DC. Down-tempo rockers Braveyoung, who THE BODY have also toured and collaborated with in the past, will join for several of the shows as well.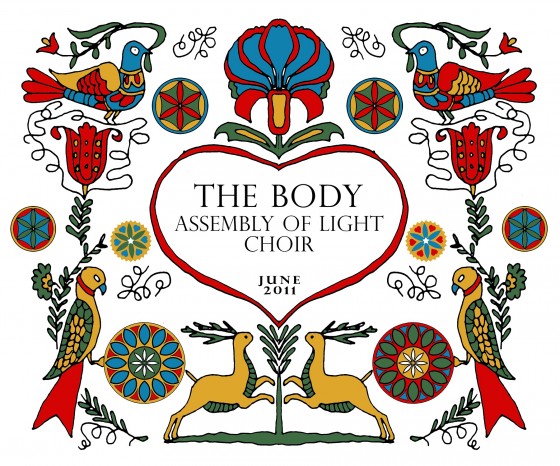 THE BODY June Tour With The Assembly Of Light Choir:
6/17/2011 Pi Lam – Philadelphia, PA
6/18/2011 Garfield Artworks – Pittsburgh, PA
6/19/2011 Talking Head Club – Baltimore, MD
6/20/2011 Snug Harbor – Charlotte, NC w/ Braveyoung
6/21/2011 Warehouse 8B – Jacksonville, FL
6/22/2011 Drunken Unicorn – Atlanta, GA
6/23/2011 Legitimate Business – Greensboro, NC w/ Braveyoung
6/24/2011 St. Stephen's Church [1525 Newton St NW] – Washington DC w/ Braveyoung
6/25/2011 Le Poisson Rouge – New York, NY
6/26/2011 AS220 – Providence, RI
The anticipated vinyl repress of All The Waters Of The Earth Turn To Blood is now available. While the initial vinyl pressing was released by THE BODY, via their own Aum War Records, the new repress was handled by At A Loss Recordings, who released the CD version of the album worldwide last July.
Stay tuned, as always, for more ongoing live assaults and album info on THE BODY, to be released in the very near future. Contact Earsplit PR for coverage requests on the upcoming tour right away.
http://www.myspace.com/thevisionshallcometopass
http://www.facebook.com/pages/the-body/334047229514
http://www.facebook.com/pages/Assembly-of-Light-Choir/135274039844744
http://aumwar.com
http://www.atalossrecordings.com