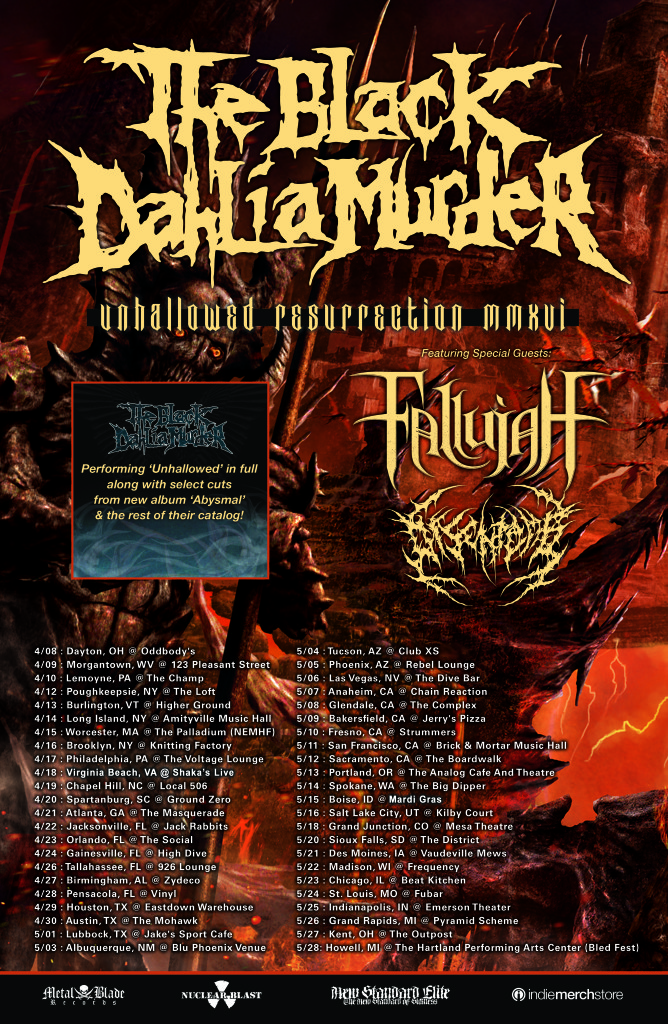 After releasing their new album, Abysmal, last year to critical acclaim and headlining both part I and part II of the massive IndieMerch Tour, THE BLACK DAHLIA MURDER has announced another headlining trek – this time, taking the show back to their roots. With Fallujah and Disentomb as support, THE BLACK DAHLIA MURDER plans to play their first full-length, 2003's Unhallowed, in its entirety, performing at intimate venues across the US that haven't seen the band since their debut was released.
Vocalist Trevor Strnad comments: "We are very excited to unleash this absolutely crushing lineup upon you all and to play the much requested Unhallowed album in its entirety. The songs are sounding better than ever before, and we can't wait for you to feast your ears on our debut album as it was meant to be heard. We will also be playing some bangers from our new album, Abysmal, and the rest of the catalog…Come out and bring your friends!"
In related news, Brandon Ellis will join THE BLACK DAHLIA MURDER on the road as the band's touring guitarist and replacement for Ryan Knight, who amicably parted ways with the group. In regards to his departure, Knight comments: "After nearly seven years with THE BLACK DAHLIA MURDER, I feel the time has come for me to step down and focus on other aspects of my life. The decision to leave was very difficult, yet necessary I feel for me to ultimately be happy and keep moving forward. I feel very lucky to have had the best band-mates/crew — past and present — to traverse the world, guzzle beers, and bring the rock with every night. Thank you, guys. I'd like to give a huge thank you to all our fans for being so cool to me over the years, and all the hardworking people over at Metal Blade Records for their support, and general badassery. In the meantime, I'll still be teaching guitar, working on new music, and just getting pretty domestic in general. Thanks again!"
Strnad adds: "When Ryan first joined the band, he drove from the hospital where his first child had just been born to begin practicing and writing with us, on the eve of the recording of our Deflorate album. In his years with the band, he made a lot of sacrifices to be with us and uphold our insanely demanding touring and recording schedule. He always gave us one-hundred percent, and for that I thank him. He is an incredible musician and creative force. It was exciting to make new material with him, and his wealth of knowledge has left its stamp on the band's music forever. I always knew that his time in the band would be limited, and it has now come time for him to go home and be with his family. Ryan, being the stand-up dude that he is, told us of his plans to leave the band more than a year ago, and with heavy hearts we began to plan for THE BLACK DAHLIA MURDER's future. We admire that Ryan went to such lengths to make his departure as easy on the band as possible, even going as far as to help us find a talented leadsman in Brandon Ellis — who has been lending us his tremendous guitar skills on the current TBDM tour. Knight is one of my best friends and I wish him the best in everything he does. He will always have a place here in the TBDM family. I look back at our time together with nothing but gratitude."
THE BLACK DAHLIA MURDER w/ Fallujah, Disentomb:
4/08/2016 Oddbody's Music Room – Dayton, OH
4/09/2016 123 Pleasant Street – Morgantown, WV
4/10/2016 The Champ – Harrisburg, PA
4/11/2016 The Loft – Poughkeepsie, NY
4/13/2016 Higher Ground Side Room – Burlington, VT
4/14/2016 Amity Music Hall – Long Island, NY
4/15/2016 The Palladium – Worcester, MA
4/16/2016 Knitting Factory – Brooklyn, NY
4/17/2016 The Voltage Lounge – Philadelphia, PA
4/18/2016 Shaka's Live – Virginia Beach, VA
4/19/2016 Local 506 – Chapel Hill, NC
4/20/2016 Ground Zero – Spartanburg, SC
4/21/2016 The Masquerade – Atlanta, GA
4/22/2016 Jack Rabbits – Jacksonville, FL
4/23/2016 The Social – Orlando, FL
4/24/2016 High Dive – Gainesville, FL
4/26/2016 926 Lounge – Tallahassee, FL
4/27/2016 Zydeco – Birmingham, AL
4/28/2016 Vinyl – Pensacola, FL
4/29/2016 Eastdown – Houston, TX
4/30/2016 Mohawk – Austin, TX
5/01/2016 Jakes – Lubbock, TX
5/03/2016 Phoenix Venue – Albuquerque, NM
5/04/2016 The Rock – Tucson, AZ
5/05/2016 Rebel Lounge – Phoenix, AZ
5/06/2016 Divebar – Las Vegas, NV
5/07/2016 Chain Reaction – Anaheim, CA
5/08/2016 The Complex – Glendale, CA
5/09/2016 Jerry's Pizza – Bakersfield, CA
5/10/2016 Strummers – Fresno, CA
5/11/2016 Brick and Mortar Music Hall – San Francisco, CA
5/12/2016 Boardwalk – Sacramento, CA
5/13/2016 Analog Theatre – Portland, OR
5/14/2016 The Big Dipper – Spokane, WA
5/15/2016 The Shredder – Boise, ID
5/16/2016 Kilby Court – Salt Lake City, UT
5/18/2016 Mesa Theatre – Grand Junction, CO
5/20/2016 The District – Sioux Falls, SD
5/21/2016 Vaudeville Mews – Des Moines, IA
5/22/2016 Frequency – Madison, WI
5/23/2016 Beat Kitchen – Chicago, IL
5/24/2016 Fubar – St. Louis, MO
5/25/2016 Emerson Theater – Indianapolis, IN
5/27/2016 The Machine Shop – Flint, MI
5/28/2016 Bledfest – Howell, MI
THE BLACK DAHLIA MURDER will be touring in support of Abysmal, which was named one of the best albums of 2015 by Metal Sucks, Metal Injection and Metal Insider, among many others. To preview and purchase "the best death metal of the year" (New Noise Magazine), please visit: metalblade.com/tbdm/.
For live coverage inquiries contact liz@earsplitcompound.com.
http://www.tbdmofficial.com
http://www.facebook.com/theblackdahliamurderofficial
http://www.twitter.com/bdmmetal