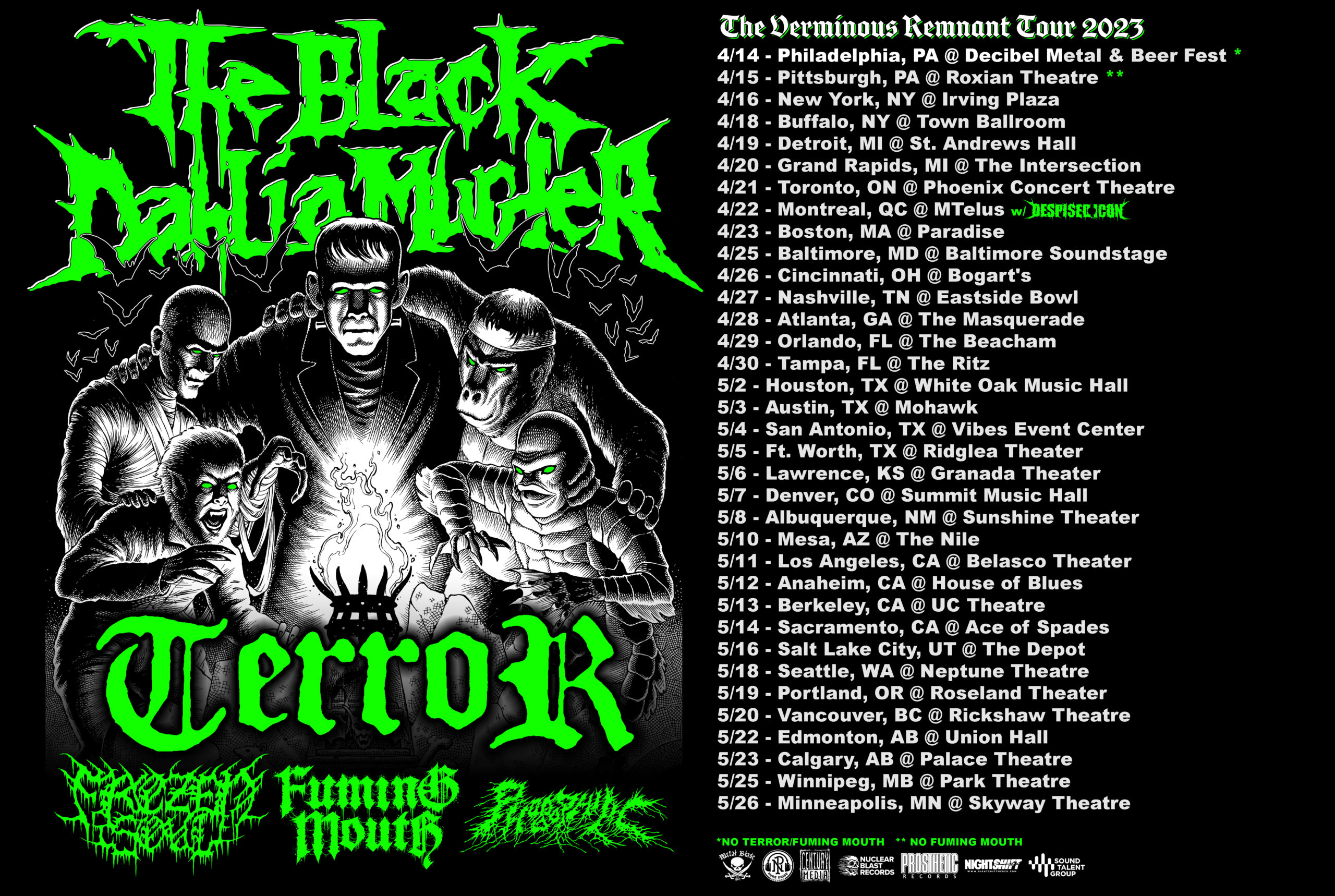 THE BLACK DAHLIA MURDER will return to the stage this Spring on the Verminous Remnant Tour. The band's first trek following the tragic death of frontman Trevor Strnad will mark the close of the Verminous touring cycle and introduce a reformed lineup consisting of remaining and returning members of the band.
The journey will commence on April 14th with an appearance at the Decibel Metal & Beer Fest in Philadelphia, Pennsylvania and run through May 26th in Minneapolis, Minnesota. Support will be provided by Terror, Frozen Soul, Fuming Mouth, and Phobophilic. Tickets go on sale this Friday, January 20th at 10:00am local time. See all confirmed dates below.
THE BLACK DAHLIA MURDER w/ Terror, Frozen Soul, Fuming Mouth, Phobophilic:
4/14/2023 Decibel Metal & Beer Fest – Philadelphia PA * no Terror, Fuming Mouth
4/15/2023 Roxian Theatre – Pittsburgh, PA * no Fuming Mouth
4/16/2023 Irving Plaza – New York, NY
4/18/2023 Town Ballroom – Buffalo, NY
4/19/2023 St. Andrews Hall – Detroit, MI
4/20/2023 The Intersection – Grand Rapids, MI
4/21/2023 Phoenix Concert Theatre – Toronto, ON
4/22/2023 MTelus – Montreal, QC w/ Despised Icon
4/23/2023 Paradise – Boston, MA
4/25/2023 Baltimore Soundstage – Baltimore, MD
4/26/2023 Bogart's – Cincinnati, OH
4/27/2023 Eastside Bowl – Nashville, TN
4/28/2023 The Masquerade – Atlanta, GA
4/29/2023 The Beacham – Orlando, FL
4/30/2023 The Ritz – Tampa, FL
5/02/2023 White Oak Music Hall – Houston, TX
5/03/2023 Mohawk – Austin, TX
5/04/2023 Vibes Event Center – San Antonio, TX
5/05/2023 Ridglea Theater – Ft. Worth, TX
5/06/2023 Granada Theater – Lawrence, KS
5/07/2023 Summit Music Hall – Denver, CO
5/08/2023 Sunshine Theater – Albuquerque, NM
5/10/2023 The Nile – Mesa, AZ
5/11/2023 Belasco Theater – Los Angeles, CA
5/12/2023 House Of Blues – Anaheim, CA
5/13/2023 UC Theatre – Berkeley, CA
5/14/2023 Ace Of Spades -Sacramento, CA
5/16/2023 The Depot – Salt Lake City, UT
5/18/2023 Neptune Theatre – Seattle, WA
5/19/2023 Roseland Theater – Portland, OR
5/20/2023 Rickshaw Theatre – Vancouver, BC
5/22/2023 Union Hall – Edmonton, AB
5/23/2023 Palace Theatre – Calgary, AB
5/25/2023 Park Theatre – Winnipeg, MB
5/26/2023 Skyway Theatre – Minneapolis, MN
THE BLACK DAHLIA MURDER's most recent full-length, Verminous, was released in 2021 via Metal Blade Records. Without compromising one iota of heaviness, the record stands among the band's most dynamic, rousing, and emotional releases to date. Louder Sound crowned Verminous, "absolutely excellent," while Blabbermouth wrote, "This is a deeper and smarter realization of the Michigan crew's tried and tested formula, and one blessed with several of the finest songs they have ever written… File next to Nocturnal and Ritual as an unquestionable career peak." To preview and purchase the record, visit http://www.metalblade.com/tbdm.
http://www.tbdmofficial.com
http://www.facebook.com/theblackdahliamurderofficial
http://twitter.com/bdmmetal
http://www.instagram.com/theblackdahliamurder_official
http://www.metalblade.com
http://www.facebook.com/metalbladerecords
http://twitter.com/MetalBlade
http://www.instagram.com/metalbladerecords