Portland death metal trio THANAMAGUS will unleash their Lie In Wait debut EP on October 27th via Carbonized Records in the US and Seed Of Doom Records in Europe.
THANAMAGUS is Jonatan Quintana (Ritual Necromancy, Decrepisy), Nick Alosio, and Charlie Koryn (Ascended Dead, Funebrarum). Forged in 2019 and inspired by the likes of Kreator, Dark Angel, Insanity, and Immolation, together the band set out on a mission to push their musical limits towards faster, darker, and more brutal directions. Following their two-track Incorporeal Passage demo, THANAMAGUS' Lie In Wait EP brandishes a vicious, schizophrenic brand of death metal punctuated by lyrical themes centered around death worship, disembodiment, and the afterlife. Recorded at The Underworld Studios by Charlie Koryn and mixed and mastered at Subterranean Watchtower Studio by Damian Herring, the release features the band at its most savage and inhuman.
In advance of the EP's release, THANAMAGUS has unveiled "Beneath Despondent Ash" for public appreciation. Issues the band, "The soul detaches. Bottomless, deeper, mystic. The gateway opens once more, the incorporeal passage. Even in the afterlife, you are not safe… Death is our master… We wonder whom else the darkness has consumed…"
Stream THANAMAGUS' "Beneath Despondent Ash" at THIS LOCATION.
Lie In Wait, which includes bass guitar performed by Vince Blank, cover art by Yuri Kahan, and additional art by Kim Jakobsson, will be released on CD, LP, cassette, and digital formats.
Find US preorders via the Carbonized webshop HERE and Bandcamp HERE. For European preorders, visit the Seed Of Doom webshop HERE and Bandcamp HERE.  
Lie In Wait Track Listing:
Procession (Intro)
Severed Spiritual Limbs
Unburied Whispers
Lowermost Dispiritedness
Beneath Despondent Ash
THANAMAGUS:
Charlie Koryn – drums
Jonatan Quintana – guitar/vocals
Nick Alosio – guitar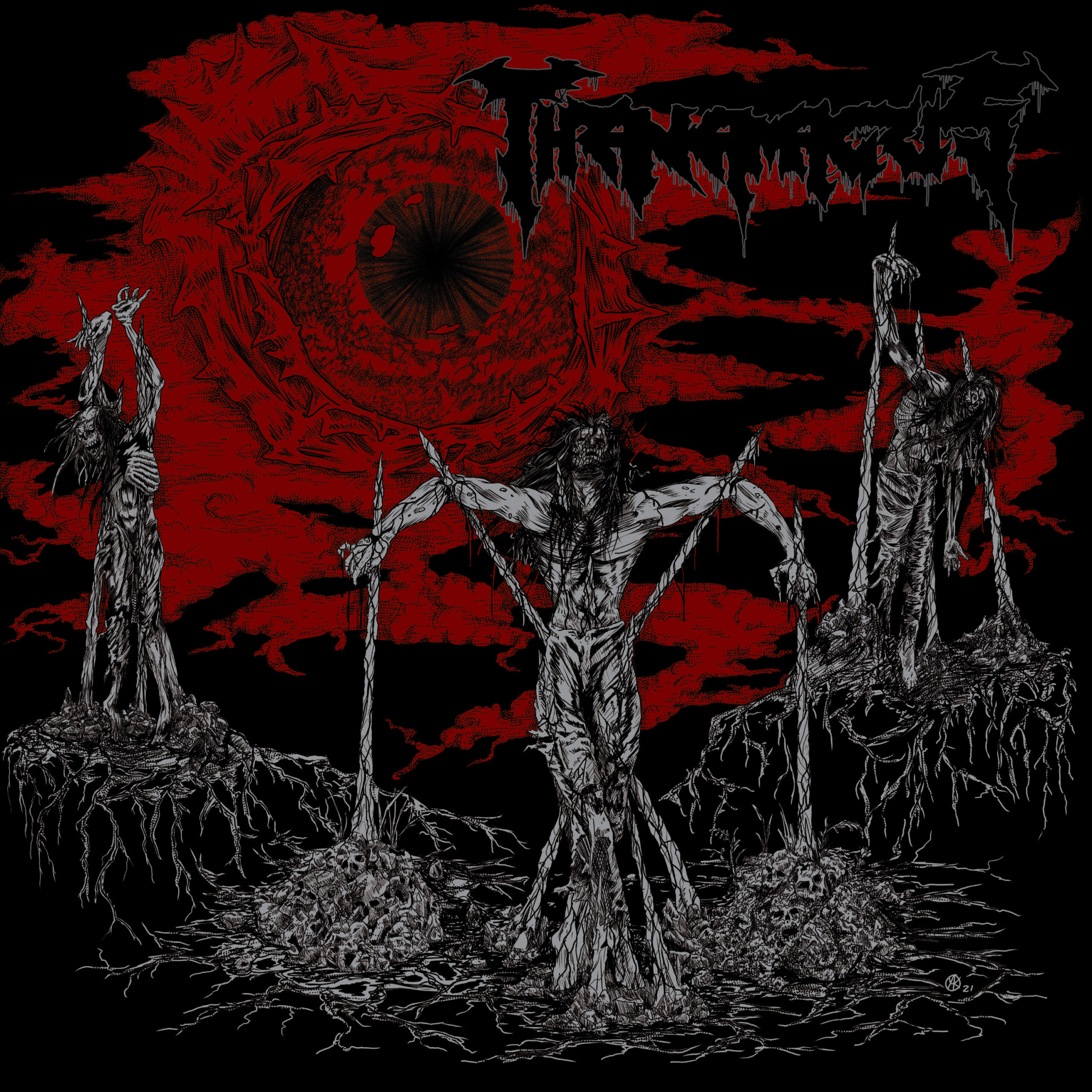 https://www.facebook.com/thanamagus
https://instagram.com/thanamagus
https://www.carbonizedrecords.com
https://www.carbonizedrecordseu.com
https://carbonizedrecords.bandcamp.com
https://www.facebook.com/Carbonized-Records
https://www.twitter.com/Carbon_Forms
https://www.instagram.com/carbonizedrecords
https://seedofdoom.storenvy.com
https://seedofdoom.bandcamp.com
https://www.facebook.com/SeedOfDoom/
https://www.instagram.com/seedofdoomrecords