photos by Jorin Bukosky web
Neurot Recordings presents Oakland, California dark punk trio TENSION SPAN, announcing the band's debut recordings, The Future Died Yesterday. Confirming the LP for September release, its cover art, track listing, and advance audio previews have been issued.
TENSION SPAN unites Noah Landis (Neurosis, Christ On Parade), Geoff Evans (Asunder), and Matt Parrillo (Dystopia, Kicker). Using the musical language of their past, the dark punk of their early acts, TENSION SPAN brings a new band and a new album to Neurot Recordings that sounds both urgent and personal, speaking truth to the bleak realities of today's sociopolitical collapse and the angst and identity crisis it brings. Somehow within the fabric of these themes of stress and fear and rage, there is a feeling of underlying hope, that there is something beautiful in the struggle.
Recorded during the isolation of Covid, the trio crafted The Future Died Yesterday, an album that sounds both varied and cohesive, combining musical and emotional heaviness with melody, samples, and synth. Sonically unique and riveting, The Future Died Yesterday sees the band ripping through thirteen doomed anthems. The album was recorded by TENSION SPAN, mixed by Noah Landis, mastered by Bob Weston and Greg Obis at Chicago Mastering Service, and completed with artwork by Neil Grimmer, John Yates, and Matt Parrillo.
Infusing classic elements of punk and post-punk, fans of Killing Joke, New Model Army, T.S.O.L., Subhumans, Conflict, Rudimentary Peni, and The Wraith will be instantaneously addicted to TENSION SPAN's dire urgency and infectious hooks.
Stream TENSION SPAN's The Future Died Yesterday singles "The Future Died Yesterday" and "The Crate Song" now at THIS LOCATION.
The Future Died Yesterday will be released on LP and all digital platforms through Neurot Recordings on September 30th. The LP jackets are screenprinted; a 3-panel foldover cover, black and white inks printed on thick chipboard stock. Find preorders at the label webshop HERE and Bandcamp HERE.
Watch for additional audio previews of the album and more to be issued over the weeks ahead.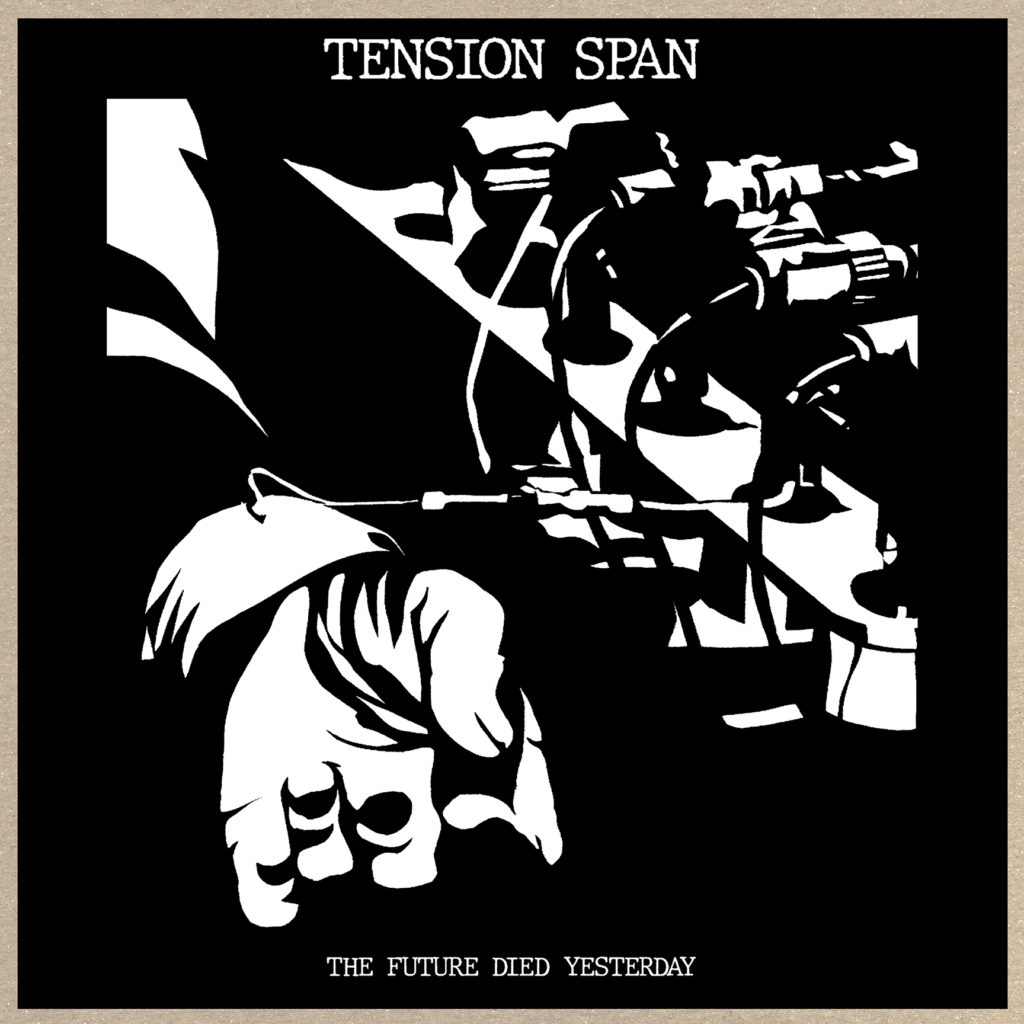 The Future Died Yesterday Track Listing:
1. Prologue
2. Cracked Society
3. The Future Died Yesterday
4. The Crate Song
5. Filaments
6. Ventilator
7. Covered In His Blood
8. Problem People
9. Trepidation
10. I Have To Smile
11. Human Scrapyard
12. I Can't Stop This Process
13. Didn't See It Coming
Dystopian reality. Division and banality. We are what we tend to be, but are we what we intend to be?
In the eighties and early nineties, young punks gathered in Oakland, California's abandoned urban spaces, shared punk houses, and small clubs to create community and raise their voices against the injustice and brutality that surrounded them. Complex images drawn on fliers were passed from hand to hand and posted on walls. Songs screamed out behind closed doors were captured on cassettes. The underground was a world of its own, a tightly knit cohort united by the need to transform rage into art, an emotional alchemy that was both earnest and reckless. A visual and sonic language emerged, and thirty years on, it still has the power to speak the truth.
Rungs on a ladder or Bars on a cage? The only thing I feel that's real is rage.
The members of TENSION SPAN spoke this language in their early bands: Landis in Christ On Parade and Neurosis, Evans in Asunder, and Parrillo in Dystopia. These friends of several decades have created something new from the cloth that was woven in their youth. In a moment of complete isolation, separated by the global pandemic, Parrillo and Evans sent rough mixes of new songs to Landis and his mind began to reel with questions, transformed into lyrics.
Cracked Society, cracks your mind. Am I invisible? Or are you Blind?
Living in a society of constant negative conditions, how do we navigate this journey? How do we walk through this world and hold on to our idealistic intentions, kindness, and empathy through constant states of stress and fear? How is our mental health and spiritual health impacted by angst, anger, anxiety, depression, and trauma? What is it all for, how is any of this meaningful?
Each of us a filament, each of a flame. Each of us indifferent, each of us the same.
Drawing influence and inspiration from the dark punk and post punk of the late '70s and early-'80s, the sensibility and DIY approach of the UK anarcho-punk movements, and the energy and immediacy of the early-mid-'90s Bay Area punk scene, TENSION SPAN has created music reflecting the bleak reality of this time of socio-political collapse, increasing economic precarity, creeping authoritarianism, and viral, biological, and psychological pathogens that are decimating the lives of millions.
Ultimately, making meaning out of struggle is a profound act of hope. It is with this spirit and inspiration that TENSION SPAN offers you a collection of twelve songs rooted in the past, caught in the present storm, and yearning toward a new day. The past is a story we experienced together, and the future remains unwritten. – bio by Galadrielle Allman
TENSION SPAN:
Noah Landis – vocals
Geoff Evans – guitar, synth
Matt Parrillo – bass, guitar, synth, additional vocals
https://tensionspan.bandcamp.com
https://www.neurotrecordings.com
https://www.facebook.com/neurotrecordings
https://twitter.com/OfficialNeurot
https://neurotrecordings.bandcamp.com
https://www.instagram.com/neurotrecordings