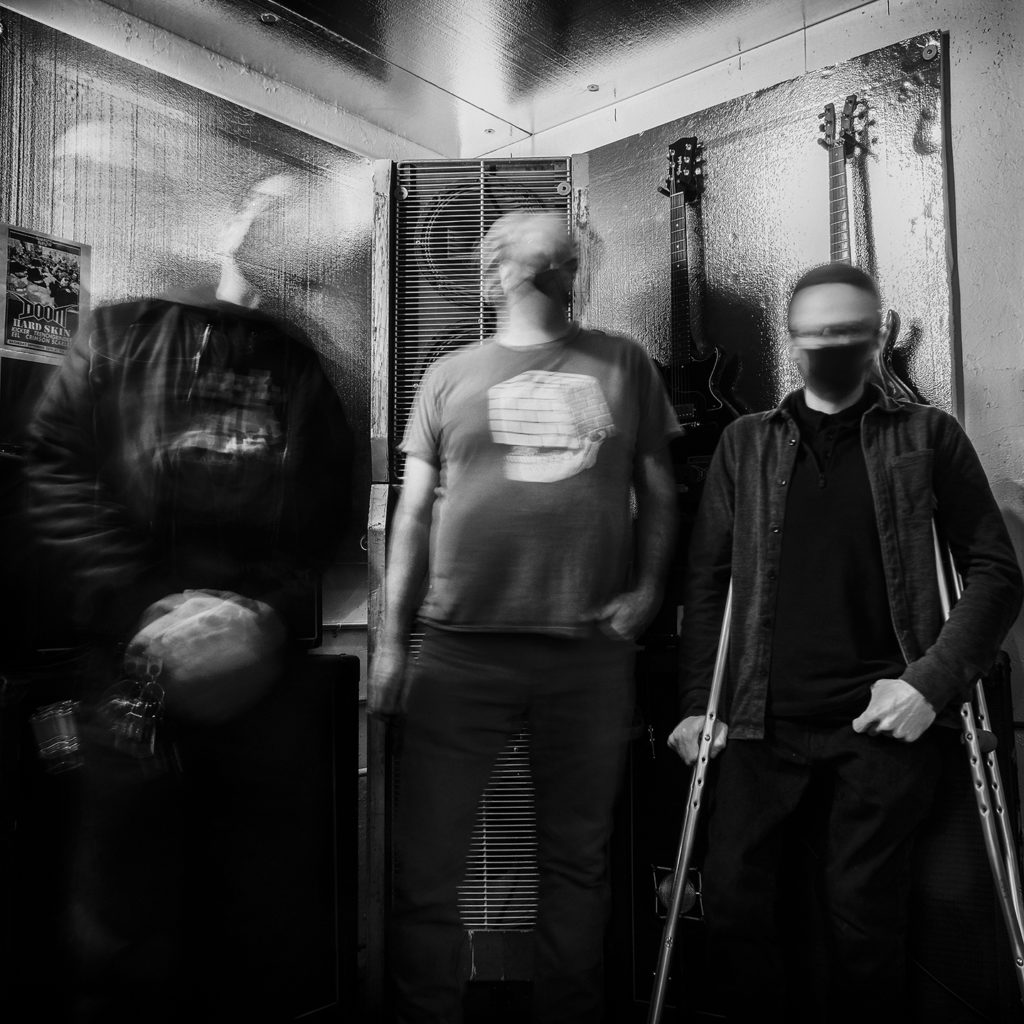 photos by Jorin Bukosky
Oakland, California dark punk trio TENSION SPAN – formed by members of Neurosis, Asunder, and Dystopia – is preparing to release their debut LP, The Future Died Yesterday, through Neurot Recordings in September. Today, No Echo is hosting the exclusive premiere of one of the album's defining songs, "Cracked Society."
TENSION SPAN unites Noah Landis (Neurosis, Christ On Parade) on vocals, Geoff Evans (Asunder) playing guitar and synth, and Matt Parrillo (Dystopia, Kicker) providing bass, guitar, synth, and additional vocals. During the isolation of Covid, the newly formed trio crafted The Future Died Yesterday, an album that sounds both varied and cohesive, combining musical and emotional heaviness with melody, samples, and synth. Sonically unique and riveting, The Future Died Yesterday sees the band ripping through thirteen doomed anthems.
The Future Died Yesterday was recorded by the band and mixed by Noah Landis, then mastered by Bob Weston and Greg Obis at Chicago Mastering Service, and completed with artwork by Neil Grimmer, John Yates, and Matt Parrillo.
With the new single, Landis writes, "'Cracked Society' might be the first song we wrote together as a new band. There is a bit of a recurring theme in the lyrics to this album, and this song exemplifies it; it asks the questions, 'How do we move through a world of so many negative conditions? How do we hang on to who we are – the creative, kind people we want to be when our cracked society only encourages brutality and self-absorption? How do we even see each other through the vacant stare that we've all accepted as normal?' It's like seeing the world through a broken window. Everything is confused and fractured. While I'm thinking on it, there is a line in this song borrowed from an E. E. Cummings poem: 'Pity this busy monster, Man-un-kind.' When I read that in my youth that line always stuck with me as brilliant and sad and true. There is also a line lifted from my old band Christ On Parade: 'Insanity is a sane reaction,' basically saying that it makes sense to feel insane because this cracked society doesn't fit inside our human brain. Lastly, there are a couple of snarky references to the Rolling Stones song 'Satisfaction' that most people might not notice, but now that I told you, you might. I guess the one thing we can do is to try to see through the cracks and look each other in the eyes and resist, as best we can, this numbing and dumbing effect that this society has on us."
No Echo writes, "In terms of direction, the veteran Oakland-based musicians explore a noir-kissed post-punk path that fans of Killing Joke, Red Lorry Yellow Lorry, and New Model Army should take note of."
Hear TENSION SPAN's "Cracked Society" first through No Echo now at THIS LOCATION.
Neurot Recordings will release The Future Died Yesterday on September 30th, on LP and through all digital platforms. The LP jackets are screenprinted; a 3-panel foldover cover, black and white inks printed on thick chipboard stock. Find preorders at the label webshop HERE and Bandcamp where "The Future Died Yesterday" and "The Crate Song" are playing HERE.
Watch for additional audio previews of the album and more to be issued over the weeks ahead.
Using the musical language of their past, the dark punk of their early acts, TENSION SPAN brings a new band and a new album to Neurot Recordings that sounds both urgent and personal, speaking truth to the bleak realities of today's sociopolitical collapse and the angst and identity crisis it brings. Somehow within the fabric of these themes of stress and fear and rage, there is a feeling of underlying hope, that there is something beautiful in the struggle.
Infusing classic elements of punk and post-punk, fans of Killing Joke, New Model Army, T.S.O.L., Subhumans, Conflict, Rudimentary Peni, and The Wraith will be instantaneously addicted to TENSION SPAN's dire urgency and infectious hooks.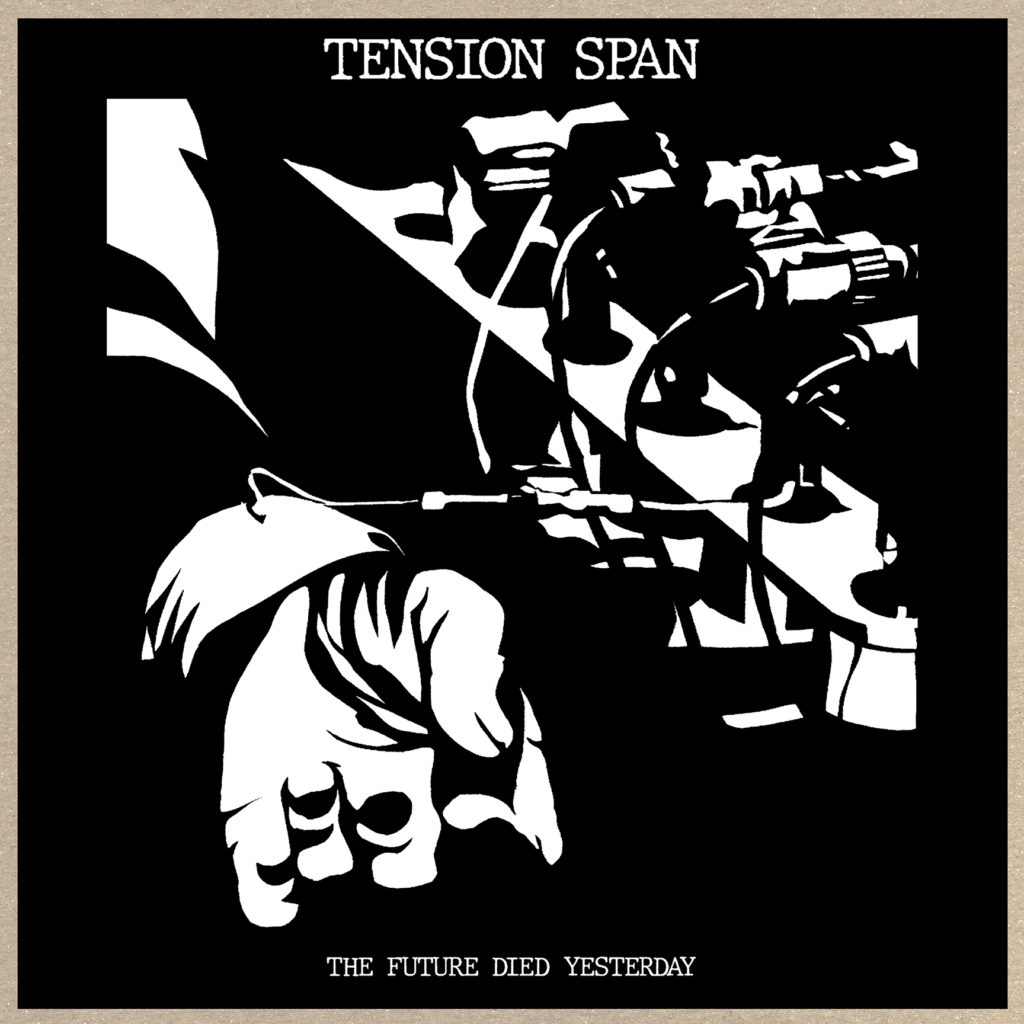 https://tensionspan.bandcamp.com
https://www.neurotrecordings.com
https://www.facebook.com/neurotrecordings
https://twitter.com/OfficialNeurot
https://neurotrecordings.bandcamp.com
https://www.instagram.com/neurotrecordings