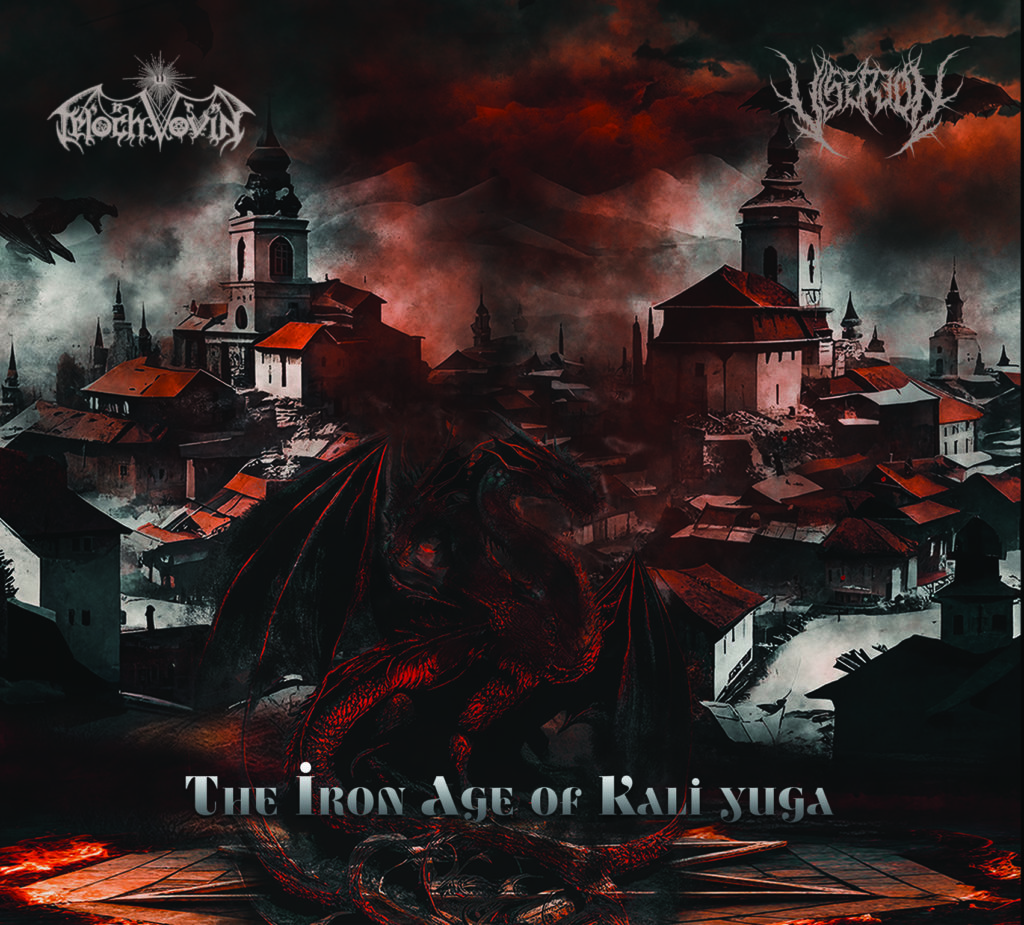 New York City-based black metal allies TELOCH VOVIN and VISERION unite on the ferocious new split album, The Iron Age Of Kali Yuga, set for independent release in late July.
Under the banner of Elohim Acherim, TELOCH VOVIN's material for The Iron Age Of Kali Yuga was produced by Grigori, engineered/recorded/mixed by Antonio (Ash) Padilla, and mastered by Mike Usifer at Aural Assault Studio. VISERION's Embrace The Void tracks were recorded at Level Up Recording Studios by David Melendez, with guest vocals on "Abandoned" by Xenomorph, except for "Fathers" which was recorded at 2525 Studios, produced by Gil Vives and Janan Kerry and featuring guest vocals by Kerry. The cover art and layout for The Iron Age Of Kali Yuga were handled by Elena Vasilaki with additional art by CryforDeath666.
TELOCH VOVIN and VISERION will independently release The Iron Age Of Kali Yuga on CD and digital on July 28th.
Stream TELOCH VOVIN's "An Eastern Temple" and VISERION's "Reborn In Darkness" at Bandcamp where preorders are posted HERE and HERE.
Watch for additional audio previews, videos, and more to be issued over the weeks ahead.
TELOCH VOVIN – Elohim Acherim Track Listing:
1. Elohim Acherim (Preludium)
2. Teloch Vovin
3. Keys To The Void
4. Dragon Sworn
5. Bells Ov Perdition
6. An Eastern Temple
7. Death's Pentagrammaton
VISERION – Embrace The Void Track Listing:
1. Reborn In Darkness
2. Abandoned
3. Fathers
A Brooklyn record release party for the split has also been confirmed, set to take place on the day of the record's release, July 28th. Additional details on the event will be posted shortly.
TELOCH VOVIN and VISERION CD Release Party:
7/28/2023 Duff's – Brooklyn, NY
TELOCH VOVIN by Mousie Dixon
Long Island/New York City-based TELOCH VOVIN is a conceptual work expressing the worship and ritual workings with the Forces ov Khaos, Entropy, and Death. TELOCH VOVIN is Enochian: Teloch translates as "Death" and Vovin translates as "Dragon" and is a reference to Samael "The Dragon ov Death" known in his fiery, destructive aspect as Satan.
TELOCH VOVIN was formed by Grigori in the early 2010s, its early lineup having self-released five titles while sharing the stage with Black Witchery, Negative Plane, Grave Gnosis, Kult Ov Azazl, Mortician, Shining, Black Anvil, Behexen, and Hobb's Angel Or Death, amongst others, building a rabid fan base.
Reforged within the fiery depths, with several lineup changes and additions, TELOCH VOVIN returned in 2020, thriving through the pandemic, performing successful live streams with Blood Feast, Sickbay, and Malignancy, while releasing a series of self-produced tracks via Bandcamp. The Elohim Acherim material for their contributions to The Iron Age Of Kali Yuga showcases the band combining black metal with elements of traditional, death, and doom metal, as well as classical and ambient/electronic influences, intertwined with occult practices that are the backdrop of TELOCH VOVIN, delivering a listening experience that is raw and violent while simultaneously captivating and hypnotic.
TELOCH VOVIN:
Grigori – guitars, backing vocals
Saturnus – bass, backing vocals
Azag – bells, samples, backing vocals
Proph – electronics
Ash – drums
C.O.S. – guitars
Baba Ogun – vocals
Etu Narum – vocals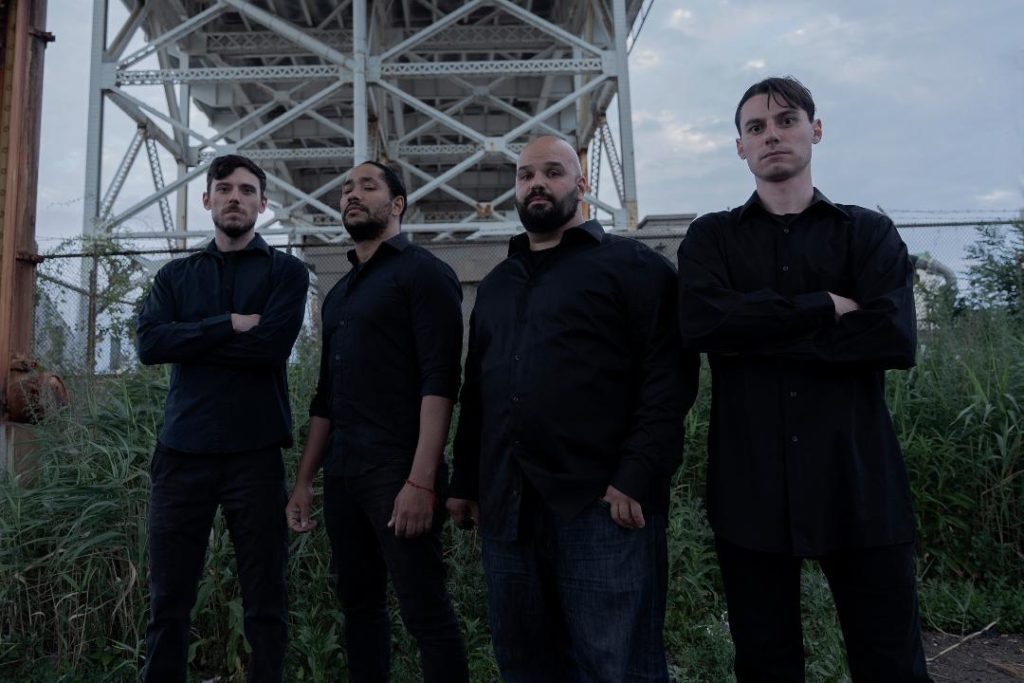 VISERION by Rebecca Paige
Based out of Queens, New York City, VISERION takes raw black metal and metamorphoses these elements with a chaotic fury of extreme influences. Death, grindcore, and progressive dynamics bleed through their caustic compositions entwining a tortuous aura across the music. They are unafraid to descend into the blackened depths and showcase the horrors within.
VISERION emerged in 2019, taking their name from the Game Of Thrones undead ice dragon. This extreme metal act made an impact on the scene with their ruthless sound, notably having performed at the legendary Saint Vitus Bar and more. Drawing influences from Darkthrone, Watain, Agalloch, Harakiri For The Sky, among others, the ensemble crafts a distinctive cross-genre twist.
January of 2020 saw the unveiling of the quartet's savage debut, the Death Dealer EP, followed swiftly by the acclaimed full-length Natural Selection in 2021. Feeding on the dark outpourings from the void below, VISERION delivers banshee shrieks and demonic gutturals against a nightmarish backdrop. Cleverly conveying the darkness from varying perspectives, the group reveal monstrous realms with dissonant clashes. Cutting through with a sharp edge, raging percussion and frantic guitars power through at a blistering pace. Exploring a different route, VISERION also ventures into eerie atmospheres and manifest bleak soundscapes to conjure up a place of vast nothingness.
VISERION has taken great steps so early in their career and are forging the path for the future. With recent lineup changes marking a new chapter, the band are presents Embrace The Void, their contributions to The Iron Age Of Kali Yuga.
VISERION:
Benedetto "Slaughter" Marvilli – guitar, vocals
Matthew "Durden" Marvilli – Drums, backing vocals
Cris V – lead guitar
Tasso Diakov – bass
https://www.telochvovin288.bandcamp.com
https://scalesofvovin333.bigcartel.com
https://www.instagram.com/telochvovin666
https://www.facebook.com/TelochVovinOfficial
https://viserion.bandcamp.com
https://www.instagram.com/viserion_official
https://www.facebook.com/ViserionOfficial
https://twitter.com/viserionband