In honor of their upcoming Brainsqueeze II Fest, the volume-gremlins at Oakland-based Tankcrimes Records are pleased to offer up the fabulously fest-centric Have You Seen My Mind compilation. A FREE for all free-for-all, the mammoth collection features an exclusive re-recording of Municipal Waste's "Insurance Fraud" from their split with Crucial Unit, new hymns from The Shrine and Fucked Up, a remastered version of Final Conflict's "Crucifixion," a bonus tune from Obsessor, sexy numbers from Ghoul, Iron Reagan, BAT, Cannabis Corpse, a bonus bonus track for downloaders and so much MORE!
The magical murderous medley is currently available for streaming and FREE download courtesy of Invisible Oranges at THIS LOCATION. Get down with the cheapness.
Have You Seen My Mind Track listing:
Ghoul – "Spill Your Guts"
Final Conflict – "Crucifixion"
Municipal Waste – "Insurance Fraud"
The Shrine – "Destroyers"
Negative Approach – "Pressure"
BAT – "Code Rude"
Fucked Up – "I Wanna Be A Yank" (Cardboard Brains cover)
Kicker – "Not You"
Iron Reagan – "Mini Lights"
Brainoil – "Death of this Dry Season"
Fucktard – "Ladder of Pigs"
Impaled – "You Are the Dead"
Conquest For Death – "Sand Storms"
Cannabis Corpse – "Shatter Their Bongs"
Connoisseur – "I Am The Weed"
Obsessor – "Aftershock"
+A Secret Track
Set to commence April 18th and 19th at the Oakland Metro and April 20th at Eli's Mile High Club, which will include BBQ and an Andrei Bouzikov art show, the gargantuan Brainsqueeze gala features more than a dozen ear-searing luminaries including Municipal Waste, Final Conflict, Ghoul and Negative Approach.
Weekend super passes are on sale NOW and include a two-sided, duel color Brainsqueeze T-shirt and 22″ x 34″ two-color screen printed poster. Nab your tickets now RIGHT HERE or be left in the dust. And if you missed it, don't forget to check out the nut-busting video teaser below.
Friday – April 18, 2014
Oakland Metro – All Ages
Ghoul
Cannabis Corpse
Final Conflict
Iron Reagan
BAT
Fucktard
Saturday April 19, 2014
Oakland Metro – All Ages
Municipal Waste
Negative Approach
Fucked Up
Impaled
The Shrine
Kicker
Conquest for Death
Sunday – April 20, 2014
Eli's Mile High Club – 21+
Brainoil
Deny the Cross
Connoisseur
+ wild and unpredictable guests
BBQ + Andrei Bouzikov art showing
Individual ticket info will be available via the Tankcrimes Bandcamp Page soon. Stay alert.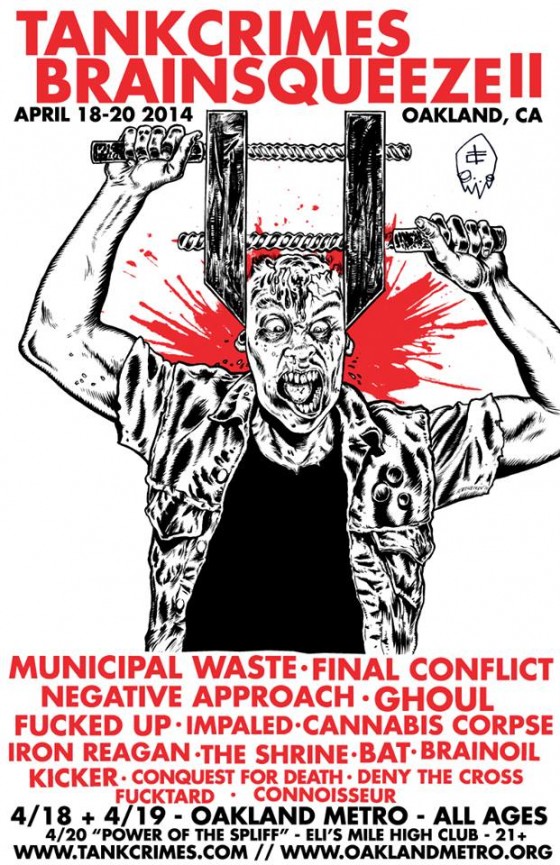 http://www.facebook.com/events/201756163348784
http://www.tankcrimes.com/aboo
http://www.facebook.com/Bouzikov