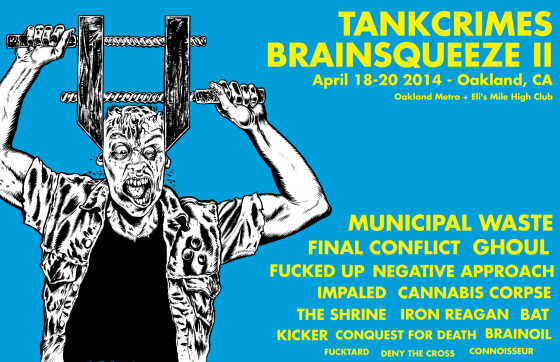 The instigators at Oakland's Tankcrimes Records are pleased to announce details of this year's BRAINSQUEEZE II Fest! Set to take place April 18th and 19th at the Oakland Metro and April 20th at Eli's Mile High Club, which will include BBQ and an Andrei Bouzikov art show, the mammoth event features more than a dozen groin-churning acts including riotous appearances by Municipal Waste, Final Conflict, Ghoul and Negative Approach as well as a gaggle of new Tankcrimes releases to be revealed in the coming days! Get your riot gear ready.
Tankcrimes' BRAINSQUEEZE II Fest Confirmed Lineup:
Municipal Waste
Final Conflict
Ghoul
Negative Approach
Fucked Up
Cannabis Corpse
Impaled
The Shrine
Iron Reagan
BAT
Brainoil
Kicker
Conquest for Death
Fucktard
Deny the Cross
Connoisseur
A special digital fest-only compilation featuring face-raping numbers from the entire lineup will be available via the Tankcrimes Bandcamp Page soon. Ticket info, schedule and further BRAINSQUEEZE intel to be announced shortly. Stay tuned.
http://www.facebook.com/events/201756163348784
http://www.facebook.com/Bouzikov
http://www.facebook.com/tankcrimes