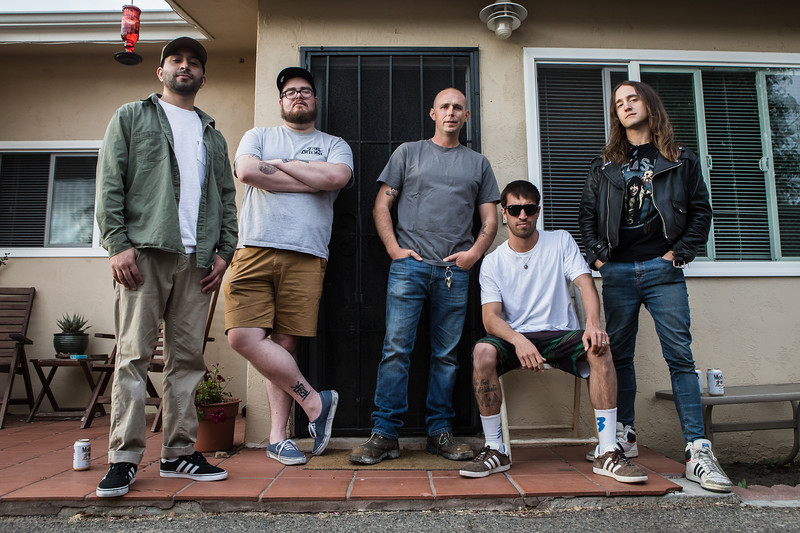 [photo by Veronika Reinert]
Southern California hardcore outfit TAKE OFFENSE has issued a new video for their track "Trust," from their Tensions On High EP, which was released earlier this year through Flatspot Records. The video sees it premiere through Kerrang Magazine as the band also announces new co-headlining tour dates of the East Coast US with Cruel Hand in November, with support from Blind Justice.
Drawing from Suicidal Tendencies, Agnostic Front, DRI, and the '80s hardcore visionaries who pioneered hardcore and metal's earliest experiments, TAKE OFFENSE pushes their sound to dizzying heights on the Tensions On High EP. Forging a sound that's as familiar as it is fresh, Tensions On High was recorded at Jet To Mars Studios by Nick Jett (Terror), mixed and mastered at Casa Sonido by Jett, and finished with cover art by Gera Vega with layout and design by Jose Gonzales.
The new video for "Trust" sees its debut through Kerrang who offers, "TAKE OFFENSE are doing crossover thrash right. The Chula Vista, CA, quintet channel all the energy and attitude of classic acts like S.O.D. and Suicidal Tendencies without making a retro spectacle of it. The riffs drive with buzzsaw overdrive but are still janky and danceable, the drums are stripped-down and insistent, and the vocals are harsh but honest. The result is music that makes you wish you were there, in whatever basement or humid bar or abandoned pool Take Offense are playing, throwing bows and bouncing impatiently."
See the "Trust" video by TAKE OFFENSE via Kerrang RIGHT HERE.
Tensions On High is available on cassette and digital platforms via Flatspot Records; stream the EP at Bandcamp HERE and find physical options HERE.
Following short bursts of East and West Coast US tours early this year and a European tour in August, TAKE OFFENSE will now hit the East Coast US this fall. The trek sees them co-headlining with Cruel Hand and supported by TAKE OFFENSE's labelmates Blind Justice. This tour runs from November 15th through 19th with shows in Cambridge, Oakdale, Richmond, Baltimore, and Brooklyn. TAKE OFFENSE is also confirmed to return to Europe to take part in The Persistence Tour 2019 with Sick Of It All, Municipal Waste, Walls Of Jericho, and more in January.
TAKE OFFENSE Tour Dates:
w/ Cruel Hand, Blind Justice
11/15/2018 Elk's Lodge – Cambridge, MA
11/16/2018 Shaker's Pub – Oakdale, NY w/ Somerset Thrower, guest headliner TBA
11/17/2018 Strange Matter – Richmond, VA w/ Red Vision, Watch Dogs, Outsider
11/18/2018 St. Mary's – Baltimore, MD w/ Queensway, End It
11/19/2018 Kingsland – Brooklyn, NY w/ Mind Force, No Idea
The Persistence Tour 2019 w/ Sick Of It All, Municipal Waste, Walls Of Jericho:
1/17/2019 Astra – Berlin, DE
1/18/2019 Grosse Freiheit 36 – Hamburg, DE
1/19/2019 Krafwerk Mitte – Dresden, DE
1/20/2019 Sono Music Club – Brno, CZ
1/21/2019 Backstage Werk – München, DE
1/22/2019 Inselhalle – Lindau, DE
1/23/2019 Les Docks – Lausanne, CH
1/24/2019 Schlachtof – Wiesbaden, DE
1/25/2019 De Brielpoort – Deinze, BE
1/26/2019 Turbinenhalle – Oberhausen, DE
1/27/2019 02 Forum Kentish Town – London, UK
https://twitter.com/takeoffensecvhc
https://www.instagram.com/takeoffensecvhc
https://www.facebook.com/takeoffensecvhc
https://takeoffensecvhc.bandcamp.com
http://www.flatspotrecords.com
http://www.facebook.com/flatspotrecords
https://flatspotrecords.bandcamp.com