[photo by Nick Thieneman]
Having signed Chicago-based SWEET COBRA for their anxiously awaited new studio album, Earth, Magic Bullet Records is now preparing the LP for release in July, as the first single is made publicly available through a video of "Future Ghosts" via an exclusive premiere at Noisey.
SWEET COBRA's first full-length recording since their lauded 2010-released Mercy, the thundering Earth was recorded and produced by Matt Talbot of Hum and Kurt Ballou of Converge at Talbot's Earth Analog Studios in Illinois, mixed by Ballou at his Godcity Studio in Massachusetts, and mastered by Carl Saff. Additionally, both Ballou and Talbot make guest appearances on the album. Earth shows the band hungrier than ever, with the trusted and infectious ferocity fans will expect as well as a slick, more accessible approach. There's no rough edges; no jarring moments. From the first note to the conclusion of the twelve-song bang-ouevre, there is crystal clear purpose and cohesiveness throughout. It has the confidence and catchiness of the heavier moments of Queens Of The Stone Age with the drive of The Jesus Lizard. It has the surge and wallop of Quicksand while delving into far more diverse sonic territories. The pairing of Talbot and Ballou as co-producers has truly yielded a stunning, classic heavy album for the ages.
The bizarre official video for first single from Earth, "Future Ghosts" was directed and animated by Katie Kapuza with assistance from Molly Mccandleuss and props and masks created by Christine Ciarleglio. Showcasing not only the crushing and vibrant tones of their new LP, the video also brings out the imaginative and amusing angles of the SWEET COBRA trio. The write-up accompanying the premiere at Noisey issues in part, "Their video for lead single 'Future Ghosts' finds the Chicago trio deviating from their earlier permutations of d-beat, sludge metal, and hardcore. As if tipping their hat to the city that's nurtured them, the song takes on elements of other staunchly uncompromising Chicagoans–the sardonic middle-finger of Jesus Lizard, the bottomfeeder throb of early Pelican, the call-to-arms drive of Naked Raygun.."
Break out SWEET COBRA's "Future Ghosts" video through Noisey at THIS LOCATION.
Magic Bullet Records will issue Earth on digital formats July 17th, and on LP and CD July 24th. Digital preorders are live HERE and physical preorders will be posted in the coming days.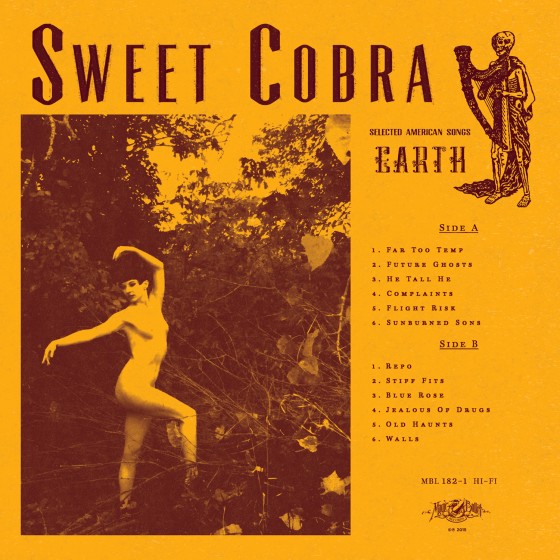 Earth Track Listing:
1. Far Too Temp
2. Future Ghosts
3. He Tall He
4. Complaints
5. Flight Risk
6. Sunburned Sons
7. Repo
8. Stiff Fits
9. Blue Rose
10. Jealous of Drugs
11. Old Haunts
12. Walls
SWEET COBRA will play a local show for Earth this Friday, June 19th at the Empty Bottle in Chicago as a special advance for their diehard local audience, with another show in Madison later in the month. Much more touring from the band is to be expected in the coming months as well.
SWEET COBRA Live:
6/19/2015 The Empty Bottle – Chicago, IL w/ Cloakroom, Electric Hawk (record release), Paletazo [info]
6/27/2015 The Frequency – Madison, WI w/ The Life And Times
The dedication of its members has helped make SWEET COBRA a household name to fans of bold rock and post-hardcore internationally, and a staple within the bustling music scene of their hometown of Chicago. Founded in 2003 by former members of a wide array of notable underground acts and boasting the fury and angular qualities of their hardcore/noise-rock/metal roots with a more straightforward rock rhythm and delivery, the band came into existence and toured alongside the likes of Pelican, Russian Circles, Coliseum, Black Cobra, Doomriders, The Life And Times, Young Widows and many more. SWEET COBRA toured regularly throughout the first decade of the 2000s, and released a crushing load of recorded material, including three LPs – 2004's Praise through Seventh Rule Recordings, 2007's Forever through Hawthorne Street Records, and 2010's Mercy on Blackmarket Activities – as well as split releases with Doomriders, Get Rad, and Young Widows among other releases.
In fall 2009, with Mercy just completed, second guitarist Mat Arluck lost his ongoing fight with cancer. Arluck's death left a deep scar on the entire Chicago music scene (and beyond). SWEET COBRA committed to soldier on as a three-piece, as they began, resulting in a transformation of the band in the following years. The members have pushed forward – playing shows, constructing new material, and exploring new sounds. These efforts have culminated in the upcoming release of Earth.
http://www.facebook.com/sweetcobra
http://instagram.com/sweetcobraband/
http://sweetcobra.bandcamp.com/
http://www.magicbulletrecords.com
http://www.facebook.com/magicbulletrecords
http://twitter.com/magicbulletrecs