SUPERJOINT will take on part two of their Caught Up In The Gears Of Application US live takeover next month. The tour will make its way west from San Antonio, Texas in mid-April through mid-May with additional dates to be announced in the coming weeks. Support will be provided by Motor City thrashers Battlecross and noise rock eccentrics/Housecore labelmates Child Bite, also of Detroit, who both trekked out with the band during the first leg of the tour in January. See all confirmed performances below.
SUPERJOINT recently played the For The Sick Benefit, a three-day festival-style event organized for Eyehategod frontman Mike IX Williams, who underwent a liver transplant last December. Check out some live footage of the band below alongside their official video for Caught Up In The Gears Of Application.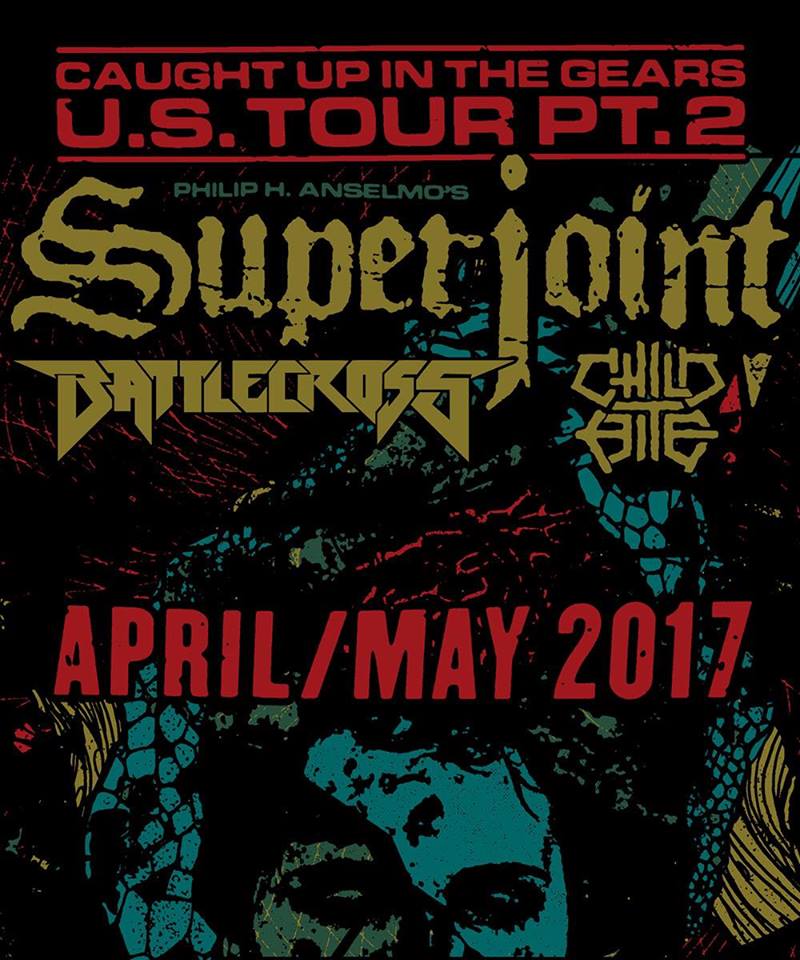 SUPERJOINT w/ Battlecross, Child Bite:
4/21/2017 Alamo City Music Hall – San Antonio, TX [tickets]
4/22/2017 Jake's Backroom – Lubbock, TX [tickets]
4/23/2017 Sunshine Theater – Albuquerque, NM [tickets]
4/25/2017 Marquee Theater – Tempe, AZ [tickets]
4/27/2017 Whisky A Go Go – West Hollywood, CA [tickets]
4/29/2017 Brick By Brick – San Diego, CA [tickets]
4/30/2017 Slim's – San Fransico, CA [tickets]
5/02/2017 El Corazon – Seattle, WA [tickets]
5/03/2017 Hawthorne Theatre – Portland, OR [tickets]
5/09/2017 Black Sheep – Colorado Springs, CO [tickets]
5/10/2017 Summit Music Hall – Denver, CO [tickets]
Caught Up In The Gears Of Application is SUPERJOINT's first proper studio offering in over a decade. Recorded at the famed Nodferatu's Lair, produced by SUPERJOINT co-founder Philip H. Anselmo (Down, Pantera, Scour, Philip H. Anselmo & The Illegals, Arson Anthem etc.) and Stephen Berrigan (Down, Philip H. Anselmo & The Illegals, Eyehategod, Haarp, Classhole, etc.), and mastered by Scott Hull (Agoraphobic Nosebleed, Pig Destroyer) at Visceral Sounds, the thirty-eight-minute bruiser spews forth an unapologetic crossover of hardcore punk, metal, and uncompromising, antagonistic, New Orleans-style angst.
Various order bundles, including limited edition vinyl options and authentic woodwork from their "Caught Up In The Gears Of Application" video are available via Housecore at THIS LOCATION. For digital orders, point your browser HERE where you can also stream the record in full.
SUPERJOINT was resurrected in 2015 after the original band broke up a decade earlier. At the behest of the late Corey Mitchell, co-founder of The Housecore Horror Film Festival, SUPERJOINT founders Anselmo, Jimmy Bower (Down, Eyehategod), and Kevin Bond (Christ Inversion, Artimus Pyledriver et al) joined forces with longtime comrades, drummer José "Blue" Gonzalez (Warbeast, Philip H. Anselmo & The Illegals), and bassist Stephen Taylor (Philip H. Anselmo & The Illegals, Woven Hand, 16 Horse Power). A new era of the band was born. After just two tours, new material followed culminating in the scathing sounds of Caught Up In The Gears Of Application.
"SUPERJOINT's music is like a poison that you want to keep drinking, a spirit that doesn't age, and never heals – but it'll kill time. There is creative genius in these guys." – New Noise Magazine
"SUPERJOINT are looking to add a vicious and philosophical third chapter to the band's legacy." – Loudwire
"[Philip H. Anselmo's ] tenacity seems undeniable, and that spirit shines through Caught Up In The Gears Of Application from beginning to end." – Blabbermouth
"…a great mix of southern rock and hardcore punk… if Down ever got really angry and decided to knock out a punk record, this is what I imagine it would sound like." – Metal Injection on the title track
"They may have dropped the ritual but they have kept the habitual as the ferocious New Orleans supergroup pick up where they left off after a 13-year gap." — Maximum Volume Music
"The volatile, acidic savagery that the band is known for is just as present now as it was before they went on hiatus over a decade ago…." – Metal Nexus
"…raw, vicious, and unrelenting. Everything that has made the Phil Anselmo projects great over the past few years is represented here… this man is one of the truly great forces in metal." — Two Guys Metal Reviews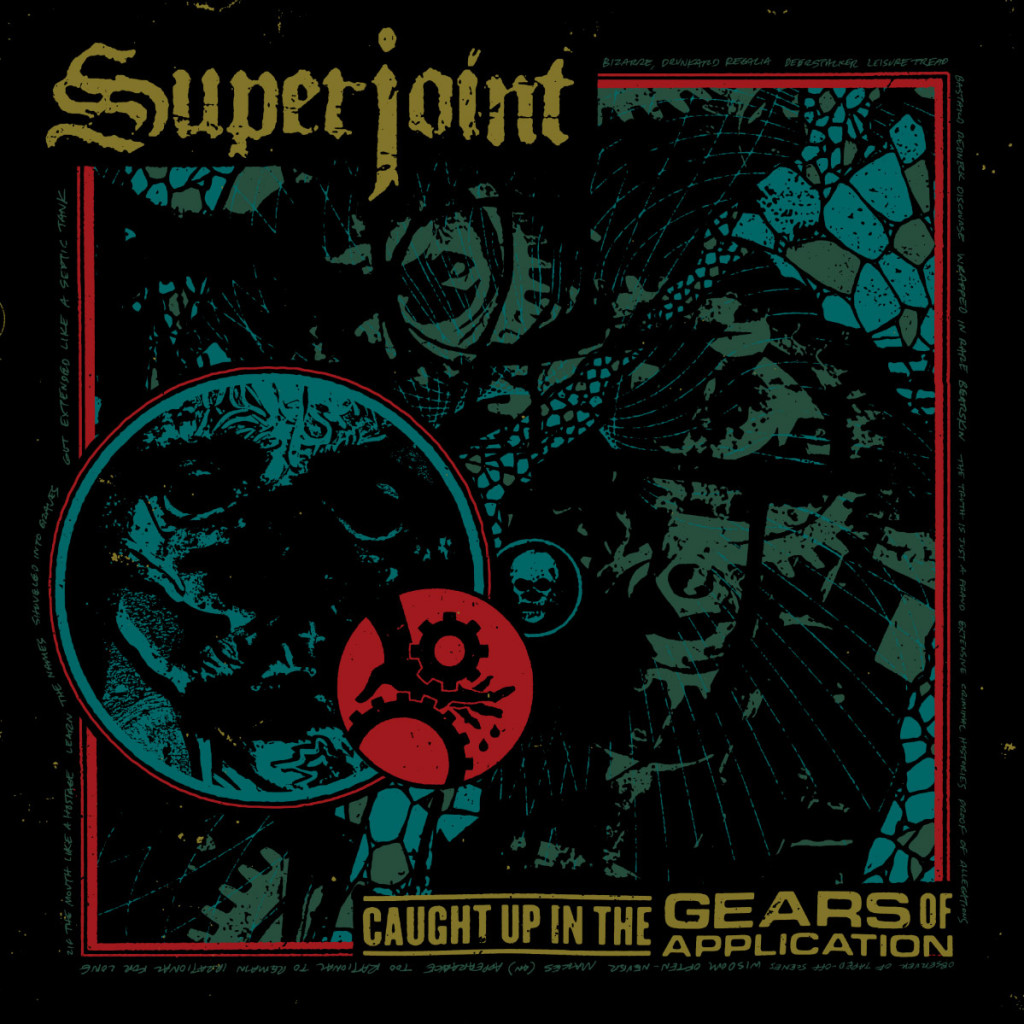 http://www.thehousecorerecords.com
http://www.thehousecorestore.com
http://www.facebook.com/housecorerecords