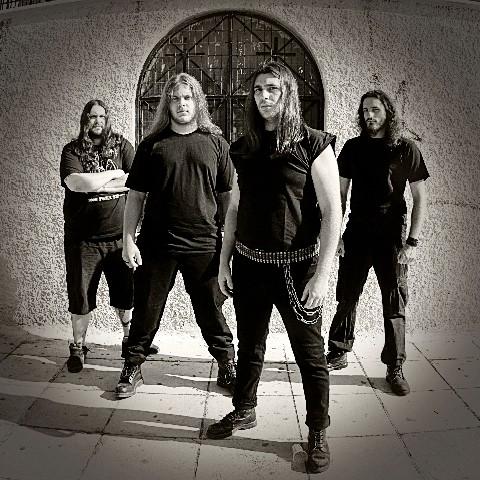 The members of Greek thrash quartet SUICIDAL ANGELS are now available for interviews in support of their new album Sanctify The Darkness, which was released recently in North America by Sonic Unyon Metal. The album, which was released in Canada and the USA on June 22nd, 2010, was released in Europe by Nuclear Blast in late 2009.
Today, Stereokiller.com has premiered the track "Beyond The Laws Of Church" from Sanctify The Darkness; check out this scorcher here: http://www.stereokiller.com/SuicidalAngels
SUICIDAL ANGELS have been very busy in 2010. After a European tour supporting Overkill, the band then did their first ever headlining tour of Europe, with support from Canada's Cauldron and Sweden retro metallers Enforcer. The band completed work on their upcoming third studio album in June, and also recently played the Sonisphere Festival in Athens, Greece on June 24th along with Metallica, Slayer, Megadeth and Anthrax, something which was a dream come true for the band.
"Thursday, June 24th. About 12 o'clock and even before we hit the stage you are out there, rooting for us and ready to wreck the place. And that's what you did…," stated SUICIDAL ANGELS guitarist Nick. "From the first note, you were banging your heads, moshing, beating the shit out of each other, screaming your lungs out! We haven't felt more excited before and you could see that in us. We want to thank everyone who was there; it was and forever will be, an honor, to open that festival for you. Until next time, Thrash 'Till Death!"
SUICIDAL ANGELS will be taking part in Thrashfest 2010 this November and December. The tour, which is already being called the "thrash metal tour of the year", also features Kreator, Exodus, and Death Angel.
Thrashfest 2010 Tour w/ Suicidal Angels, Kreator, Exodus, Death Angel:
11/26/2010 LKA Longhorn – Stuttgart, Germany
11/27/2010 Turbinenhalle – Oberhausen, Germany
11/28/2010 Hof Ter Loo – Antwerpen, Belgium
11/29/2010 Hellraiser – Leipzig, Germany
11/30/2010 Garage – Saarbrücken, Germany
12/01/2010 Postbahnhof – Berlin, Germany
12/02/2010 KD Vltavska – Prague, Czech Republic
12/03/2010 Arena – Wien, Austria
12/04/2010 X-Mas Metal Festival – Lichtenfels, Germany
12/05/2010 Markthalle – Hamburg, Germany
12/06/2010 Pumpehuset – Copenhagen, Denmark
12/07/2010 Betong – Oslo, Norway
12/08/2010 Debaser Medis – Stockholm, Sweden
12/09/2010 Voxhall – Aarhus, Denmark
12/10/2010 Capitol – Hannover, Germany
12/11/2010 Backstage – Munich, Germany
12/12/2010 Melkweg – Amsterdam, Netherlands
12/13/2010 Elysee Montmartre – Paris, France
12/14/2010 Z7 – Pratteln, Switzerland
12/15/2010 Estragon – Bologna, Italy
12/16/2010 Cvetlicarna Mediapark – Ljubljana, Slovenia
12/17/2010 Hessenhallen – Gießen, Germany
12/18/2010 Eindhoven Metal Meeting – Eindhoven, Holland
12/19/2010 Live Music Hall – Cologne, Germany
"…they offer some of the most genuine-sounding old-school thrash you'll hear in 2010. There are no death, black, or -core influences popping up here; these tunes are all blue-collar ragers that smakc of Razor, Dark Angel and Destruction." – Decibel Magazine
"Lots of catchy riffs here, some tight rhythms and fast syncopation, all hallmarks of the great thrash bands who were able to play at breakneck speeds." 4/5 – Stereokiller.com
"They're taking their favourite moments and using them as the impetus for creating new favourite moments… If you need some authentic, neck wrecking, rhythm guitar chugging, riff-tastic thrash, this is your band." 8.5/10 – Hellbound.ca
"They have taken all the elements that constitute the best of the genre, drawn on their influences from the architects and innovators and injected their own personal styles to create a high-energy, blistering release full of head-banging, mosh pit anthems." – Metaleater.com
More tour information will be available at http://www.thrashfest.eu soon.
http://www.suicidalangels.com
http://www.myspace.com/suicidalangels
http://www.sonicunyon.com
http://www.sonicunyon.com/records/artists/suicidal%20angels