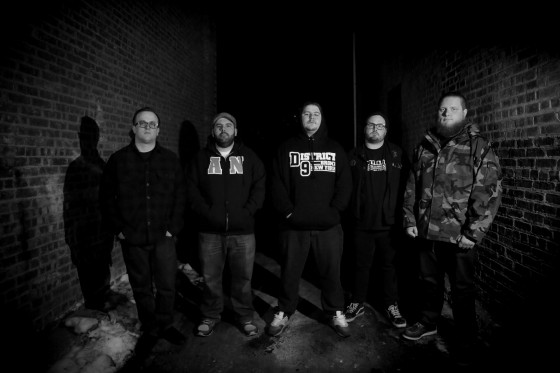 The first single from the upcoming debut LP by New Jersey's SUBURBAN SCUM has been has been released early through Lambgoat as the band takes their bruising new anthems cruising across the country on tour today.
SUBURBAN SCUM has just wrapped up production on their debut full-length release at the Machine Shop in Belleville, New Jersey with producer Will Putney (Body Count, Vision Of Disorder, The Acacia Strain), the man also responsible for mixing and mastering the album. Now confirmed to wear the title Ultimate Annihilation, the new album takes the riotous, straightforward energy of the band's previous recordings to a dynamic new level of ferociousness through a dozen crushing tracks of full-bore Jersey hardcore. Ultimate Annihilation also bears guest vocal contributions from Justice Tripp (Trapped Under Ice, Angel Du$t), Brendan Garrone (Incendiary), and Gregory Falchetto (The Mongoloids), and has is fitted with cover artwork by Jesse Schallart (Skeletonwitch, Xibalba, Discourse). Troy, New York-based Closed Casket Activities, also responsible for SUBURBAN SCUM's split LP with Xibalba, will release Ultimate Annihilation on vinyl as well as through all major digital platforms early this Summer with a final street date to be announced shortly.
The first taste of blood to be shed from SUBURBAN SCUM's Ultimate Annihilation has just been spat forth via Lambgoat, with the exclusive premiere of the album's "Death Is Destiny" playing RIGHT HERE.
Ultimate Annihilation Track Listing:
1. The Beginning Of The End
2. Ultimate Annihilation
3. Forced Through Fire
4. Zero Tolerence
5. Love And Hate
6. Pain Is Promised
7. Ready For War
8. Misery Loves Company
9. Six Feet Under
10. Watch It Burn
11. The Calm Before The Storm
12. Death Is Destiny
The band's first video, additional audio and more on Ultimate Annihilation will inundate the masses over the coming weeks.
The latest live actions from SUBURBAN SCUM begin today as the band hits the highways alongside Bent Life and Misery supporting the co-headlining Rotting Out and Expire tour, raging through the Western half of the country from March 3rd through the 22nd. SUBURBAN SCUM will also perform on the second day of the New England Metal & Hardcore Fest on Saturday, April 18th with Testament, Exodus, Nuclear Assault, Nails, Indecision, Incendiary and others followed by the first day of the Black N' Blue Bowl in NYC on May 16th with The Regulators, Candiria, Madball, Earth Crisis, Turnstile and more.
SUBURBAN SCUM Tour Dates:
3/03/2015 Korova – San Antonio, TX
3/04/2015 Electric Banana – El Paso, TX
3/05/2015 Launchpad – Albuquerque, NM
3/06/2015 Nile Underground – Mesa, AZ
3/07/2015 The Echo – Los Angeles, CA
3/08/2015 Metro Sideroom – Oakland, CA
3/09/2015 RBU Davis University – Sacramento, CA
3/10/2015 Holland Project – Reno, NV
3/11/2015 Kilby Court – Salt Lake City, UT
3/12/2015 Marquis Theater – Denver, CO
3/13/2015 Vaudeville Mews – Des Moines, IA
3/14/2015 Minehaha Freespace – Minneapolis, MN
3/15/2015 The Borg Ward – Milwaukee, WI
3/16/2015 The Beat Kitchen – Chicago, IL
3/17/2015 The Foundry – Cleveland, OH
3/18/2015 Legends – Covington, KY
3/19/2015 The Demo – St Louis, MO
3/20/2015 The Conservatory – Oklahoma City, OK
3/21/2015 Walters – Houston, TX
3/22/2015 QuikTrip Park – Grand Prairie, TX @ South By So What?!
4/10/2015 Game Changer World – Howell, NJ w/ No Warning, Breakdown, Foundation, Think I Care, King Nine
4/18/2015 The Palladium – Worcester, MA @ New England Metal & Hardcore Fest
5/16/2015 Webster Hall – New York, NY @ Black N' Blue Bowl
Since 2010 SUBURBAN SCUM has been busy touring abroad in addition to releasing multiple recordings, including their Infernal War EP with Ride The Fury Records, the 2012-released Hanging By A Thread EP on 6131 Records, a split 7″ with Incendiary via Closed Casket Activities and most recently a split 12″ with Xibalba also on Closed Casket released last year. Their clear-cut delivery is elementally hardcore to the bone; completely enraged and outspoken, with enough metal to make its presence known and not overthrow the core of the songs, their lyrics streetwise but realistic. Having made their presence known on tour with the likes of Expire, Rotting Out, Backtrack, Harm's Way, Bitter End, Downpresser and many others, and their energetic performances at major festivals including This Is Hardcore, Sound & Fury, United Blood, Rain Fest and more have been well-documented with Youtube visual evidence and mass reports of bodily harm during performances.
http://suburbanscum.bandcamp.com
http://twitter.com/suburbanscum
http://www.closedcasketactivities.com
http://www.facebook.com/closedcasketactivities
http://twitter.com/closedcasketact