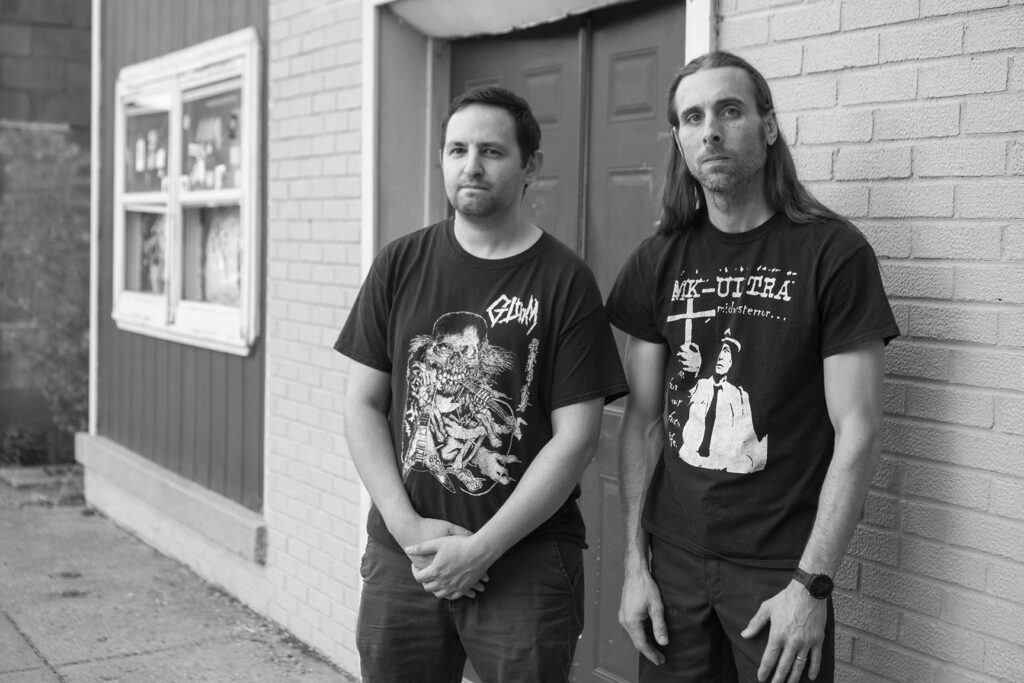 photos by Britt Crowe
"…a soundtrack to the turmoil that this world is facing…" – Cvlt Nation
As Chicago sludge/powerviolence duo STOMACH prepares to drop their demolishing debut LP, Parasite, through Hibernation Release this Friday, Cvlt Nation today presents an exclusive advance stream of the entire record.
STOMACH began in early 2020 during one of the most critical, uneasy, and isolated times for the world as we know it. Drummer/vocalist John Hoffman started the project as an attempt to focus on a darker and more abstract version of the hatred that once infiltrated former projects Weekend Nachos and Ledge. What started as a loose vision of pure Earth and Grief worship quickly mutated into a more unique canvas of misanthropy and despair, combining the sounds of sludge, noise and powerviolence, with zero limits in sight. Later, guitarist Adam Tomlinson of Sick/Tired and Sea Of Shit fame joined the lineup; a fateful reunion of minds from his early days of drumming in the very first Weekend Nachos lineup.
Following two self-released underground demo tapes, and playing the occasional gig, STOMACH continues to spread their brand of misery across a dejected world with their debut full-length, Parasite, spewing forth eight searing tracks of filth-ridden sludge and gut-churning doom combined with spiteful and introspective lyrical concepts. Parasite was recorded at The Pit II, Geneva, Illinois in the Fall of 2022, and was mixed and mastered by Will Killingsworth at Dead Air Studios. With Parasite, STOMACH has created an aggressively gripping aural experience fitting for these bleak times. The LP's pained, dredging anguish is a must-hear for those who worship at the altar of Grief, Corrupted, Primitive Man, Indian, Toadliquor, and other slow-motion auditory misery.
Hoffman states, "Parasite is STOMACH's first album… It's heavy, it's dark, and it's honest. I dove into a plethora of hellholes to pull this content to the surface – the bleakness and negativity contained within is open to interpretation, but I also hope it paints a pretty dark picture. It's also a vision fully realized in comparison to the earlier recordings of the past few years – if the first and second demos were us cautiously dipping our toes into the water, this full-length is us taking a plunge deep into the ocean with hopes of drowning."
Cvlt Nation writes, "I feel No JOY! I see No LIGHT! I see No HOPE! I feel No HAPPINESS! All I can hear is the suffocating despair… they have created a soundtrack to the turmoil that this world is facing right now and beyond."
Visit Cvlt Nation to endure STOMACH's entire pained Parasite LP early at THIS LOCATION.
Parasite will be released this Friday, October 20th digitally and vinyl via, with 100 pressed on Clear wax as a label exclusive as well as 200 copies on Black. Find preorders at the Hibernation Release label webshop HERE and Bandcamp HERE.
Following a recent hometown show supporting Crowbar, Primitive Man, and Bodybox, STOMACH is currently plotting additional upcoming performances. Watch for updates to post over the weeks ahead.
https://www.instagram.com/stomachdoom
https://www.hibernationrelease.com
https://hibernation-release.bandcamp.com
https://www.facebook.com/hibernationrelease
https://www.instagram.com/hibernationrelease