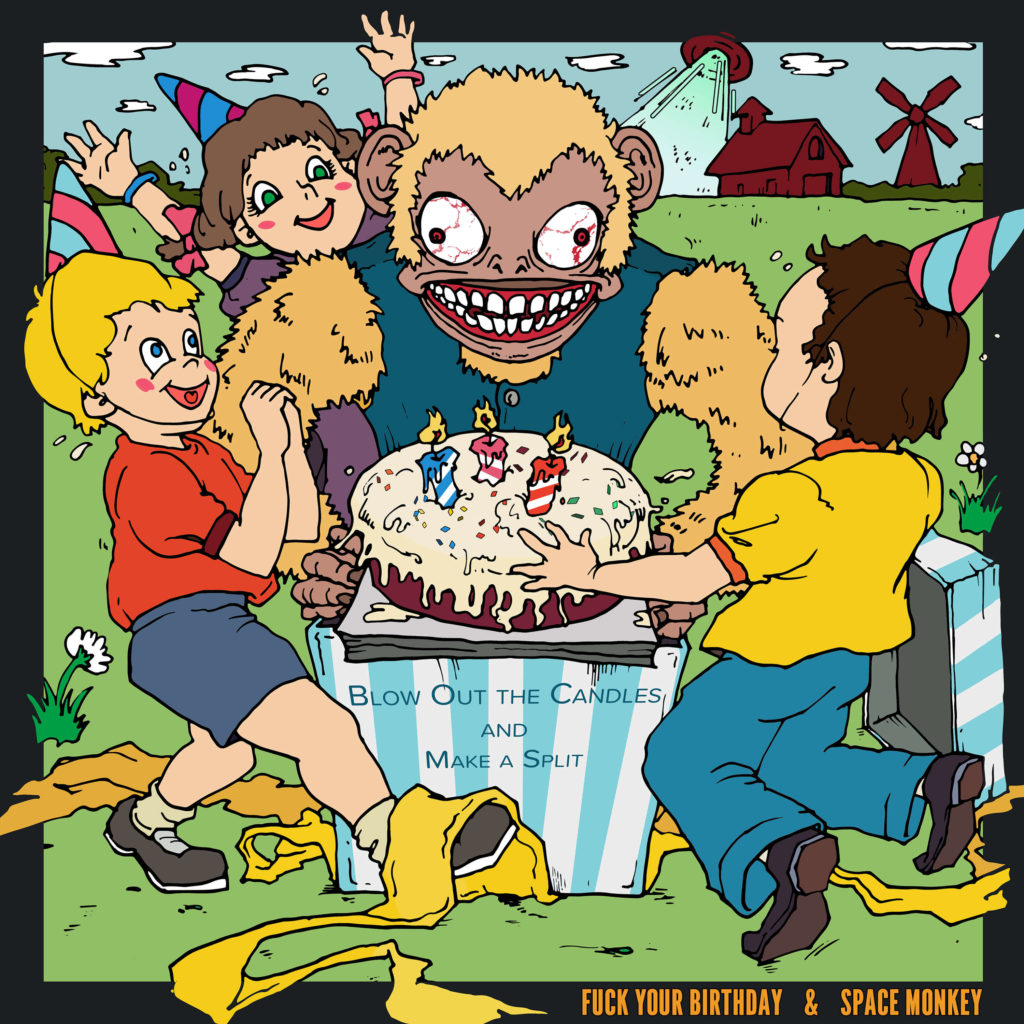 Nefarious Industries lifts the veil on a new split 7″ from two outer-boundary musical acts, SPACE MONKEY and FUCK YOUR BIRTHDAY. Blow Out The Candles And Make A Split will see a 7″ vinyl release with one track from each band, while the digital version will feature an additional track from each band.
SPACE MONKEY's tracks "We Are Space Monkey" and "Billy Billy" were recorded at ACE Station in Guangzhou, China. For FUCK YOUR BIRTHDAY's "The Plan" and "Go Outside," the drums were recorded in Keidan's Living Room in Morgantown, West Virginia, the guitars and bass were recorded in a shed in New Martinsville, West Virginia, and the vocals were recorded in Wenzhou, China. All tracks on Blow Out The Candles And Make A Split were mixed by Christopher Henry and mastered by Bill Henderson at Azimuth Mastering.
Offers FUCK YOUR BIRTHDAY's Christopher Henry of the split, "Our tracks on Blow Out the Candles and Make A Split are a simultaneous foray into poppy song structuring, punk-spirit summoning, and mountainous dynamic landscaping. In 'The Plan,' there's a classic third chorus-key-change, and 'Go Outside' has a vocal refrain perfect for singing along on the first listen. Both tunes are packed with plenty of power-chords and punk-beats. But they're far from one-dimensional. There are valleys that fall to almost a whisper, and peaks that nearly reach wall-of-sound status. In an 80/20 mix of singing to screaming, we complain about the 9-5 grind and about the weak WiFi signal in my old apartment. But we know we've got it good, and we're stoked to be releasing this split with our pals in SPACE MONKEY, so you don't even need to ask us what we wished for."
SPACE MONKEY's Pengdee states, "Youth, to many people, hardly includes more than the time spent nose-diving in textbooks. However, we see youth as the energy source necessary for breaking out of the numbness of adulthood. So, we implore youths everywhere to shirk those chains of conformity, avoid falling into the mentality of the middle-aged man, and run as wild as a space monkey. Pinboard was/is my original band from high school, but then when Junsun and I went to college we started a band to play a simpler slice of punk rock, akin to our favorite bands: The Ramones and The Clash. We decided to title this band SPACE MONKEY after seeing Fight Club, when Tyler calls his gang of henchmen space monkeys. We thought the way they worked off their stress could be compared to the punk rockers moshing in the pit."
Blow Out The Candles And Make A Split will see release via Nefarious Industries on July 12th; find preorders at the label webshop HERE and Bandcamp HERE.
Watch for audio samples and more to be issued in the weeks ahead.
Blow Out The Candles And Make A Split Track Listing:
1. SPACE MONKEY – We Are Space Monkey
2. SPACE MONKEY – Billy Billy (digital only)
3. FUCK YOUR BIRTHDAY – The Plan
4. FUCK YOUR BIRTHDAY – Go Outside (digital only)
FUCK YOUR BIRTHDAY will embark on the widespread Tours Truly trek surrounding the release of the split. Leading with several shows in China in late May and early June, the band will cross the Pacific for a West Coast US tour alongside labelmates Those Darn Gnomes which will consume half of June, followed by a week in Mexico in late June. July sees them on the East Coast for a three-week inundation, playing shows with labelmates and allies El Drugstore, Brandon Seabrook, PAK, Dying Whale, Maid Myriad, Nequient, Mine Collapse, and many others through the first week of August. See the currently confirmed dates below and watch for updates in the weeks ahead as the routing is fleshed-out and finalized.
FUCK YOUR BIRTHDAY Tours Truly 2019:
5/25/2019 WKC – Wenzhou, CN w/ Flower N' Flames
6/01/2019 Hi Livehouse – Hangzhou, CN @ Rock Fest
6/05/2019 Coaxial – Los Angeles, CA w/ Those Darn Gnomes
6/06/2019 Weird Hues – San Diego, CA w/ Those Darn Gnomes
6/09/2019 Thought//Forms Gallery – Denver, CO w/ Those Darn Gnomes
6/13/2019 Twilight – Portland, OR w/ Those Darn Gnomes, Mercury Tree, Leafminer
6/14/2019 The Urgus (house show) – Eugene, OR w/ Those Darn Gnomes
6/17/2019 Honey Hive – San Francisco, CA w/ Those Darn Gnomes
7/12/2019 Kingsland – Brooklyn, NY w/ El Drugstore, Brandon Seabrook
7/13/2019 TBA – Jersey City, NJ w/ PAK
7/14/2019 TBA – Philadelphia, PA
7/17/2019 TBA – Asheville, NC
7/19/2019 TBA – Valdosta, GA w/ Machinist!, Dying Whale
7/21/2019 Rodeo Rock – Pensacola, FL w/ Surrounder
7/26/2019 The Comet – Cincinnati, OH w/ Old City, The Actual Fuck
7/27/2019 Liars Club – Chicago, IL w/ Nequient, Mine Collapse, Lavisher
7/28/2019 Annabell's – Akron, OH w/ Maid Myriad, Actual Form
7/31/2019 Empty Glass – Charleston, WV w/ Niota, After Atlas
8/01/2019 Melody's – Beckley, WV w/ Seven Planets, After Atlas, Xman
8/02/2019 Brewstel – Elkins, WV w/ Swamp Drag, Mediogres, Long Hunt
8/03/2019 123 Pleasant St – Morgantown, WV w/ Clean Dirty Clean, Black Hole Zion, Mediogres
8/04/2019 TBA – Pittsburgh, PA
FUCK YOUR BIRTHDAY is an American garage rock/math rock band born in Morgantown, West Virginia, and currently based out of New York City and Wenzhou, China. Formed in 2012, vocalist/guitarist Christopher Henry and drummer Roman Meisenberg have maintained a prolific stream of DIY releases and touring activity, despite their frequent time apart. After a brief stint as a trio with bassist/vocalist Michelle Fincham, who is featured on the January 2014 EP The Cymbal Barks Louder Than You, FUCK YOUR BIRTHDAY forged ahead as a duo, embarking on their Jet-lag Revival Tour followed by the Li EP in October 2014, which was recorded, mixed, and mastered by Jeff Klemm of Akron, Ohio's Maid Myriad. June 2015 saw the release of the Future Teller EP, at which point the band began working on material for a full-length.
Crafted over frequent Megabus treks between New York and Morgantown, FUCK YOUR BIRTHDAY's debut LP, Touchless Automatic, was released in April 2016. Touring was not possible at this time as Christopher had recently graduated and accepted a job as an ESL teacher in Wenzhou, China. The following year, in April of 2017, Roman traveled to Wenzhou for FUCK YOUR BIRTHDAY's first international tour. Spring Roll 2017 spanned two weeks and eight cities in Southern China. In October 2017, Meisenberg returned to Wenzhou to play more shows and work on new material. A selection of these sessions was released in June 2018 as Maydays, quickly selling out during the Maydays Tour.
The year was 2010; bōsōzoku style ran rampant through the halls of Guangzhou's Academy Of Fine Arts, and everywhere you looked there were band-boys spiking and dying their hair. Among them were bassist/vocalist, Junsun, and guitarist/vocalist, Pengdee, two rebellious youths that liked to play by their own rules. They graduated and formed SPACE MONKEY. The team was later completed by Banana, whose skillful drumming keeps audiences front to back bouncing around like crazed apes. The band is now a staple act of the punk scene in Guangzhou, China and its members have been running the God Bless Punk music festival for three years strong, featuring bands from all over China. Lead singer and guitarist Pengdee also plays with side project Pinboard.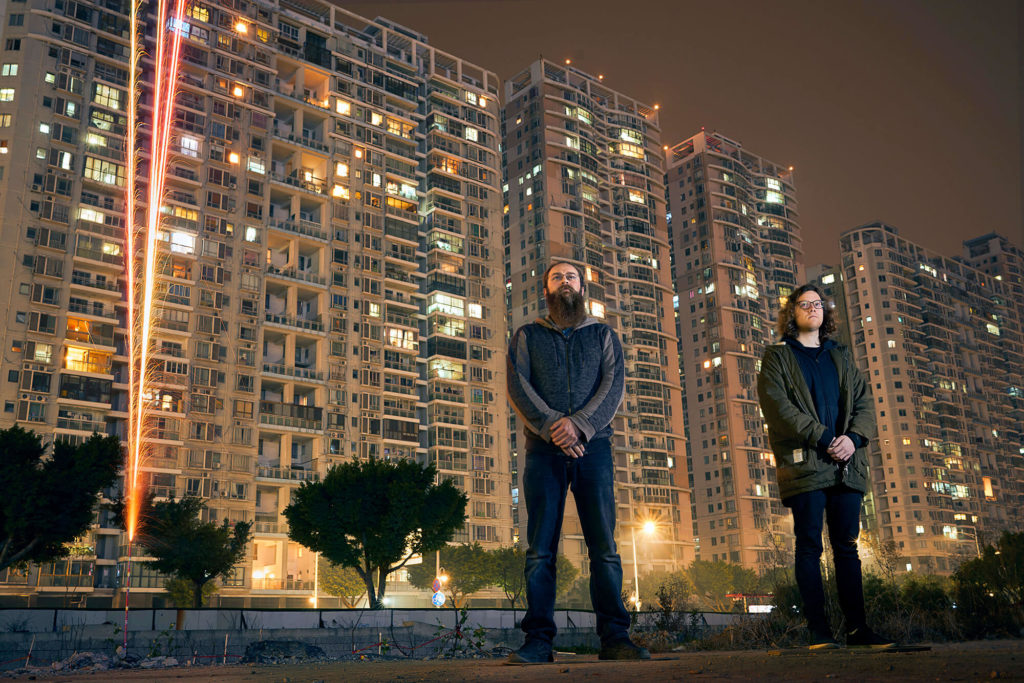 FUCK YOUR BIRTHDAY:
Roman Meisenberg – drums
Christopher Henry – guitar, bass, vocals
SPACE MONKEY:
Junsun – bass, vocals
Pengdee – guitar, vocals
Banana – drums
https://fuckyourbirthday.bandcamp.com
https://www.facebook.com/fckyourbirthday
https://www.instagram.com/fuckyourbirthdayband
http://nefariousindustries.com
http://www.facebook.com/NefariousIndustries
http://www.twitter.com/NefariousInd
https://www.instagram.com/nefarious_industries