Raise your doom claws to the sounds of "Follow The Light," from Cape Fear misery-makers, SOURVEIN. The brash number comes by way of the band's forthcoming split with fellow riff-wielders, Graves At Sea, set for release next month via Seventh Rule Recordings.
SOURVEIN has been brandishing their sonic odes of doom and distortion for two decades. In keeping with their signature design, "Follow The Light" is the sound of a slow-roasted apocalypse – a tar-thick, bottom-heavy hymn, wrapped in a subtle cosmic rock swagger and punctuated by the gruff and gristly vocal cadence of guitarist/vocalist T-Roy Medlin. Recorded by Mike Dean of Corrosion of Conformity, the tune closes out what will arguably be one of the heaviest EPs to blow out your speakers this year.
"Follow The Light" to Revolver's website at THIS LOCATION.
In related news, SOURVEIN is currently en route to Tilburg where they'll deafen the attendees of Roadburn alongside Graves At Sea. From there, the bands will join in an unholy volume takeover of Europe through April, coming to a ceremonial close at Heavy Days In Doomtown in Copenhagen. See confirmed dates below.
SOURVEIN Spring European Invasion
w/ Graves At Sea
4/10/2014 Roadburn @ Het Patronaat – Tilburg, The Netherlands
4/11/2014 Doom Over Leipzig @ UT Connewitz – Leipzig, Germany
4/12/2014 Lovelite – Berlin, Germany
4/13/2014 Chemiefabrik – Dresden, Germany
4/14/2014 Ciemna Strona Miasta – Wroclow, Poland
4/15/2014 Arena – Vienna, Austria
4/16/2014 AKC Medika – Zagreb, Croatia
4/17/2014 PornoDiesel – Laussane, Switzerland
4/18/2014 TBA – Zurich, Switzerland
4/19/2014 Blue Rose Saloon – Milano, Italy
4/20/2014 Rocksound – Barcelona, Spain
4/21/2014 Mogambo – San Sebastian, Spain
4/22/2014 La Boite – Madrid, Spain
4/23/2014 A Casa Tomada – A Corunha, Spain
4/24/2014 SWR Metalfest – Barroselas, Portugal
4/25/2014 Heretic Club – Bordeaux, France
4/26/2014 Le Klub – Paris, France
4/27/2014 DesertFest @ The Underworld – London, England
4/28/2014 The Lughole – Sheffield, England
4/29/2014 The Roadhouse – Manchester, England
4/30/2014 Music City – Antwerp, Belgium
5/01/2014 Magasin 4 – Bruxelles, Belgium
5/02/2014 Hafenklang – Hamborg, Germany
5/03/2014 Heavy Days In Doomtown – Copenhagen, Denmark
The five-track split with Graves At Sea was mastered by Brad Boatright (Sleep, Beastmilk, Nails) at Audiosiege Engineering and will be released via Seventh Rule Recordings on both CD and LP on May 13th, 2014 during the two bands' duel conquest touring Europe and prior to their appearances at this year's edition of the illustrious Maryland Deathfest. The first pressing of the LP will be limited to 1000 copies and come available on 160-gram black wax with an included download code. Recommended for fans of Eyehategod, Black Sabbath, Electric Wizard, and all things loud and fuzzy.
Preorder your copy today at THIS LOCATION.
"Sourvein…These riffs are so filthy and dirty, it's like being held facedown in mud." – Decibel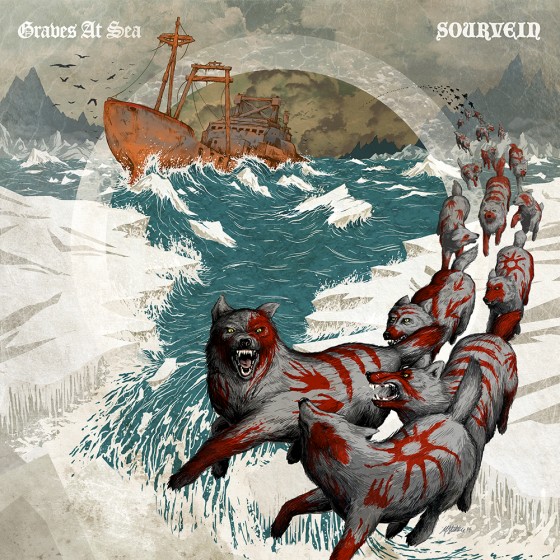 http://www.facebook.com/pages/SOURVEIN/238932972468
http://www.seventhrule.com
http://instagram.com/seventhrule
http://seventhrulerec.tumblr.com/
http://twitter.com/seventhrule