This weekend, Sunday, November 2nd, long-running NYC-based heavy groove machine, SOS will once again play live at the NYC Marathon.
This 2014 performance marks the fifteenth year in a row SOS has played for the runners of the world famous annual event. The band will set up right on the street at 44th Road and Crescent Street in Long Island City, Queens at 10am on Sunday to fuel the participants with a high-octane set. Issued the band's founding frontman Mike SOS on the upcoming performance, "This is our fifteenth time playing the NYC Marathon! Hard to believe, but it's true! That makes this year EXTRA SPECIAL! Come hang with us and cheer the thousands of runners who pound the pavement across the five boroughs! This is truly something we look forward to every year and we'd love to share this unique NYC experience with you! We'll be playing some of our favorite songs off our older releases as well as our new album Strength And Conditioning in its entirety! We hope to see you Sunday!" See more info on the SOS set at the NYC Marathon HERE.
Preceding the band's marathon set, Mike SOS will co-host and perform in the ninety-seventh installment of FBOMB, NYC's best monthly rock 'n roll party this Saturday night at Arlene's Grocery! This edition features a dastardly Halloween-themed double feature of tributes that finds The Bombardiers tackling both The Rocky Horror Picture Show (where Mike SOS plays Dr. Scott) and punk icons The Misfits, plus sets from Big Ultra, Trip On Gravity, & Atom Strange. More info is available HERE. "There's not gonna be a lot of sleep, but there will be a ton of rock this weekend!"
SOS is a fusion of heavy sounds; a maniacal musical beast which flails madly yet seamlessly in all directions at once. Strength And Conditioning is a nearly forty-eight minute excursion into barrier-free musical chaos with heavy melodic grooves, recorded and mixed by Travis Harrison at Serious Business Studios, mastered by Alan Douches at West West Side Music. Lineup changes and a restructuring of the band followed by heavy-duty local performances for the past year formed a six-year gap between albums, but the band's heavy dedication has paid off, as Strength And Conditioning boasts SOS' most action-packed mayhem yet. Strength And Conditioning is streaming and available for purchase by the band's DIY label 316 Productions RIGHT HERE.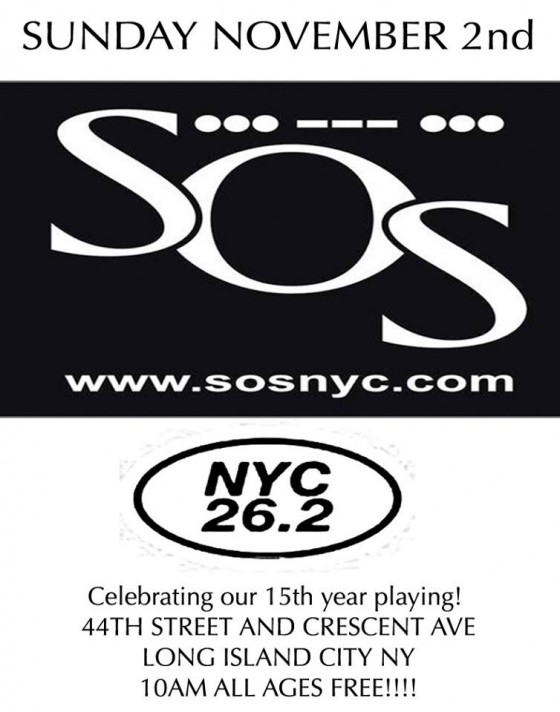 http://www.sosnyc.com
https://www.facebook.com/sosnyc1
http://sosnyc.bandcamp.com
http://www.cdbaby.com/Artist/SOS3
http://www.316productions.com