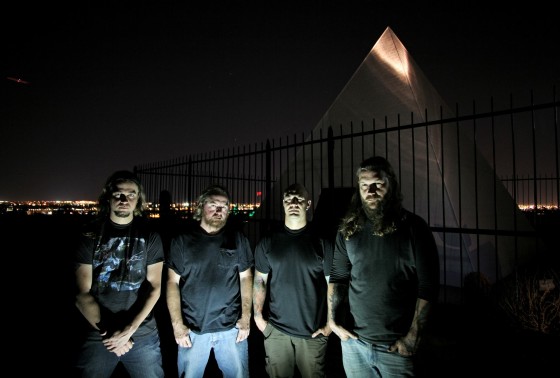 Phoenix, Arizona-based sludge/doom metal quartet, SORXE, has recently recorded and finalized the audio for their upcoming debut full-length release, Surrounded By Shadows.
Formed in the Summer of 2012 by former members of Graves At Sea, Via Vengeance, Magnetplan, Daughters Of Fission and others, SORXE boasts an ultra dynamic style of low-end doom metal worship, the lineup including two bassists in addition to drums and guitars, with multiple styles of layered vocals. Through live performances across the Southwest US, and their mid-2013-releasd Realms EP, the band has gained the attention of listeners around the globe in addition to having developed a strong regional fanbase.
Surrounded By Shadows is a sprawling, diverse eruption of crushing doom, at times incredibly beautiful and tranquil, and at others overwhelmingly harrowing, burning with just under a solid hour of well-crafted material with earthmoving power riffs, and undertones of grunge, psychedelic and ambient textures. Recorded by the band's Tanner Crace in multiple sessions in June 2013 at Francisco Studios and February through June 2014 at The Vaulted Owl, the album mastered by Byron Villain Recording. Devotees of Neurosis, Ufomammut, Yob, Cleanteeth, Zoroaster, Hull and the like would be wise to explore this band's enormous output.
SORXE will independently release Surrounded By Shadows via digital download and digipak CD on September 2nd, 2014, bearing artwork currently under construction by visual architect Josh Graham. A limited vinyl edition of the album will follow late this year or early next.
Those in the Phoenix area will be able to pick up the CD early at the band's record release show with TOAD on August 16th. Amidst other new tour dates to be announced in the coming weeks surrounding the release of Surrounded By Shadows, SORXE is also confirmed to perform at Tucson-based Southwest Terror Fest III: The Western Front, opening the main stage of the Rialto Theatre on Saturday, October 18th, supporting Author & Punisher, The Body, and headliners, Neurosis.
SORXE Live:
8/16/2014 Crescent Ballroom – Phoenix, AZ Surrounded By Shadows release show w/ TOAD
10/18/2014 Rialto Theatre – Tucson, AZ @ Southwest Terror Fest w/ Neurosis, The Body, Author & Punishe
SORXE:
Shane Ocell – drums
Tanner Crace – guitars/vocals/synths
Christopher Coons – bass
Roger Williams – bass
Stand by for the artwork, audio samples and additional intel on Surrounded By Shadows in the coming days.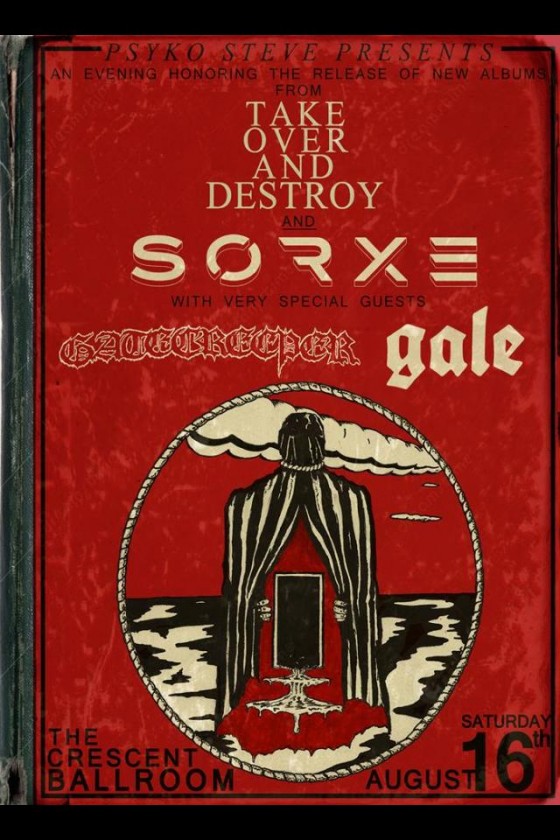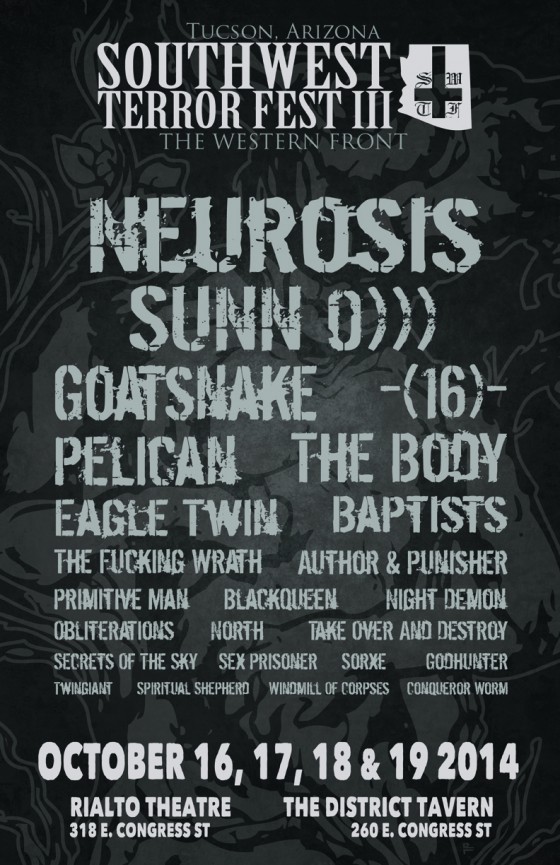 http://sorxe.com
http://sorxe.bandcamp.com
https://www.facebook.com/Sorxe