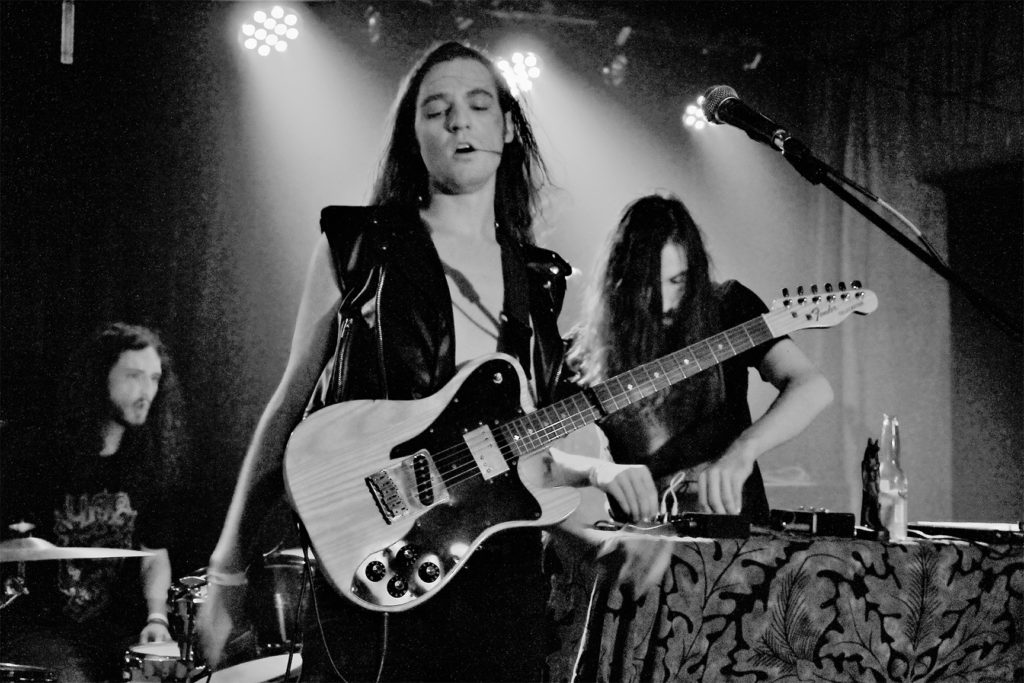 photos by Matt Carter
Washington, DC-based quintet SORGE presents their eponymous debut EP. Confirmed for release in early June, the band has unveiled the dynamic "Astral Burnout" for public indulgence.
SORGE (sor•guh) recently recorded their maiden EP. Fusing elements of stoner/doom, fuzz, sludge, and psychedelic metal and rock elements into an esoteric concoction of outer space and inner mind, Sorge delivers four crushing tracks totaling nearly twenty-eight minutes of sonic exploration. Elements of the fertile doom scene that birthed Saint Vitus, Internal Void, Place Of Skulls, Earthride, Iron Man, and many others show through, however, SORGE's tunes reach far beyond said soil, infusing kaleidoscopic and ethereal elements into their sound.
Sorge was recorded with Kevin Bernsten of Developing Nations Recording Studio (Full of Hell, Noisem, Ilsa), mastered by Mike Monseur, and completed with artwork by Ellie Yanagisawa and Bonner Sale.
The first single from Sorge, the EP's closing burner "Astral Burnout," is now streaming RIGHT HERE.
SORGE will independently release Sorge digitally on Friday, June 5th, with a physical release to follow. Find digital preorders at Bandcamp HERE.
Sorge EP Track Listing:
1. Faith Of A Heretic
2. A Horse In Turin
3. Argent
4. Astral Burnout
Watch for additional details and audio from the EP including a new video and more to see release in the weeks ahead.
Hailing from the noxious swampland of our nation's capital, SORGE was formed in 2017 by bassist Christian Pandtle and guitarist/vocalist Joshua Gerras, and during the following year they joined forces with synth player Jake Filderman, lead guitarist Logan Boucher, and drummer Mike Romadka. After another year of writing and practicing material, SORGE's eclectic take on heavy metal was ready to be unleashed.
A stint of shows in the greater DelMarVa tri-state area lead SORGE to sharing the stage with acts such acts as Dirt Woman, Dutchguts, and Mother Iron Horse, among others. Their performances ultimately culminated in the band playing the Ode To Doom three-year anniversary at Arlene's Grocery in Manhattan, where they shared the stage with Black Pyramids and were well received by promoters and show-goers alike.
With their debut looming, SORGE is already heavily entwined in the creation of new material and plans on booking gigs as soon as restrictions safely allow bands and performances to return to venues across the country.
SORGE:
Christian Pandtle – bass
Joshua Gerras – guitars, vocals
Mike Romadka – drums
Logan Boucher – lead guitars
Jake Filderman – synths
https://www.facebook.com/sorgedc
https://sorgedc.bandcamp.com
https://www.instagram.com/sorgedc