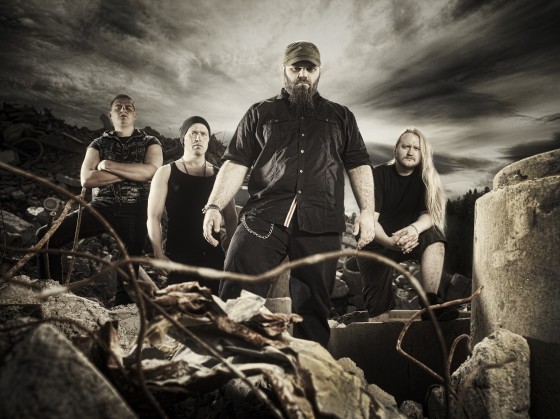 Swedish technical death metal overlords, SORPEPTION, will wage their audio war on the States this May on a near three-week run of live takeovers supporting Canadian death metal legends, Cryptopsy and US death metallers, Disgorge. Set to kick off on May 14th in Worcester, Massachusetts, the Metal Injection-sponsored trek will storm eighteen cities, drawing to a close on May 31st in Cleveland, Ohio. Additional support will come from Canadian black metal unit, Erimha.
SOREPTION w/ Cryptopsy, Disgorge, Erimha:
5/14/2015 Ralph's Rock Diner – Worcester, MA
5/15/2015 Championship Bar & Grill – Trenton, NJ
5/16/2015 Coco 66 – Brooklyn, NY
5/17/2015 Revolution – Amityville, NY
5/18/2015 Baltimore Soundstage – Baltimore, MD
5/19/2015 Shakas Live – Virginia Beach, VA
5/20/2015 Masquerade – Atlanta, GA
5/21/2015 West End Trading Co. – Sanford, FL
5/22/2015 Churchill's – Miami, FL
5/23/2015 The Handlebar – Pensacola, FL
5/24/2015 Korova – San Antonio, TX
5/25/2015 Dirty Dog – Austin, TX
5/26/2015 Gas Monkey – Dallas, TX
5/27/2015 Riot Room – Kansas City, MO
5/28/2015 Val Air Ballroom – Des Moines, IA
5/29/2015 Bada Brew – Crest Hill, IL
5/30/2015 Metal Bar – Cudahy, WI
5/31/2015 Agora – Cleveland, OH
SOREPTION released their Engineering The Void full-length last year via Unique Leader Records. A flawless, eight-track exhibit of methodical sonic deviance, Engineering The Void spouts a wholly sophisticated barrage of surgically accurate Meshuggian riff sequences, obscure time signatures, head-jarring rhythms, and intervals of orchestral enormity all backed by the calloused growls of lead throat Fredrik Söderberg. Said Decibel Magazine of the offering, "These dudes play seriously gnarly technical death metal to the level where you might need a physics degree just to headbang to it. You can hear them constructing the framework of the abyss as Engineering The Void runs its course, culminating in the title track – at which point they push the button and the whole thing implodes. For a band on their second full-length, they've figured this sound out pretty well." MetalSucks concurred noting, "The Swedes in SOREPTION are up there with Obscura, Gorod and Psycroptic at the upper echelon of the crowded tech-death pack, no doubt." No Clean Singing named the record, "an example of tech-death guitar work at its finest," while Last Rites opined, "the horn-o'-plenty of riffdom smashed onto this album will be irresistible." Added Invisible Oranges, "…mechanical precision and jaw-dropping chops still have their place in death metal. These are messy times, but they're futuristically so. Metal fans are far more likely to battle information overload on a daily basis than they are to fight monsters or serial killers. Sweden's SOREPTION provide a compelling soundtrack for the daily grind."
Engineering The Void is currently available via Unique Leader Records at THIS LOCATION.
http://www.facebook.com/soreption
http://www.uniqueleader.com
http://www.facebook.com/uniqueleaderrecords