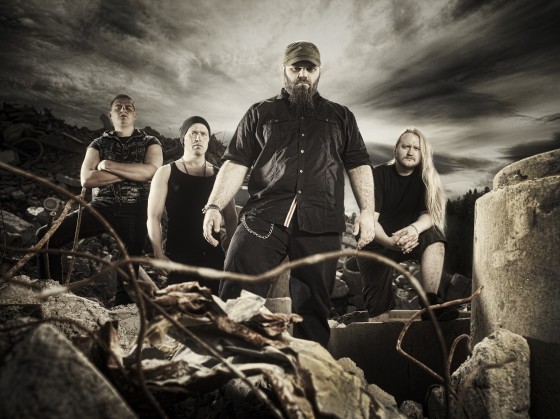 Swedish technical death metal horde, SOREPTION, today spews forth the title track off their impending new full-length!
Titled Engineering The Void, the eight track long player is a flawlessly executed exercise in methodical malevolence offering up a wholly sophisticated, multi-textured barrage of surgically accurate Meshuggian riff sequences, obscure time signatures, head-jarring rhythms, and intervals of orchestral enormity all backed by the calloused growls of lead throat Fredrik Söderberg.
Closing track, "Engineering The Void" features guest vocals by The Black Dahlia Murder's Trevor Strnad and is currently streaming in all its brutalic glory courtesy of Decibel Magazine who comments, "These dudes play seriously gnarly technical death metal to the level where you might need a physics degree just to headbang to it. You can hear them constructing the framework of the abyss as Engineering The Void runs its course, culminating in the title track – at which point they push the button and the whole thing implodes. For a band on their second full-length, they've figured this sound out pretty well."
Additionally, you can still check out "Breaking The Great Narcissist" still streaming at Revolver HERE.
Engineering The Void was recorded by Tommy Rehn from symphonic black metal collective Angtoria at Ninetone Studios and serves as the follow-up to SOREPTION's debut full-length, Deterioration Of Minds. Applauded by Underrated Reviews for its, "superior sense of rhythm and razor-sharp precision that will appeal to fans of bands such as Cannibal Corpse, Suffocation, Dying Fetus and The Faceless," the record reaped critical accolades globally. Noted No Clean Singing, "lots of bands are cranking our modern, technical death metal, attempting to out-do each other (and their forebearers like Necrophagist and Decapitated) with ever more intense instrumental pyrotechnics. Most of them fail at what they're attempting, or at least fail to create anything you'd want to hear more than once. But SOREPTION have managed to tread this path successfully, not only through the precision of their playing but through the competence of their song-writing. The music has got grooves and compulsive rhythms – and those way-cool contrasting guitar leads. It just makes you want to get up and fucking mosh and headbang and break shit!," while Ultimate Guitar opined, "If there was one band…which had to be picked as the representative for what tech death is turning into, this would be it…" Added Metal Observer, "…this album kicked my balls hard on the first listen, completely tore them off during the second, made clam chowder soup with them on its third play-through, and threw said scolding chowder in my face during the fourth. Suffice to say, this album was quite the tasty shock."
SOREPTION will drop Engineering The Void upon the masses on February 18th followed by a reissue of Deterioration Of Minds, both via Unique Leader Records. Preorder your copy of Engineering The Void TODAY at THIS LOCATION.
"The new SOREPTION album is going to rip faces. I mean hot damn! Those riffs! The Swedes in SOREPTION are up there with Obscura, Gorod and Psycroptic at the upper echelon of the crowded tech-death pack, no doubt. Can't wait to headbang furiously to this the minute it comes out!" – MetalSucks
http://www.facebook.com/soreption
http://www.uniqueleader.com
http://www.facebook.com/uniqueleaderrecords