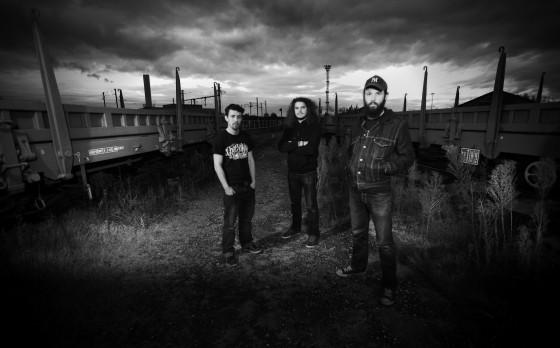 Out of the bowels of the post-industrial badlands of Clermont-Ferrand, France comes SOFY MAJOR, a metallic noiserock trio highly motivated in intoxicating the listener with their energetic and off-kilter attack, than kick your liver in while your hangover is at its worst.
With barely-harnessed off-kilter riffery and white-knuckled percussion, the members of SOFY MAJOR have battered audiences since their 2007 manifestation, having released their debut album Permission To Engage in the fall of 2010. The band has shared the stage with Jello Biafra & The Guantanamo School of Medicine, Baroness, Electric Wizard, Boris, Shrinebuilder, These Arms Are Snakes, Kylesa and countless others. In the past two years alone the band racked up over one hundred fifty gigs in twenty countries across two continents, all part of the diabolical construction of their sophomore LP, Idolize.
In the Autumn of 2012 SOFY MAJOR transports to the Northeastern North American quadrant, bent on hammering out their new opus at renowned Brooklyn-based studio Translator Audio with producer Andrew Schneider (Unsane, Keelhaul, Cave In, etc.) as well as to embark on their first US tour. As luck would have it, they arrived in town at the same time Hurricane Sandy moved in. The loss is 100% — the entire studio flooded beyond repair, and all equipment in the studio including the band's gear left swimming. The trio bummed around the borough for a few days, hooking up with cohort and labelmate Dave Curran (Unsane, Pigs), who helped set up the sessions they crossed the globe to carry out. The band eventually recorded with Schneider at Brooklyn-based Seaside Lounge and Spaceman Sound studios, and had it mastered by Carl Saff at Saff Mastering, the band then immediately taking to the road on a delayed but steadfast American tour.
Like a demented mesh of the Melvins slamming into High On Fire with undeniable noise/metal influences instigated by the likes of Unsane, Quicksand and Deadguy, Idolize encapsulates SOFY MAJOR's intoxicating concoction of sludge riffage, stale beer, shattered dreams and perseverance. The album is set for worldwide release on May 31st via Solar Flare Records in Europe (Pigs, American Heritage) and No List Records in North America (Ken Mode, The Great Sabatini), the album to be delivered as a limited vinyl boxset, (three 12″ LPs in three colors), digipack CD, cassette and digital download.
Today American Aftermath proudly frees the first single from Idolize with the album's rampant second track, "Comment," along with a new interview with SOFY MAJOR. Liberate it RIGHT HERE.
Idolize Track Listing:
1. Aucune Importance
2. Comment
3. Steven The Slow [featuring Dave Curran]
4. Bbbbreak
5. UMPKK pt.1
6. UMPKK pt.2
7. Slow And Painful
8. Coffee Hammam
9. Seb
10. Platini
11. Frost Forward
12. Power Of Their Voice [Portobello Bones cover]
SOFY MAJOR:
Sebastien F.: guitars
Mathieu M : bass, lead vocals
Mathieu D.: drums, vocals
http://www.sofymajor.com
https://www.facebook.com/sofymajor
http://sofymajor.bandcamp.com
http://sofymajor.bigcartel.com
http://solarflarerds.blogspot.com
http://facebook.com/solarflarerecords
http://solarflarerds.bigcartel.com