"The music is barbarically brutish but also eerily extraterrestrial and freakishly fluctuating. The songs are hurricane blasts of multifaceted and mercurial sound." – No Clean Singing
Technical death metal unit SO THIS IS SUFFERING will drop their Palace Of The Pessimist full-length worldwide via Unique Leader Records this Friday. Today No Clean Singing is streaming the record in its punishing entirety before you can buy it, issuing of its ten tracks, "The sound is unmistakably deathcore, but it's the kind of deathcore one might imagine being created aboard lightspeed warcraft headed our way from Andromeda. The music is barbarically brutish but also eerily extraterrestrial and freakishly fluctuating. The songs are hurricane blasts of multifaceted and mercurial sound. Yes, there are gigantic, atonal, booming chords that punch hard enough to shiver the foundations of your dwelling, and clobbering breakdowns produced for maximum destructive impact, coupled with kidney-punching riffs and a maniacal mix of howling bellows, gang growls, flesh-melting shrieks, and rancid strangling noises in the vocal department. But… you'll also find frequent doses of spidery fretwork creating hornet-swarm arpeggios and filaments of luminescent melody, along with demented electronic pulsing and shimmering alien ambience that might put your teeth on edge."
Hear Palace Of The Pessimist, courtesy of No Clean Singing at THIS LOCATION.
In you missed it, you can check out the band's video for "Columbine," still playing at Revolver, HERE.
SO THIS IS SUFFERING's Palace Of The Pessimist was captured at Mike Sahm at Dream Awake Audio and features artwork by Chris Panatier (Dopelord, Totem Skim). Preorder bundles for Palace Of The Pessimist are currently available HERE.
SO THIS IS SUFFERING will take to the streets next month on a month-long run of US dates. Part one finds the band devouring the masses alongside Depths Of Hatred and Lorelel from March 5th through March 23rd. From there, the band will join Signs Of The Swarm for nine more dates from March 24th through April 6th with additional live abrasions in the plotting stages.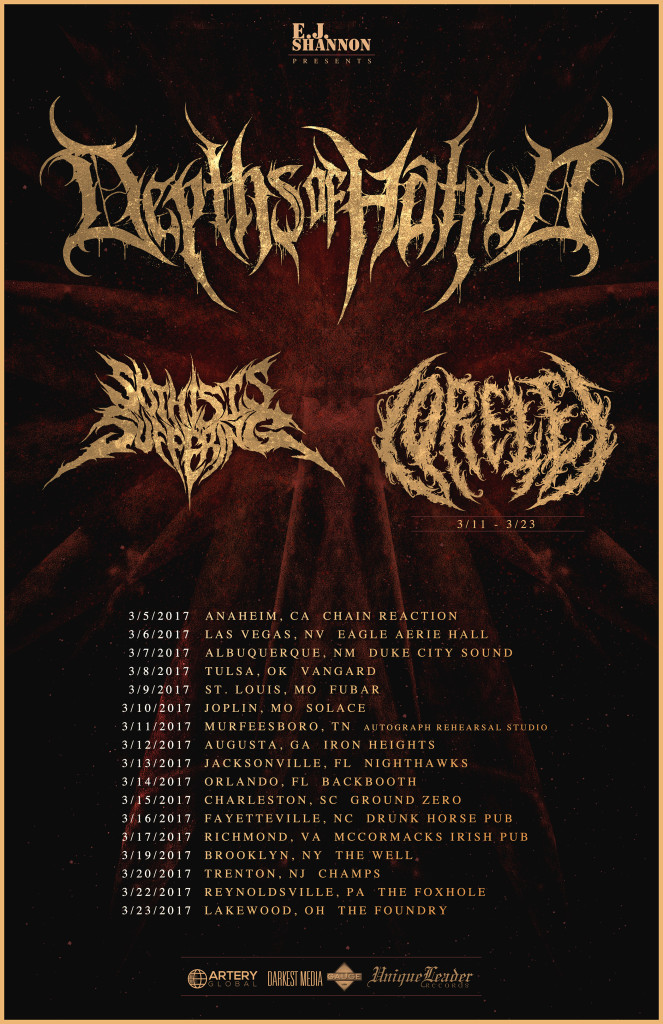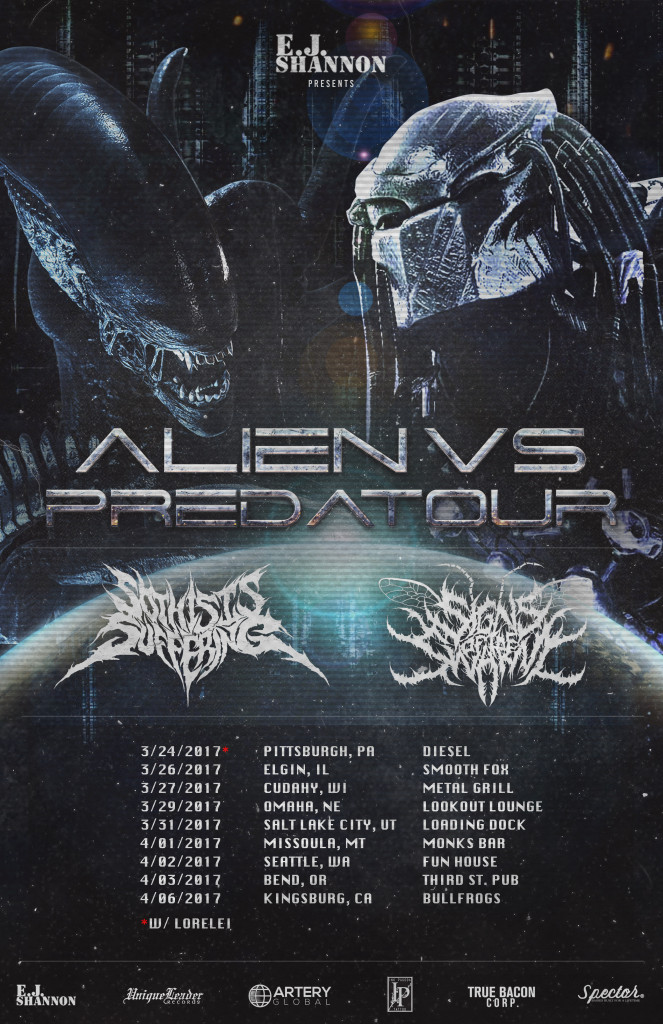 SO THIS IS SUFFERING w/ Depths Of Hatred, Lorelel:
3/5/2017 Chain Reaction – Anaheim, CA
3/6/2017 Eagle Aerie Hall – Las Vegas, NV
3/7/2017 Duke City Sound – Albuquerque, NM
3/8/2017 Vangard – Tulsa, OK
3/9/2017 Fubar – St. Louis, MO
3/10/2017 Solace – Joplin, MO
3/11/2017 Autograph Rehearsal Studio – Murfeesboro, TN
3/12/2017 Iron Heights – Augusta, GA
3/13/2017 Nighthawks – Jacksonville, FL
3/14/2017 Backbooth – Orlando, FL
3/15/2017 Ground Zero – Charleston, SC
3/16/2017 Drunk Horse Pub – Fayetteville, NC
3/17/2017 McCormack's Irish Pub – Richmond, VA
3/19/2017 The Well – Brooklyn, NY
3/20/2017 Champs – Trenton, NJ
3/22/2017 The Foxhole – Reynoldsville, PA
3/23/2017 The Foundry – Lakewood, OH
End Tour
w/ Signs Of The Swarm:
3/24/2017 Diesel – Pittsburgh, PA
3/26/2017 Smooth Fox – Elgin, IL
3/27/2017 Metal Grill – Cudahy, WI
3/29/2017 Lookout Lounge – Omaha, NE
3/31/2017 Loading Dock – Salt Lake City, UT
4/01/2017 Monks Bar – Missoula, MT
4/02/2017 Fun House – Seattle, WA
4/03/2017 Third St. Pub – Bend, OR
4/06/2017 Bullfrogs – Kingsburg, CA
SO THIS IS SUFFERING is a post-deathcore outfit founded by Zedadiah Martinez and Zechariah Gamez in 2006. The band later solidified its lineup with longtime friends Rudy Florez, Robert Brown, and James Williams. The band self-released three albums and have relentlessly performed across the United States multiple times earning a name as one of the heaviest and hardest-working currently active DIY bands.
"Palace Of The Pessimist is punishment that cannot be unfelt or unheard; it lingers in the mind and on the skin like scars and burns that you can't feel–like a limb long since removed but you swear you can feel. It is the essence of technically tinted heaviness…" – New Transcendence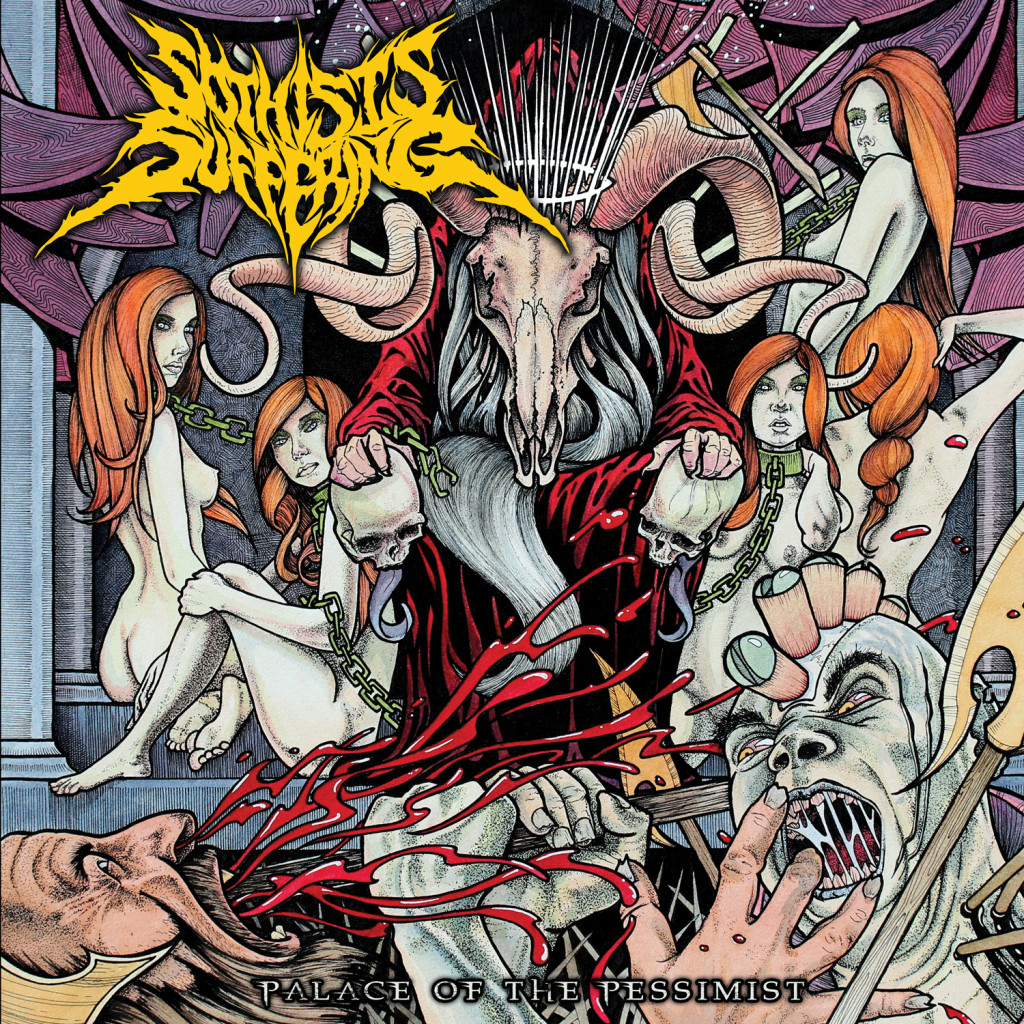 http://www.facebook.com/sothisissuffering
http://www.twitter.com/sothisistweetin
http://www.uniqueleader.com
http://www.facebook.com/UniqueLeaderRecords