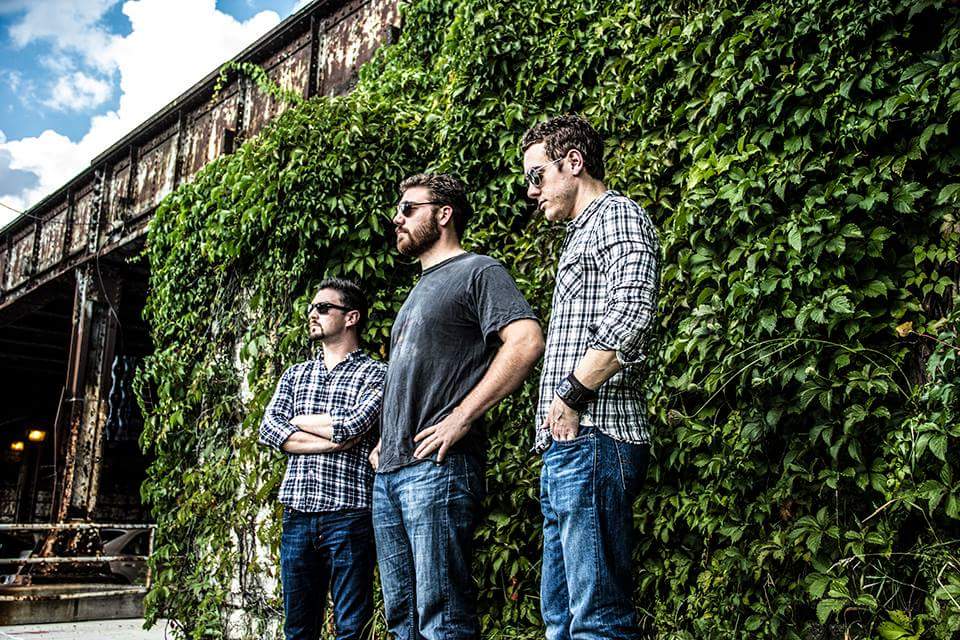 SNOW BURIAL will bring their unique melting pot style of post-metal to stages in the upcoming days in support of their debut full-length, Victory In Ruin. The trio travels north to Wisconsin at the High Dive to shred with Lotus Ash and Volunteer then head home to Chicago for a performance at the Empty Bottle with Irata, Caustic Casanova and Predator. Fast forward one month and they will hold down their home turf once again, this time at the Quenchers Saloon and again the following night in Cedar Falls, Iowa both shows with The Gorge, Aseethe and Druids.
"Victory In Ruin is an album with a ferociously original sound and a great combination of melody, destruction and sheer ear-bleeding noise. Hypothetically speaking, if Hydrahead signed this band right now, they'd easily be one of the absolute best bands on the label," says Teeth Of The Divine in a recent review of the record further applauding the band for drenching their, "Midwestern space signals in shades of violent noise-rock and thick, doom-y grooves; the mindset is certainly kindred to the spacey grandiosity of…Shiner as well as the like-minded rockers Hum, although SNOW BURIAL tempers their caustic psychosis with touches of Neurosis, Hammerhead, Baboon,Tar, Akimbo, Rabies Caste, Am-Rep era Today is the Day, Godheadsilo, Unsane, etc.." Concurs Absolute Zero Media, "SNOW BURIAL is what the 21st century extreme music is truly all about: be what you want to be and let the world tell you if they give a shit or not? We have a complex, thought-driven roller coaster of kill, drive and imagination going on throughout the release. Oh and if that is not enough for you to wrap your head around, let's add some math rock movements to the whole thing as well… SNOW BURIAL just kick ass on so many levels…" Describes Hellbound, "Victory In Ruin starts off with a darker substance, as 'Buried In Ash' opens things on a sludgy note, with some winding riffs that recall early Neurosis, complete with a high-pitched vocal that sounds kinda like Phil Cope or that guy from Negative Reaction. 'Price To Pay' is faster-paced, an uptempo rumbler with some solid Unsane breakdowns. 'Zombie Anthropod Overlords' is a spacey instrumental that sorta sounds like Pelican…."
SNOW BURIAL released Victory In Ruin last month. Captured at Howl Street Studio in Milwaukee with engineer/owner Shane Hochstetler (Call Me Lightning, Zebras, Multiple Truths), over the course of eight tracks, SNOW BURIAL manifests a punishing yet beautiful amalgam of sludge, thrash, shoegaze and math rock; a lush palette of melody and grit, running through the imagined wastelands.
SNOW BURIAL:
3/05/2016 High Dive – Milwaukee, WI w/ Lotus Ash, Volunteer
3/06/2016 Empty Bottle – Chicago, IL w/ Irata, Caustic Casanova, Predator
4/14/2016 Quenchers Saloon – Chicago, IL w/ The Gorge, Aseethe, Druids
4/16/2016 The Octopus – Cedar Falls, IA w/ The Gorge, Aseethe, Druids
SNOW BURIAL draws from a variety of influences, most notably the Melvins, Converge, and Cult Of Luna, to create their own unique voice and tone. Victory In Ruin is out now on CD, digitally and 150-gram vinyl next month. Purchase at THIS LOCATION.
For live coverage inquiries contact liz@earsplitcompound.com.
http://www.snowburial.com
http://www.facebook.com/snowburial
http://www.twitter.com/snowburialband
http://www.youtube.com/SnowBurial