Detroit hardcore punk thrashers SNAFU (Situation Normal All Fucked Up) today unleash their brand new video for "Closed Casket Habits." The battering track comes by way of their long-anticipated new full-length Exile//Banishment set for release via Housecore Records in North America October 15th!
Tracked and produced by Philip "Landphil" Hall (Municipal Waste, Cannabis Corpse, Iron Reagan) and twin brother Josh "Hallhammer" Hall (Cannabis Corpse) at Blaze Of Torment Studios in Richmond, Virginia, mixed by Adam Shepard, and mastered by Joel Grind (Toxic Holocaust) amidst plague, governmental corruption, and widespread societal suffering, Exile//Banishment is the band's heaviest, darkest, and angriest affair yet focusing on personal frustrations and the hopeless future of humanity.
Offers the band of their latest single, "Manic depressive thoughts come to life in 'Closed Casket Habits.' Alot of us live with a dark shadowy figure lurking in our wake, trying to lead us down to the darkest depths of our own mind, planting a worm in our ear, whispering reminders of failure and self doubt, begging us to descend down to the point of no return. Studies show that one in four people suffer from suicidal thoughts… you are not alone."
View SNAFU's "Closed Casket Habits" at THIS LOCATION.
View the band's previously released video for "Bring Suffering" at THIS LOCATION.
Exile//Banishment, which features artwork by Vladimir Chebakov, will be released on CD, vinyl, and digital formats. Find physical preorder options at THIS LOCATION and digital preordering options HERE.
SNAFU has been cracking skulls in some incarnation or another since 2006. Spawned from the ruins of Detroit, Michigan, the band independently released their debut full length, Fear The Future, in 2013 after years of false starts. The songs bore a raw punk expression of raging cynicism and the destructive nature of mankind. Further honing their artistry, 2015's Present Day Plague LP stayed true to their aggressive raw punk roots while working in elements of thrash and grind.
Since then, the four-piece has established a reputation for delivering some of the fiercest live performances in the country. Their sound — a fusion of everything from Municipal Waste and Toxic Holocaust to Negative Approach and Cro-Mags — has quickly come to resonate with audiences globally, while their blackened thrash approach calls to mind early Slayer and Sepultura.
SNAFU:
Scott Curnow – guitar, vocals
Rian Staber – guitar, vocals
Patrick "El Toro" Saldivar – bass, vocals
Mike Jurysta – drums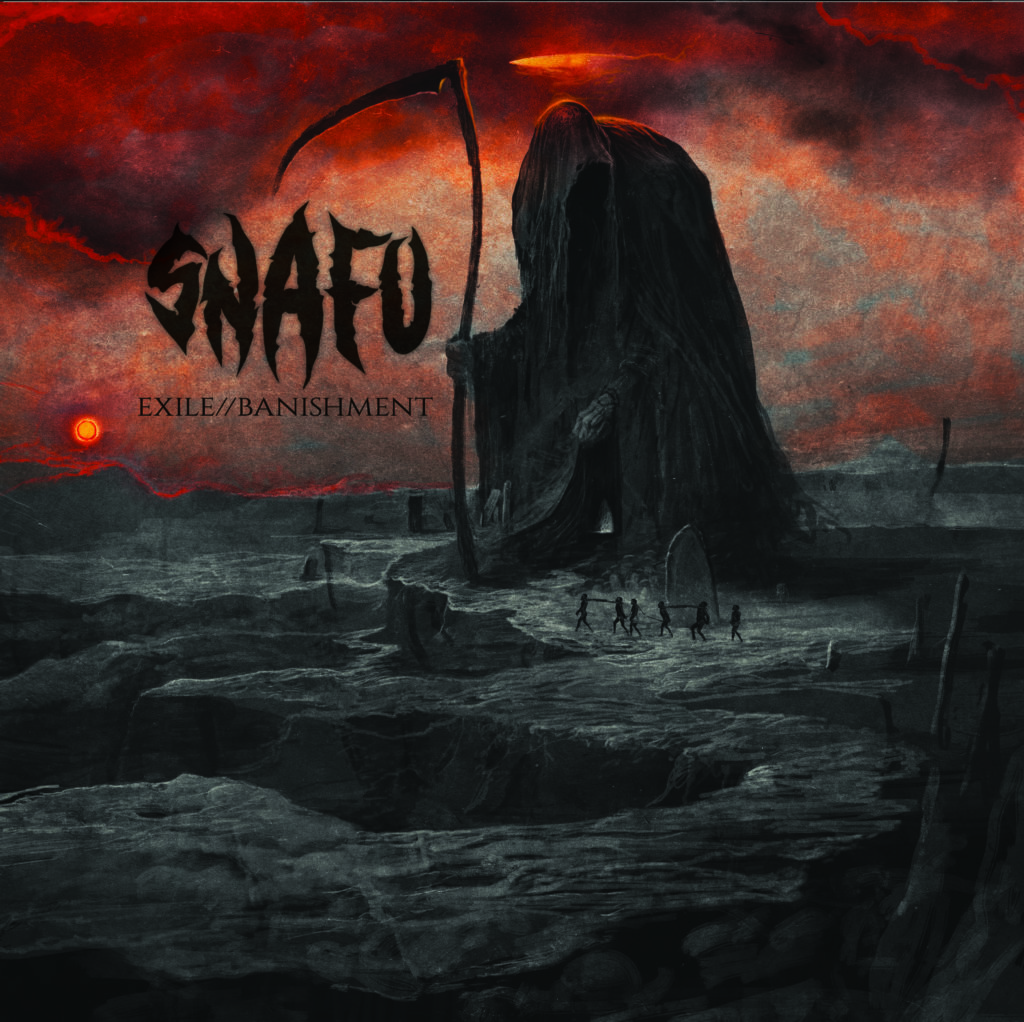 http://snafudetroit.com
http://www.facebook.com/SNAFUpunks
http://www.instagram.com/snafu_detroit
http://www.thehousecorerecords.com
http://www.facebook.com/housecorerecords
http://www.instagram.com/housecorerecords
Tweets by Housecore_Press