Slough Of Despair, the debut album from Italian death metal act SLUDGE KEEPER, is out now on Selfmadegod Records.
Finding inspiration from the narrative universe of doom, SLUDGE KEEPER proposes a direct style of death metal in the vein of Hate Eternal, Morbid Angel, Internecine, and Vitriol, with some atmospheric and mid-tempo openings without neglecting outbursts and peaks of sulfurous violence. A studio project created by Andrea Tocchetto (Inverted Matter) in Northeastern Italy in 2020, on Slough Of Despair, the project features high-level guest musicians Kevin Paradis (Benighted, Mithridatic) on drums, and Marco Mastrobuono on bass.
Slough Of Despair was recorded between 2020 and 2022, with all music and lyrics written and produced by Andrea Tocchetto. Tocchetto played and recorded all rhythm guitars, and performed all vocals which were recorded at Badrum Studio by Jason Nealy and Marco Dussin, both of Inverted Matter and Bleeding Eyes. The bass was recorded by Marco Mastrobuono at Kick Studio, the drums were recorded by Kevin Paradis at Nostromo Studio, and the record features guest solos on "Summon Of The Deeper Muds," "Weed Incubator," and "Artifact" by Nealy. The final tracks were mixed and mastered at Skunk Works Studio by Tocchetto, and the album is completed with artwork by Mark Erskine.
Tocchetto states, "As an album, Slough Of Despair holds a special place in my heart. It represents my journey into the dark and relentless realm of death metal, where I have poured our passion, energy, and creativity.
"Drawing inspiration from the narrative of the iconic video game Doom, I sought to create an auditory experience that captures the essence of its haunting atmosphere. The themes explored in Slough Of Despair delve into the depths of human suffering, despair, and the existential struggles we all face. Through the music, I aim to convey the intensity of these emotions and connect with our listeners on a profound level."
Listen to SLUDGE KEEPER's entire Slough Of Despair now at THIS LOCATION.
Find Slough Of Despair at Selfmadegod Records' US shop HERE, EU shop HERE, and Bandcamp HERE.
"…discharges torrents of obliterating hyperspeed drumwork, maniacal bass escapades with a gravel-chewing tone, and riffing that blares in hideous glory, cuts like whirring circle saws, and quivers in deranged frenzies. It has the intensity of a blast furnace, and its unchained barbarism is enhanced by the bestial hostility of Tocchetto's belly-deep growls and ravenous howls." – No Clean Singing
"…jarring and violent yet extremely well-composed and atmospheric… This is a promising debut, to say the least." – Metal Underground
"Slow heavy riffs that create a mood. Songs that make you feel that you're standing your ground with a warrior's mentality if I can be dramatic. Growling vocals with these killer guitar riffs keeps each song interesting. Just when a song builds up to a tempest, they will change the rhythms up." – Metal Swap Meet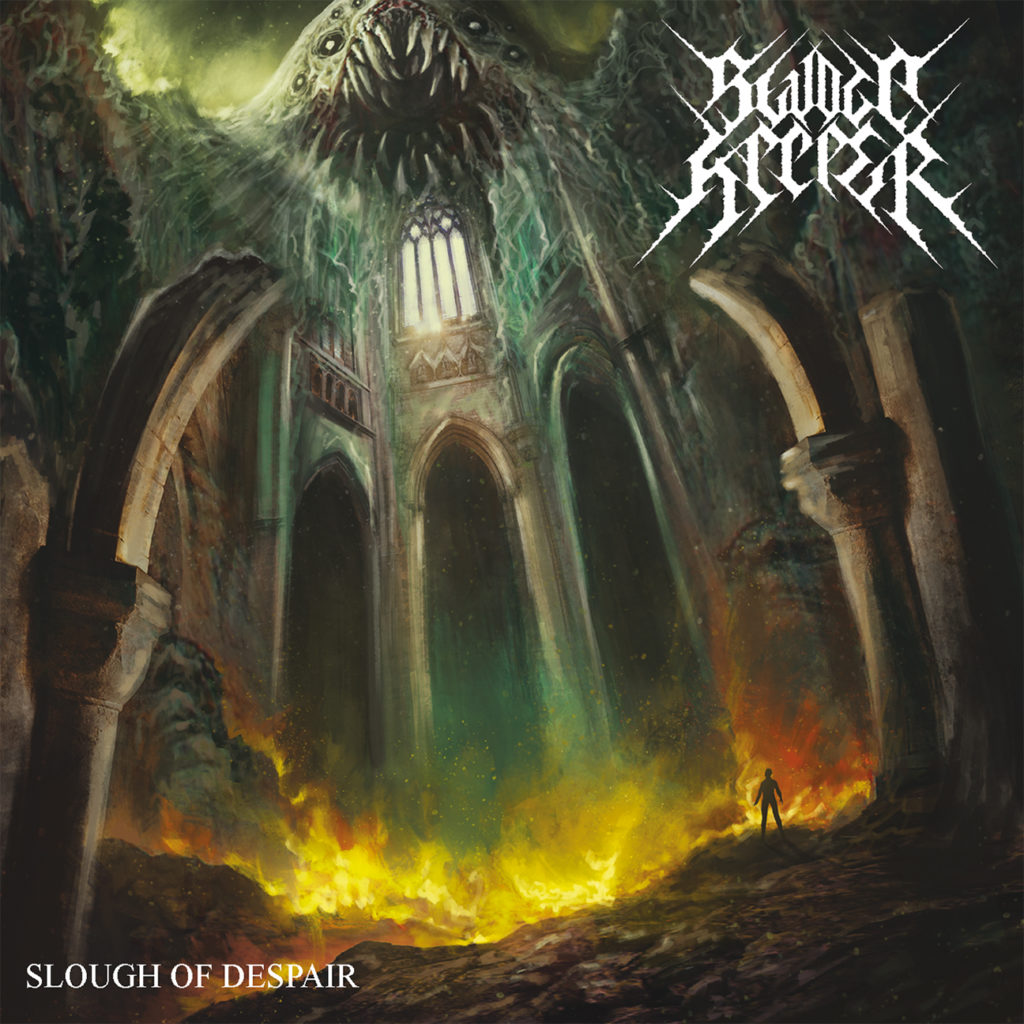 https://www.selfmadegod.com
https://www.selfmadegod-store.com
https://www.facebook.com/selfmadegod
https://www.selfmadegod.bandcamp.com
https://www.instagram.com/selfmadegod_records
https://www.youtube.com/user/SelfmadegodRecords