New York City deathgrind practitioners, SKULLSHITTER, today unleash a video for "Digitally Reproductive World." Now playing at BrooklynVegan, the track comes by way of the band's impending new full-length, Goat Claw, set to drop May 6th via Nerve Altar.
Spewing sixteen grave-tripping tracks of old-school grindcore steeped in mind-bending psychedelia. Goat Claw is a sonic declaration of intensity, focus, and acrimony, laced with a concentrated dose of Lucifer. SKULLSHITTER's sound is that of Repulsion, Terrorizer, and Autopsy filtered through an acid-induced, black magic hallucination. Recognizing the true nature of inner freedom through hallucinogenics and rock 'n' roll, the power trio delivers a furious, three-headed vocal assault and thrive to make their every performance both in the studio and onstage a new, unapologetically soul-scorching event.
Notes the band, "'Digitally Reproductive World' is a grindcore trip through the trivial rituals we put ourselves through to satisfy our new digital needs."
Fittingly crowned a, "67-second whiplash-inducing blur…," view SKULLSHITTER's "Digitally Reproductive World" video at BrooklynVegan HERE.
Goat Claw was recorded by Nolan Voss, mixed by Jamie Uertz at Silver Cord Studios, and mastered by Greg Wilkinson at Ear Hammer Studios and come swathed in the cover art of Tas Danazoglou with layout by Robert Nelson and Aaron Nichols.
Goat Claw will be released on LP and digital formats. For preorders visit where THIS LOCATION, where opening psalm "Angel Of Decay" can be streamed.

SKULLSHITTER will spread their sonic filth live next month with more onstage devilry to be announced in the coming weeks. See all confirmed dates below.
SKULLSHITTER w/ Loud Night, Vorlust, Spiter:
5/19/2022 Saint Vitus Bar – Brooklyn, NY w/ Melissa
5/20/2022 Fotoclub – Philadelphia, PA
5/21/2022 Atlas Brew Works – Washington, DC w/ Yatra
5/22/2022 Cobra Cabana – Richmond, VA
SKULLSHITTER:
Sean Walsh – guitar, vocals
Ryan Kunimura – bass, vocals
Robert Nelson – drums, vocals
Guest Musicians:
Nolan Voss – Vocals
Owen Rundquist – Vocals
Jessie Nelson – synths / keys
Mike Nichols – aux percussion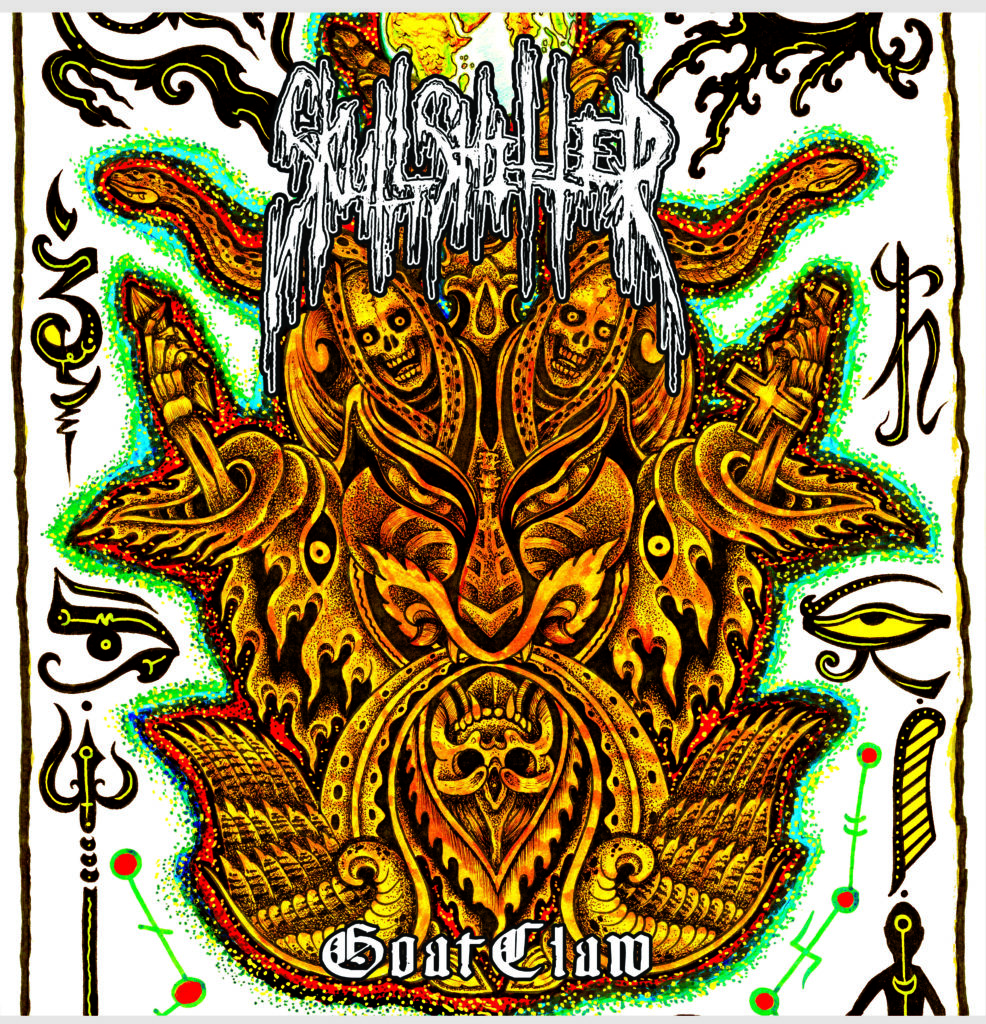 http://www.facebook.com/skullshitterband/
http://www.instagram.com/skullshitter
http://soundcloud.com/skullshitter
http://skullshitter.bandcamp.com/
http://www.facebook.com/nervealtar/
http://www.instagram.com/worsethanuseless
http://nervealtar.bandcamp.com/