"…a harmonious synergy of brutality and melody that intertwines like muscle and bone. 'Line Of Dissent' is a somewhat spastic track that finds the band seesawing between doomy tempos laced with ominous leads and groove-backed beatdowns with some thrashier nods, making this one born for the stage and the pit." — Loudwire
US death metal veterans SKINLESS share the official video for "Line Of Dissent" today via Loudwire. The tune comes by way of the band's impending new full-length Savagery. The video features live footage of SKINLESS from their recent trip to Europe.
Comments guitarist Noah Carpenter, "Slip on your battle vest! Raise your metal horns high! Grasp your beer tightly and bang your head! Join the 'Line Of Dissent!'"
Watch "Line Of Dissent" on Loudwire HERE.
Additionally, listen to the previously released SKINLESS song "Savagery" below.
SKINLESS' Savagery is due out May 11th on CD, LP, and digital formats via Relapse Records. Physical packages are available via Relapse.com HERE and all digital download/streaming services at THIS LOCATION.
SKINLESS returns with their pulverizing sixth studio offering, fittingly titled Savagery. Recorded by Tom Case at Doomsday Bunker Studio in New York and by Dave Otero (Primitive Man, Cattle Decapitation, Cephalic Carnage) at Flatline Audio in Colorado, Savagery embodies ten slabs of rotting, aural remains across thirty-seven minutes of titanic slams, untouchable grooves, mauling riffs and blood-thirsty, bestial growls. Savagery sees SKINLESS at the top of their game, more than twenty-five years into an untouchable reign of terror and comes swathed in the stunningly sick cover art of renowned tattoo artist Jesse Levitt.
SKINLESS will announce several lives dates in the coming weeks and are currently confirmed for California Deathfest and Quebec Deathfest in October. Stay tuned for more tour announcements in the near future.
The beast called SKINLESS was brought forth in 1992 by guitarist Noah Carpenter with one goal: to be the heaviest band around. SKINLESS plays brutal death metal with crushing, infectious groove, influenced by pioneers such as Obituary, Suffocation, Broken Hope, Deicide, and Cannibal Corpse. After a variety of personnel changes and the release of two demos, SKINLESS established a solid, dedicated lineup in 1997: Noah Carpenter on guitar, Sherwood Webber on vocals, bassist Joe Keyser, and Bob Beaulac on drums. This version of the band would later become known as the band's classic lineup.
In 1998, SKINLESS released their full-length debut Progression Towards Evil, which stunned the underground, showcasing the energy that the band had become known for via its intense live performances. An independent release, Progression Towards Evil received frenzied acclaim the world over and saw remarkable sales. A deal with Relapse Records ensued, and three more bludgeoning platters of death metal were served up between 2001 and 2006: Foreshadowing Our Demise, From Sacrifice To Survival, and Trample The Weak, Hurdle The Dead.
Despite a few lineup changes during that period, the band remained as brutal and busy as ever. SKINLESS toured the globe extensively in support of these offerings and gathered a growing horde of metal miscreant fans. Besides their recorded output, SKINLESS has also had the pleasure of defiling stages around the Earth with Slayer, Pantera, Slipknot, Shadows Fall, Exodus, Overkill, Morbid Angel, Suffocation, Dying Fetus, Six Feet Under, Misery Index, Deicide, Immolation, Origin, Gorguts, Hatebreed, Chimaira, Mortician, Incantation, Obituary, Cannibal Corpse, Entombed, Vader, Cattle Decapitation, Brutality, Grave, and many more.
After several years of laying low, SKINLESS returned to action with their classic formation in 2013 and added a second guitarist, Dave Matthews, into the mix. A fifth full-length album, and the band's first in eight years, detonated via Relapse in June 2015. With Only The Ruthless Remain, SKINLESS was stronger than ever with a prime slab of brutal death. Chock full of their signature, skull-crushingly heavy grooves and technical, blasting severity, Only the Ruthless Remain garnered a positive reception from publications like Decibel, MetalSucks, and Terrorizer.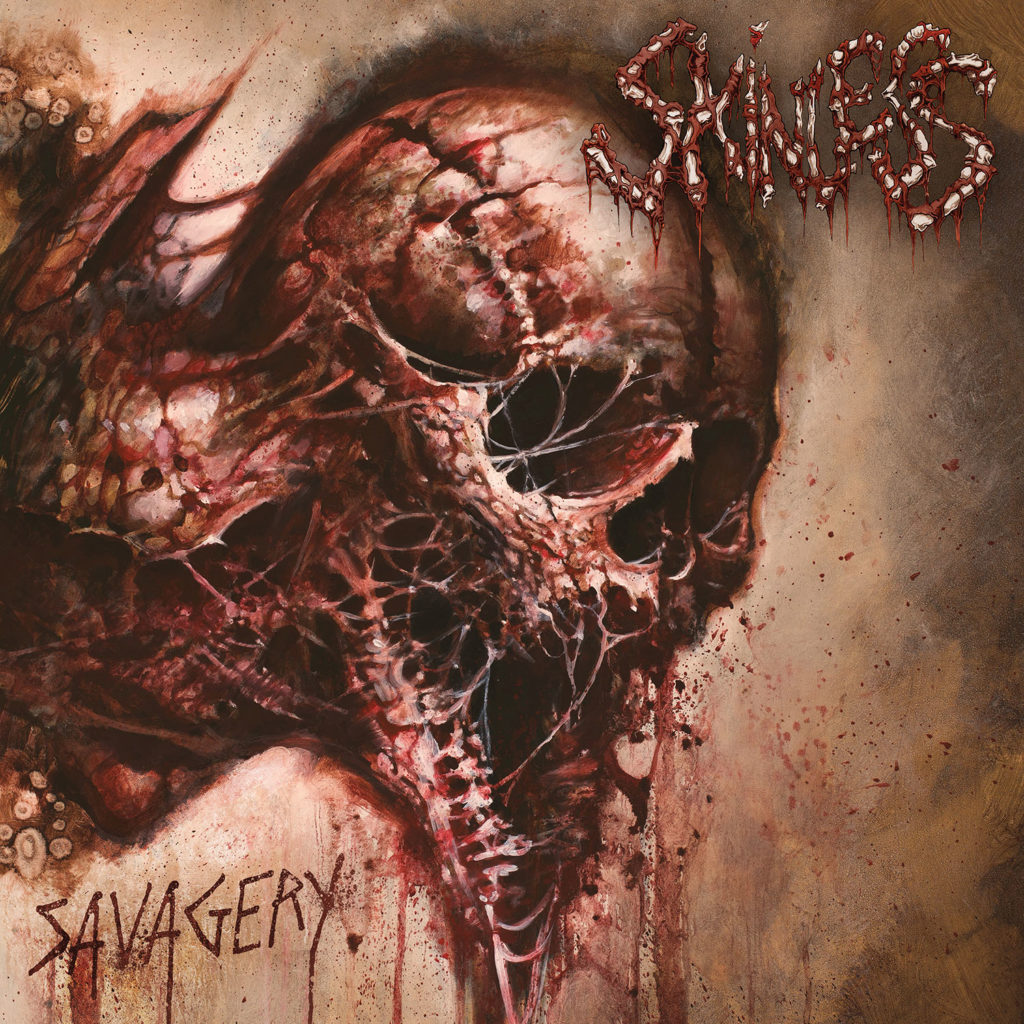 http://www.facebook.com/Skinless
http://www.instagram.com/skinlessofficial/
http://www.twitter.com/SkinlessBand
http://www.skinless.bandcamp.com
http://www.relapse.com
http://www.relapserecords.bandcamp.com
http://www.facebook.com/RelapseRecords
http://www.twitter.com/RelapseRecords
http://www.instagram.com/relapserecords