Southern California's terrorizing death metal cult, SKINFATHER, will release its debut LP this Spring via Streetcleaner Records.
Brandishing a name inspired from one of the genre's best bands in their prime, Dismember, the fairly new outfit, SKINFATHER, is unapologetically heavily inspired by the act and their fellow 1990's Stockholm counterparts, delivering an only slightly modernized version of what that scene's infinitely influential early supply of death metal provided. With a slick, antagonistic approach, SKINFATHER has decimated audiences around their locale over the past three years, having released several singles and EPs. Now in 2014, the band is taking it to the next level on both the live and release fronts, with new tour actions and the news of their debut LP now upon us.
On April 22nd, SKINFATHER will release its debut album, None Will Mourn, on 12″ LP via Todd Jones of Nails' DIY label, Streetcleaner Records, and on iTunes/Spotify. The album dispatches nine hard-edged hymns delivered with a cool, calculated, cavernous production, but not without an undercurrent of raging insanity buried under the onslaught of downtuned riff devastation. None Will Mourn was engineered by Taylor Young from Nails, and mastered by Brad Boatright at Audiosiege, and features equally bold visual aesthetics courtesy of Raul Gonzalez.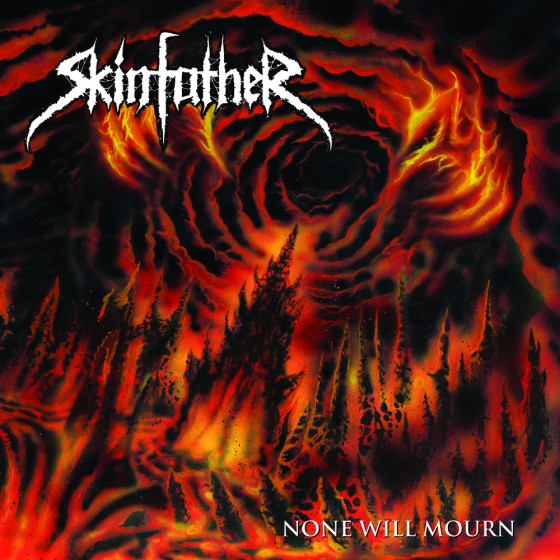 None Will Mourn Track Listing:
1. Ordeal By Fire
2. Drown In Black
3. Born Of Despair
4. Hellish Grave
5. Atraxia
6. Dead Still
7. Calloused
8. Planes Of Ruination
9. Impaled
Just after the release of None Will Mourn, SKINFATHER will join Nails on their upcoming five-city West Coast run, providing support for all shows alongside Iron Lung and Bone Sickness. Additional regional tour runs, including an East Coast spread in October and more, will be announced in the coming weeks, along with tunes from the new album and more.
SKINFATHER West Coast Tour w/ Nails, Iron Lung, Bone Sickness:
5/01/2014 The Echo – Los Angeles, CA w/ Nausea
5/02/2014 Constellation Room – Santa Ana, CA w/ Violent Reaction, The Flex
5/03/2014 Bottom of the Hill – San Francisco, CA
5/04/2014 Star Theatre – Portland, OR
5/05/2014 El Corazon – Seattle, WA w/ Gag
https://www.facebook.com/skinfatherofficial
https://skinfather.bandcamp.com
http://youtube.com/user/fatherofskin
https://twitter.com/SkinfatherCA