As Southern California death quintet, SKINFATHER, is readying for the release of their debut LP, None Will Mourn, to see release in one week via Streetcleaner Records, today the entire record is now playing via Revolver Magazine's website.
Taking direct inspiration from the 1990s Stockholm death metal scene and even slicing their moniker right off of a classic Dismember tune, on None Will Mourn, SKINFATHER delivers nine pulverizing hymns delivered with calculated precision and a cavernous production with just the slightest contemporary SoCal hardcore persuasion. The LP was engineered by Taylor Young from Nails, and mastered by Brad Boatright at Audiosiege, and features the bold cover art crafted by Raul Gonzalez, and is set for digital and LP release via Todd Jones of Nails' DIY label, Streetcleaner Records, on April 22nd.
Dig a hole, and check out None Will Mourn at Revolver… CLICK THIS.
SKINFATHER will join Iron Lung and Bone Sickness supporting Nails' West Coast tour running from May 1st through 5th, with Los Angeles, Santa Ana, San Francisco, Portland and Seattle on the list to get obliterated. Later this year, SKINFATHER and Nails will invade the East Coast, with that tour and additional live actions to be locked in the coming weeks.
Preorders for the LP version of None Will Mourn, which includes an instant digital download, are also now live, alongside other Skinfather gear HERE.
SKINFATHER West Coast Tour w/ Nails, Iron Lung, Bone Sickness:
5/01/2014 The Echo – Los Angeles, CA w/ Nausea
5/02/2014 Constellation Room – Santa Ana, CA w/ Violent Reaction, The Flex
5/03/2014 Bottom of the Hill – San Francisco, CA
5/04/2014 Star Theatre – Portland, OR
5/05/2014 El Corazon – Seattle, WA w/ Gag
"How well Southern California's Skinfather captures the spirit and unadulterated sonic brutality of that glorious moment in time, on the other hand, is no doubt about to turn more than a few heads." – Decibel Magazine
"…the band has a very Nailsian feel about them; their music has that same cooked-to-a-crisp, forced-to-run-through-a-forest-of-straight-razors-and-swim-through-a-sea-of-Drano vibe to it. It's killer stuff." – MetalSucks
"Skinfather, instead of just riding one influence to death for an entire album, are able to adroitly combine elements of doom and even crust and thrash into a pummeling assault. Meaty riffs and chunky breakdowns abound like some sort of metal stew, simmered to perfection in the flames of no frills, in your face death metal." – Metal Insider
"Straying from the formula just enough to cement themselves on their own comfortable ground, Skinfather deliver on their debut LP an album both respectful of its roots and aligned towards their own unique sensibilities. Monotonous and a tad overwhelming at times, it's an album that's miles more so a ripper and one of my favorite albums this half of 2014." – American Aftermath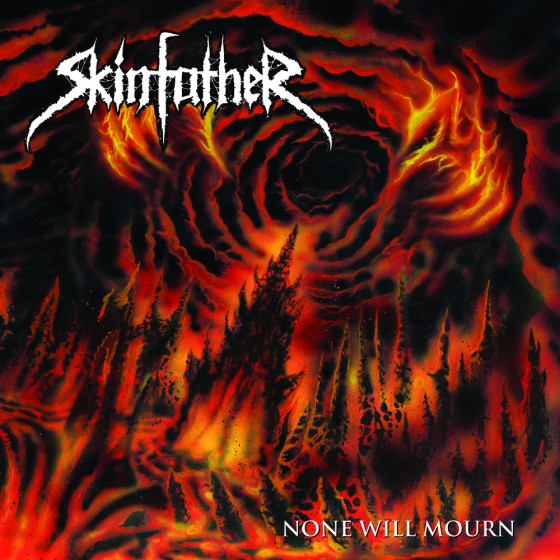 https://www.facebook.com/skinfatherofficial
https://skinfather.bandcamp.com
http://youtube.com/user/fatherofskin
https://twitter.com/SkinfatherCA