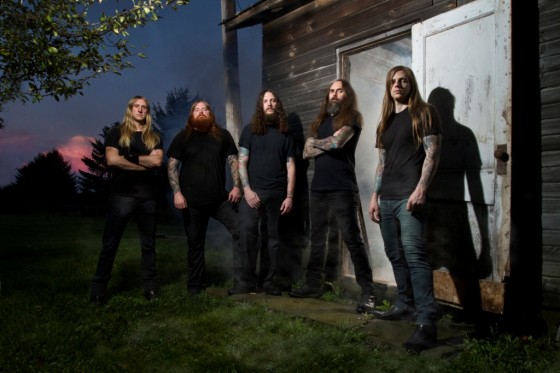 Although their busy fall itinerary — which includes tours alongside Ghost B.C. and The Black Dahlia Murder — is their immediate focus, blackened metal heathens SKELETONWITCH are already looking ahead to 2014 with a massive month-long trek alongside Amon Amarth and Enslaved which will take the Ohio quintet to many markets they will not hit during their autumn run. Tickets go on sale this Friday. Find a complete list of the group's upcoming concerts below.
Comments guitarist Scott Hedrick of the New Year run, "We forged a friendship with Amon Amarth about five years ago when we first toured together and have had the chance to hang with Enslaved at European festivals. We're fans of both bands, and all those guys rule. It takes a tour to another level when there's that much camaraderie, and we can't think of a better way to tour Serpents Unleashed this Winter. Good bands, good beards, and (hopefully) good beers. See you guys soon!"
Last month, SKELETONWITCH unveiled "Burned From Bone," the first taste of their highly anticipated new album, Serpents Unleashed. You can still text SERPENTS to 24587 to obtain a free download of the track. Recorded with Kurt Ballou (Converge, Isis, Kvelertak) earlier this year, Serpents Unleashed — which will come available in CD, LP, cassette, digital download and limited edition 7-inch collector's box formats — will be unleashed in North America on October 29th, in Australia, Germany, Austria and Switzerland on October 25th and in the UK and the rest of Europe on October 28th. Check out parts one and two in a series of Serpents Unleashed making-of webisodes HERE and HERE.
And if you're jonesing for more, another new new tune from Serpents Unleashed — hailed by Decibel as the band's "best effort to date" — will premiere on Liquid Metal with Jose on SiriusXM channel 40 today between 3:00PM – 9:00PM EST. Additionally, the world premiere of the group's newest music video will take place tomorrow! Stay tuned for details.
SKELETONWITCH
10/04/2013 Majestic Theatre – Madison, WI w/ Ghost B.C.
10/05/2013 Frank's Power Plant – Milwaukee, WI SKELETONWITCH only
10/06/2013 Smith's Downtown – Mishawaka, IN SKELETONWITCH only
10/07/2013 Newport Music Hall – Columbus, OH w/ Ghost B.C.
10/14/2013 Bijou Theatre – Knoxville, TN w/ Ghost B.C.
w/ The Black Dahlia Murder, Fallujah, Noisem
10/24/2013 Peabody's Concert Club – Cleveland, OH
10/25/2013 Chameleon Club – Lancaster, PA
10/26/2013 Knitting Factory – Brooklyn, NY
10/27/2013 The Met – Pawtucket, RI
10/28/2013 Higher Ground – Burlington, VT
10/29/2013 Le Cercle – Quebec City, QC
10/30/2013 La Tulipe – Montreal, QC
10/31/2013 Ritual – Ottawa, ON
11/01/2013 Rum Runners – London, ON
11/02/2013 Mod Club – Toronto, ON
11/04/2013 Crocks – Thunder Bay, ON
11/06/2013 West End Cultural Centre – Winnipeg, MB
11/07/2013 Louis' Pub – Saskatoon, SK
11/08/2013 Avenue Theatre – Edmonton, AB
11/09/2013 The Den – Calgary, AB
11/11/2013 The Biltmore Cabaret – Vancouver, BC
11/12/2013 The Center – Spokane, WA
11/13/2013 WOW Hall – Eugene, OR
11/14/2013 Whiskey Dick's Saloon – South Lake Tahoe, CA
11/15/2013 Strummer's – Fresno, CA
11/16/2013 Glasshouse – Pomona, CA
11/17/2013 The Rock – Tucson, AZ
11/18/2013 Tricky Falls – El Paso, TX *newly added
11/19/2013 Club Patron – Odessa, TX
w/ The Black Dahlia Murder, Fallujah, Wolvhammer
11/20/2013 Conservatory – Oklahoma City, OK
11/21/2013 Outland Ballroom – Springfield, MO
11/22/2013 Firebird – St. Louis, MO
11/23/2013 Blue Moose – Iowa City, IA
11/24/2013 The Castle Theatre – Bloomington, IL
11/25/2013 Mojoes of Joliet – Joliet, IL
11/26/2013 The Intersection – Grand Rapids, MI
11/27/2013 The Machine Shop – Flint, MI
SKELETONWITCH 2014
w/ Amon Amarth, Enslaved
1/17/2014 House of Blues – Las Vegas, NV
1/18/2014 Club Red – Phoenix, AZ
1/20/2014 Backstage Live – San Antonio, TX
1/21/2014 House of Blues – Dallas, TX
1/22/2014 House of Blues – Houston, TX
1/24/2014 Center Stage – Atlanta, GA
1/25/2014 The Ritz – Tampa, FL
1/26/2014 Revolution – Ft. Lauderdale, FL
1/29/2014 The Fillmore – Charlotte, NC
1/30/2014 NorVA – Norfolk, VA
1/31/2014 The Fillmore – Silver Springs, MD
2/01/2014 House of Blues – Boston, MA
2/03/2014 TLA – Philadelphia, PA
2/04/2014 Irving Plaza – New York, NY
2/07/2014 House of Blues – Chicago, IL
2/08/2014 Mill City Nights – Minneapolis, MN
2/09/2014 Grenada Theatre – Lawrence, KS
2/11/2014 Summit Theatre – Denver, CO
2/12/2014 Murray Theater – Salt Lake City, UT
2/14/2014 The Regency – San Francisco, CA
2/15/2014 Wiltern – Los Angeles, CA
w/ Amon Amarth
2/16/2014 House of Blues – San Diego, CA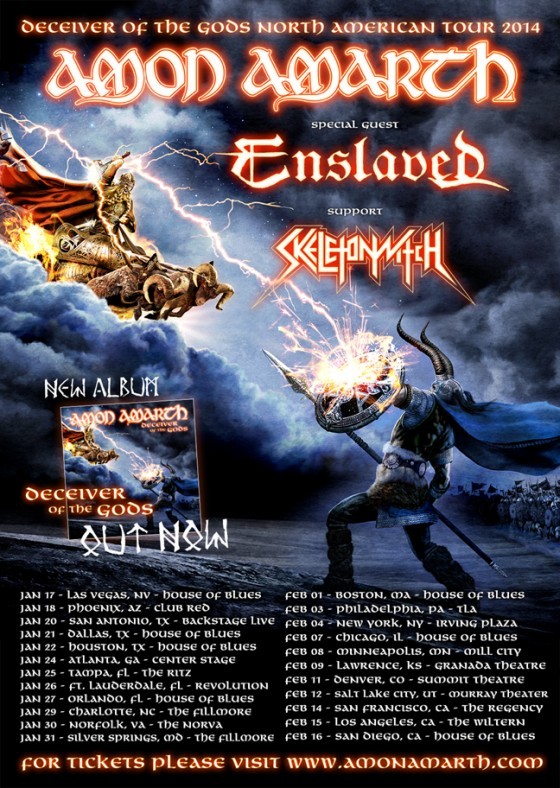 http://www.facebook.com/skeletonwitchmetal
http://www.skeletonwitch.com
http://www.prostheticrecords.com