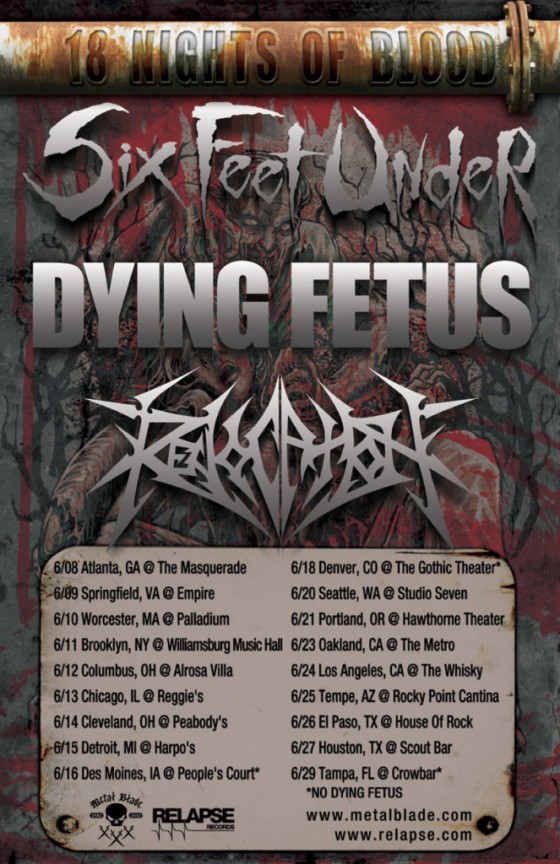 With nationwide speculation that the zombie apocalypse is officially upon us, it would only seem appropropriate for SIX FEET UNDER's 18 Nights Of Blood Tour to commence this Friday! The near three-week run of live rituals will begin in Atlanta, Georgia and cannibalize its way across the U.S. coming to a close on the band's home turf of Tampa, Florida. Blood shall be spilled, faces eaten and brains devoured! No one is safe. SIX FEET UNDER will be joined by newly recruited rhythm guitarist Ola Englund who takes the place of Rob Arnold. Support will be provided by Dying Fetus and Revocation.
The band will be touring in support of Undead, their latest installment of misanthropic brutality, which toppled Billboard charts upon its first week of release. (Undead entered the Heatseekers Chart at #, #30 on the Top Independent Album Chart, #22 on the Top Hard Music Albums Chart, #14 on the Top Current Albums Chart and #183 on the Top 200 Chart!). Critically lauded by fans and media alike, Decibel Magazine dubbed the record "the best thing SFU have recorded since Maximum Violence," while Terrorizer commended the offering noting,"…this is truly an unearthly noise and glorious in its heaving absurdity."Outburn agreed calling Undead, "an album on which this new level of musicianship adds value without tarnishing SIX FEET UNDER's legacy of brutality." Added MetalSucks thoughtfully: "What makes Undead work is a balance between the tooth grinding intensity of its blasts and the bone-strewn muck of its down-tempo bits."
Undead was unleashed to North American ears via Metal Blade on May 22 and offers an updated lineup of Barnes alongside guitarist Rob Arnold (ex- Chimaira), longtime guitarist Steve Swanson (ex-Massacre), bassist Jeff Hughell (ex-Brain Drill, ex-Vile), and drummer Kevin Talley (Dying Fetus, Misery Index, Chimaira).
SIX FEET UNDER 18 Nights Of Blood Tour 2012
w/ Dying Fetus, Revocation
6/08/2012 The Masquerade – Atlanta, GA [TICKETS]
6/09/2012 Empire – Springfield, VA [TICKETS]
6/10/2012 Palladium – Worcester, MA [TICKETS]
6/11/2012 Music Hall of Williamsburg – Brooklyn, NY [TICKETS]
6/12/2012 Alrosa Villa – Columbus, OH [TICKETS]
6/13/2012 Reggie's – Chicago, IL [TICKETS]
6/14/2012 Peabody's – Cleveland, OH [TICKETS]
6/15/2012 Harpo's – Detroit, MI [TICKETS]
6/16/2012 People's Court – Des Moines, IA [TICKETS]
6/18/2012 The Gothic Theater – Denver, CO [TICKETS]
6/20/2012 Studio Seven – Seattle, WA [TICKETS]
6/21/2012 Hawthorne Theater – Portland, OR [TICKETS]
6/23/2012 The Metro – Oakland, CA [TICKETS]
6/24/2012 The Whisky – Los Angeles, CA [TICKETS]
6/25/2012 Rocky Point Cantina – Tempe, AZ [TICKETS]
6/26/2012 House Of Rock – El Paso, TX [TICKETS]
6/27/2012 Scout Bar – Houston, TX [TICKETS]
6/29/2012 Crowbar – Tampa, FL* [TICKETS]
* – No Dying Fetus
http://www.sfu420.com
http://www.facebook.com/sixfeetunder
http://twitter.com/sixfeetofficial
http://www.youtube.com/sixfeetunder
http://www.myspace.com/sixfeetunder
http://metalblade.com/sixfeetunder