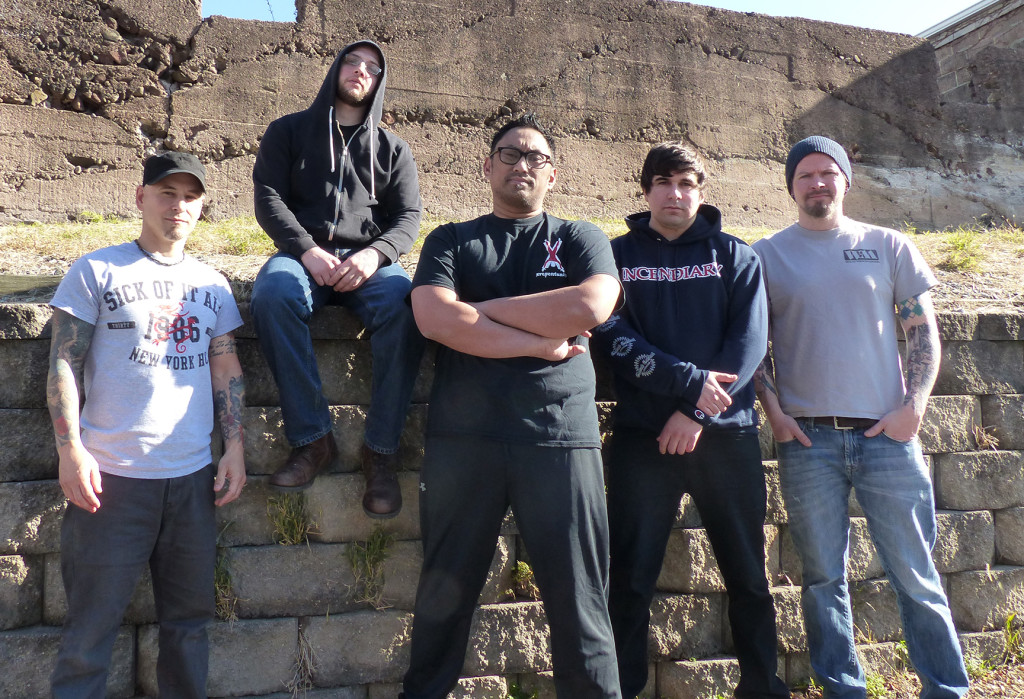 [photo by C&A Photography]
The first single from New Jersey hardcore quintet SILENCE EQUALS DEATH and their End Times debut full-length is now playing at Decibel Magazine, as the record nears release via Eulogy Recordings.
The opening track to End Times, "Peacemaker" surges with the energetic flow fans can expect for the duration of the album, as SILENCE EQUALS DEATH merges classic hardcore styles with energy and finesse. Charged-up gang chants back the empowering lead vocals, while elements of prime youth crew energy charge straight into a bruising groove-fueled breakdown.
On "Peacemaker," the band offers, "The song is about when you have exhausted your options and resort to aggressive actions."
Decibel reports, "Most people have experienced a situation in life where it feels like the only option is to lash out at the negative forces that interfere with life. It's a response that's been integral to hardcore since the beginning, almost inseparable from the genre itself. New Jersey hardcore crew SILENCE EQUALS DEATH clearly know the feeling, judging from 'Peacemaker,' the first track from their upcoming End Times. The song takes hardcore punk's high energy levels and fuses them with NYHC-esque choruses and call-and-response parts."
Stream "Peacemaker" by SILENCE EQUALS DEATH only at Decibel RIGHT HERE.
With ten new energetic and infectious tracks, End Times was recorded by SILENCE EQUALS DEATH at Scorpion Studios in late 2016, mixed by the band and Kevin Carafa, and mastered by Carafa with additional mastering by Michael White, with artwork by Carlo at Kill Carlo Boy Designs. The album will be issued on CD and digital platforms through Eulogy Recordings on April 7th, with several bonus tracks included. Stand by for preorders, audio samples, and more to be issued in the weeks leading up to its release.
Eulogy Recordings will issue End Times on CD and digital platforms on April 7th; preorders packages are live at THIS LOCATION.
Stand by for additional audio samples to be released in the weeks ahead. SILENCE EQUALS DEATH will also issue an official video for "Peacemaker" shorty. The band also just recorded a new track titled "Ghost" to be released on the Just For Us Hardcore Kids compilation coming out on Tripsquad Records in May.
SILENCE EQUALS DEATH is actively booking new shows in support of their album, with release shows booked across the NYC/NJ region over the next several weeks.
SILENCE EQUALS DEATH Live:
2/25/2017 Lucky 13 Saloon – Brooklyn, NY *Veterans Benefit w/ Leeway NYC, The Banner, Brick By Brick, more
3/11/2017 Harpers Pub – Clementon, NJ w/ Belligerent, Last Breath Of Man, Sharptooth, Beneath The Break, Bereave
4/07/2017 The Stanhope House – Stanhope, NJ w/ Agnostic Front [info]
4/09/2017 Lucky 13 Saloon – Brooklyn, NY *release show w/ Apparition, Full Scale Riot, more
5/05/2017 Clash Bar – Clifton, NJ *release show w/ Threat 2 Society, Robots And Monsters, Ogre, Crime Scene
5/06/2017 5 Event South Tower – Callaway, MD w/ Inverted Planets, Only 4 Tonight
6/04/2017 Championship Bar – Trenton, NJ @ Micro Fest
With several multi-talented musicians hailing from diverse in their musical backgrounds and interests, SILENCE EQUALS DEATH keeps their writing process fresh and innovative. Lyrically the group finds it important to address social issues as well as using the platform to connect with listeners on a more personal level. On their anticipated full-length debut, End Times, vocalist Scott Earth confronts deep personal issues such the loss of a loved one on the song "Devotion," and puts out a rallying cry of revolt on the songs "End Times" and "Peacemaker." "Common Ground" celebrates the unity between the band and its fans, while "Hope" screams of perseverance in the face of adversity.
https://www.facebook.com/silenceequalsdeath
http://www.silenceequalsdeath.net
https://yoursilenceisdeath.bandcamp.com
http://www.eulogyrecordings.com
http://www.twitter.com/eulogyrecords
http://www.youtube.com/user/eulogyrecordings