photos by Charles J. Tice
"Protocol Assimilator" is the latest preview of Goodpaster, the new album from Anchorage, Alaska-based hardcore/crust outfit SHE. The song is now playing exclusively at No Echo, preceding the album's release in June.
Uniting vocalist/lyricist Andrew Sims, guitarist Mercy Cofield Jr., bassist Justin Costiniano, and drummer Justin Rodda, SHE formed on Halloween of 2008. With a DIY ethos and a deep love for all things art, the band has been self-releasing material since its inception. Drawing influence from contemporary aggressive acts alongside jazz, hip-hop, punk, and pop, SHE has melded a uniquely angular and emotive sound that pulls their listener in many directions. Borrowing from bands such as, but not limited to, Converge, Pig Destroyer, Meshuggah, Cursed, Blacklisted, Cruel Hand, and Trapped Under Ice, the band's output could easily be enjoyed by fans of any of these acts, as proven on their first studio full-length, Goodpaster.
SHE's Goodpaster delivers thirteen new tracks in under twenty-seven minutes, unloading a salvo of explosive metallic hardcore while seamlessly executing continuous infectious hooks, making for an instantly memorable listen. The album was recorded, engineered, and mixed by Taylor Young at The Pit Recording Studio (Nails, Kruelty, God's Hate), mastered By Brad Boatright at Audiosiege (Obituary, Year Of The Knife, R.A.M.B.O.), and completed with artwork and layout by Justin Costiniano. While wrapping up the recording process, Young was asked what genre he thought SHE embodied, to which he replied, "It's not, not hardcore. It's not, not metal. It's not, not grind."
Sims reveals with the new single, "'Protocol Assimilator' might be the most well-rounded song on the record, as it traverses a lot of musical ground that the record showcases as a whole in one track.
"I wrote the lyrics for the song in early February of 2020 while on an Amazon River slowboat en route from Manaus to Santarēm. I met an awesome artist and individual named Otoni Mesquita at a museum in the city at the heart of the Amazonas. His work was being showcased, and it spoke to me. Despite not speaking a lick of the same language, somehow, we realized that he'd drawn a lot of inspiration from an obscure Portuguese author named Fernando Pessoa whose novel, The Book Of Disquiet, I'd lugged around South America in hardcover form. For some reason I was compelled to bring that precise book. It felt serendipitous that this man's artwork was so heavily inspired by the same poet/author I was reading and writing about. Pessoa talked about consciousness being a ship that traverses space and time. Otoni's work captured this. Mine was attempting to. I recognized it and asked if he was familiar with Pessoa. It was almost as though a thread ran between us all, and it seemed particularly beautiful to me. 'Protocol Assimilator' is an attempt to describe that notion."
No Echo writes with the song's premiere, "…the Anchorage, Alaska-based quartet rides a wave that teeters on the edges of hardcore, grind, and blackened crust. So, whatever you decide to label SHE, the band's musical output is gnarly."
Listen to SHE's "Protocol Assimilator" first now at No Echo RIGHT HERE.
SHE will self-release Goodpaster on Ox Blood And Bone LP and all digital platforms on June 16th. Find preorders at Bandcamp where "Arguments In Space" is streaming HERE and watch for additional previews of the record to post over the weeks ahead.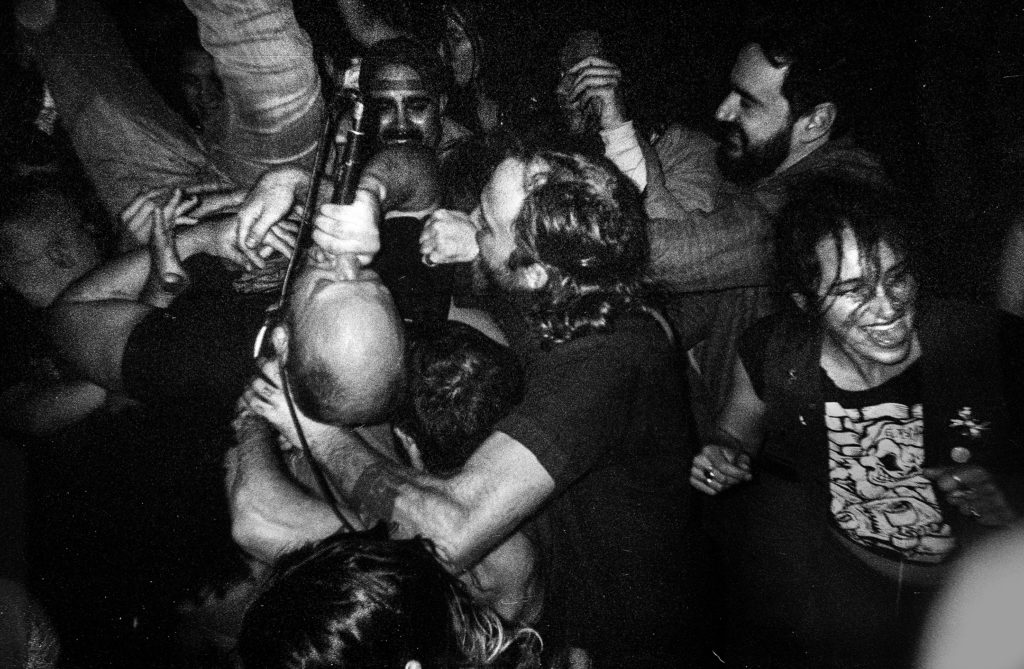 https://sheak.bandcamp.com
https://www.instagram.com/she__ak
https://www.facebook.com/shetheband666