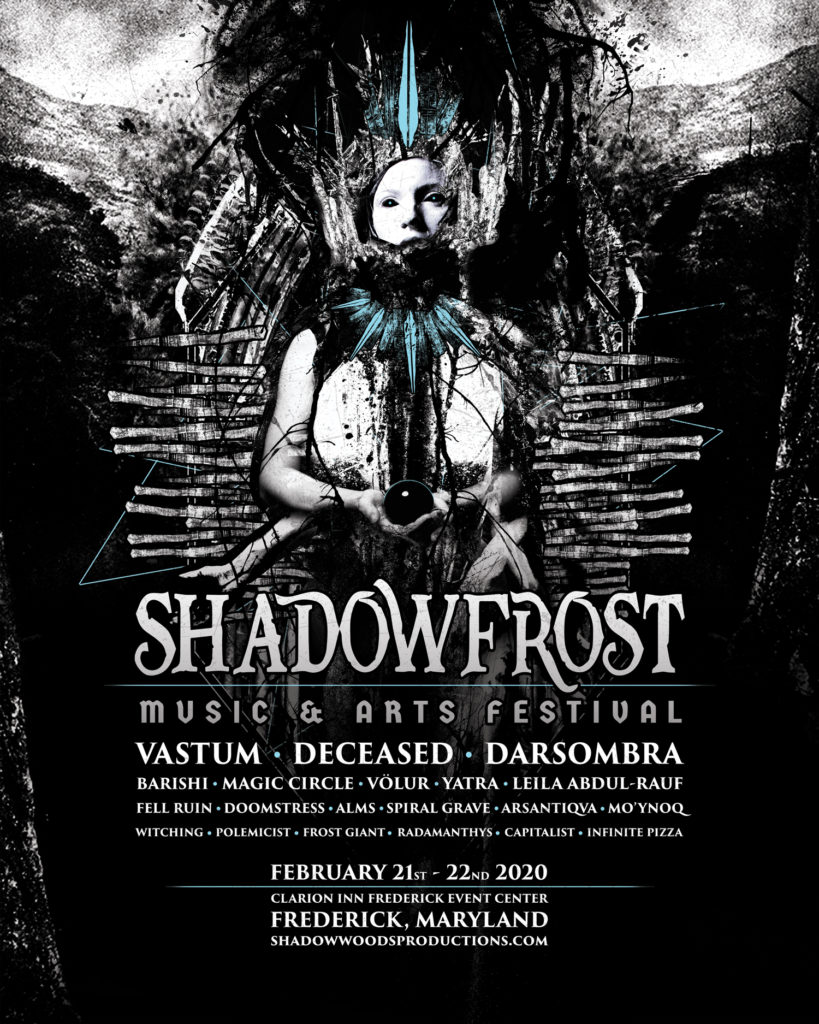 SHADOW FROST MUSIC & ARTS FESTIVAL, Frederick, Maryland's exclusive indoor winter gathering, is less than two weeks away!
Produced by Shadow Woods Productions, LLC, the hotel-based gala is set to take place February 21st and 22d and will feature Oakland's crushing Vastum as well as a special set from their guitarist/ambient industrialist Leila Abdul-Rauf. The lineup rounds out with East Coast cult thrashers Deceased, Vermont's thunderous Barishi, Boston traditional metallers Magic Circle, and Houston stoner/doom metal unit Doomstress. Also performing are heavy psych throwbacks Alms, the otherworldly Darsombra (both from Baltimore), Detroit black metalists Fell Ruin, and up-and-coming doom conjurors from Maryland's Eastern Shore, Yatra.
An event heavily focused on Maryland-based artists, in addition to the aforementioned performances from Alms, Darsombra, and Yatra, SHADOW FROST will include sets from doom metal/heavy rock unit Spiral Grave, pizza-themed punk/grinders Infinite Pizza, and melodic death metallers Radamanthys, all of which call Maryland home. See full lineup below.
SHADOW FROST MUSIC & ARTS FESTIVAL Running Order/Set Times (subject to change):
Friday – February 21st:
Vendors Open – 4:00pm – 10:00pm
Box Office Open – 5:00pm -10:00pm
Infinite Pizza – 6:00pm – 6:30pm
Capitalist – 6:50pm – 7:20pm
Fell Ruin – 7:40pm – 8:10pm
Alms – 8:30pm – 9:10pm
Doomstress – 9:30pm -10:10pm
Leila Abdul Rauf – 10:30pm -11:10pm
Barishi – 11:30pm – 12:15am
Saturday – February 22nd:
Drop in Yoga – 10:00pm – 11:30am
Vendors Open – 12:00pm -10:00pm
Box Office Open – 12:00pm -10:00pm
Radamanthys – 12:30pm – 1:00pm
Mo'ynoq – 1:20pm – 1:50pm
Frost Giant – 2:10pm – 2:40pm
Witching – 3:00pm – 3:30pm
Spiral Grave – 3:50pm – 4:20pm
Polemicist – 4:40pm – 5:10pm
Yatra – 5:30pm – 6:10pm
Völur – 6:30pm – 7:10pm
Arsantiqva – 7:30pm – 8:10pm
Magic Circle – 8:30pm – 9:10pm
Darsombra – 9:30pm – 10:15pm
Deceased – 10:35pm – 11:15pm
Vastum – 11:35pm – 12:15am
In addition to these exciting musical offerings, SHADOW FROST boasts an eclectic vendor gallery. Featured vendors include: Pizza Party Printing, West Ov Hell Occult Artes And Artifacts, Tattoo Alchemy, Crucial Blast Records, Kaity Gmitter Ceramics, The Wardrobe Rebel, Mary Seay Creations, Sharp Arts Studio, Necronomicharm, Legerdemain, Wailing Wizard, Frederick Candle Company, Mortar & Pestle Hex Shop, Weird Cvlt, Zac Lahon, Nebula Aeterna Productions, Cookie + Protein, and of course, Shadow Woods Productions LLC Festival Merch. The vendor gallery is FREE, open to the public and not located within the performance space.
While previous Shadow Woods fests have been outdoors, the hotel setting provides attendees with unique opportunities to mingle. Hotel amenities include an indoor pool and game room, a tavern serving traditional pub fare, and free breakfast each morning. Festivities will occur in the ballroom and pre-function area of the event center, which is attached via an indoor corridor to the hotel. No need to step outside in the cold! SHADOW FROST will also host workshops, Saturday morning yoga, table games, and other fun activities creating the feel of an event such as a horror or comic convention.
SHADOW FROST is an all ages event, however, children's tickets (ages 5-17) will be available at the door with a paid parent or guardian on-premises. Children under 5 get in for free at the door with a paid parent or guardian.
Tickets for SHADOW FROST are available at: ShadowFrost2020.eventbrite.com.
** Please note tickets do NOT include hotel reservations. **
For hotel reservations, visit: http://ow.ly/VWzY50xCrMw.
http://shadowwoodsproductions.com
http://shadowwoodsproductions.bigcartel.com
http://www.facebook.com/events/319480581997089
http://www.instagram.com/shadow.woods.metal.fest/
http://twitter.com/ShadowWoodsMF