A389 Recordings this week confirms the signing of Tucson, Arizona-based quartet SEX PRISONER to the label's ever-expanding roster of riff revulsion. The band's style of crushing powerviolence is backed with an ultra-aggro metallic beatdown edge, with elements of contemptuous leaders of the pack like Integrity and Ringworm breaking through their wall of blasting anthems surging along the likes of Despise You, Infest, Hatred Surge and Weekend Nachos.
Formed in 2009 by bassist/vocalist Kyle Kennedy, drummer Gilbert Flores and vocalist Kevin Kennedy, SEX PRISONER immediately inundated the Southwest region with their enraged anthems. In 2010, SEX PRISONER unloaded their debut self-titled 7″ via To Live a Lie, the scathing attack dropping a dozen brutal tracks in as many minutes. Following the EP's release the band inducted guitarist Matt Underwood, adding even more metal and hardcore influences to their attack. Subsequent to the addition, SEX PRISONER dropped a three-way split 10″ with cohorts ACxDC and Magnum Force early this year once again on To Live a Lie, followed immediately by their second 7″, State Property, released by John Caution's (Weekend Nachos) new label, Bad Teeth Recordings.
A389 has brought the lethal unit on board for the release of their debut LP which will be recorded in the coming months for an early 2014 release. More details will be divulged later in the year. In the meantime, SEX PRISIONER will take part in the second annual Southwest Terror Fest in their hometown this October, the DIY extreme music gathering organized by local henchmen Godhunter set to include sets from Kylesa, Sacred Reich, Ancestors, Landmine Marathon, Vehemence, Transient, Red Fang, Dog Shredder, Early Graves, Children Of God, Theories, ACxDC and more totaling over sixty acts over the four-day stretch. This week A389 also confirms the addition of SEX PRISONER to the label's ten year anniversary Bash in Baltimore this January alongside Infest, Haymaker, All Out War, Weekend Nachos, Full Of Hell, the reunion of Integrity's Systems Overload lineup and tons more.
SEX PRISONER Live:
10/13/2013 The Rock – Tucson, AZ @ Southwest Terror Fest [info]
11/17-19/2014 Baltimore Soundstage – Baltimore, MD @ A389 X Bash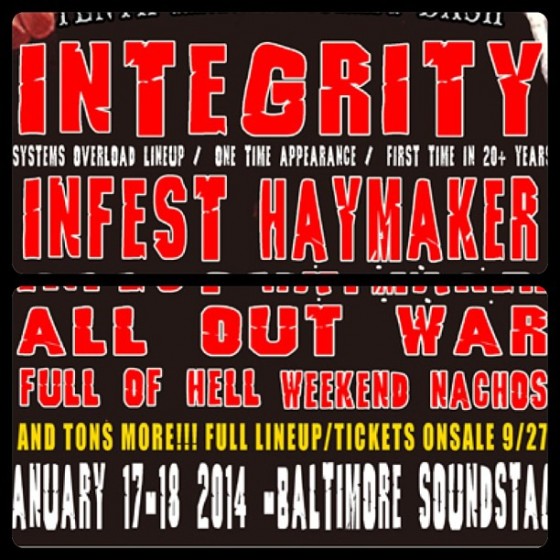 https://www.facebook.com/pages/Sex-Prisoner/257939157582084
http://www.a389records.com
https://www.facebook.com/a389recordings
https://twitter.com/a389recordings