Track selections from Brute Force Lobotomy, the latest full-length from Belgian death metal horde SERIAL BUTCHER will be included in the soundtrack for Troma Entertainment's upcoming Return To Return To Nuke 'Em High Volume 2 by Lloyd Kaufman, prexy of Troma and creator of The Toxic Avenger.
SERIAL BUTCHER, a band that forged in 1995, continues to create powerful testaments to homicidal rage and unrepentant hostility. In a collective description of the inspiration behind Brute Force Lobotomy, the band notes: "Sometimes you just want to stab Uncle Lloydie in the eye with a blunt, rusty knife. Until he's dead. And then you stab some more… just to be sure…" It's a fitting theme for Return To Return To Nuke 'Em High Volume 2 which, keeping in the Troma tradition, is sure to relentlessly assault the audience with scenes of graphic, yet Magritteian scenes of horror, eroticism and hilarity.

Troma Entertainment is a legendary, forty-two-year-old independent movie studio responsible for world-renowned, cult classic films such as The Toxic Avenger, Class Of Nuke 'Em High, Poultrygeist: Night Of The Chicken Dead, and Return To Nuke 'Em High Volume 1, as well as many other iconic films that have cultivated their reputation as longstanding leaders of independent cinema.
Troma and Belgium have a longtime relationship. Troma released the very first Belgian horror film, Rabid Grannies, in 1987. Additionally, Lloyd Kaufman was awarded The Lifetime Achievement Award and was made Knight Of The Order Of The Raven, at the Belgian International Fantasy Film Festival.
The entire score and soundtrack for Return To Return To Nuke 'Em High Volume 2 is injected throughout with skull crushing thrash and death metal. The movie is the long awaited sequel to Return To Nuke 'Em High Volume 1, and it is currently in the post-production stage, scheduled to be released in the Summer of 2016.
SERIAL BUTCHER's Brute Force Lobotomy is out now on Unique Leader Records. Order your copy today at THIS LOCATION.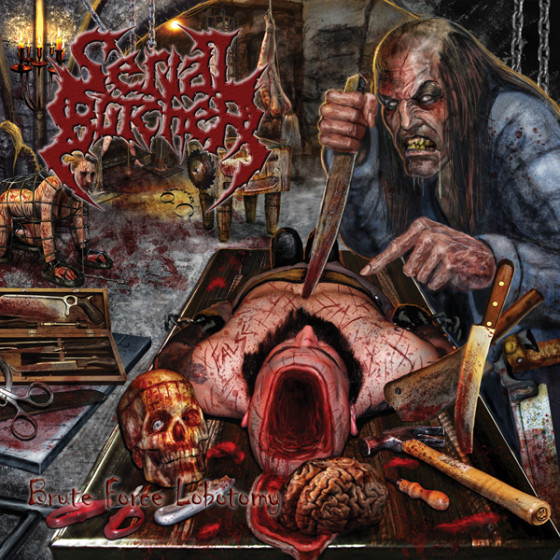 http://www.facebook.com/troma.entertainment
http://www.facebook.com/SerialButcher
http://www.uniqueleader.com
http://www.facebook.com/UniqueLeaderRecords
http://www.troma.com