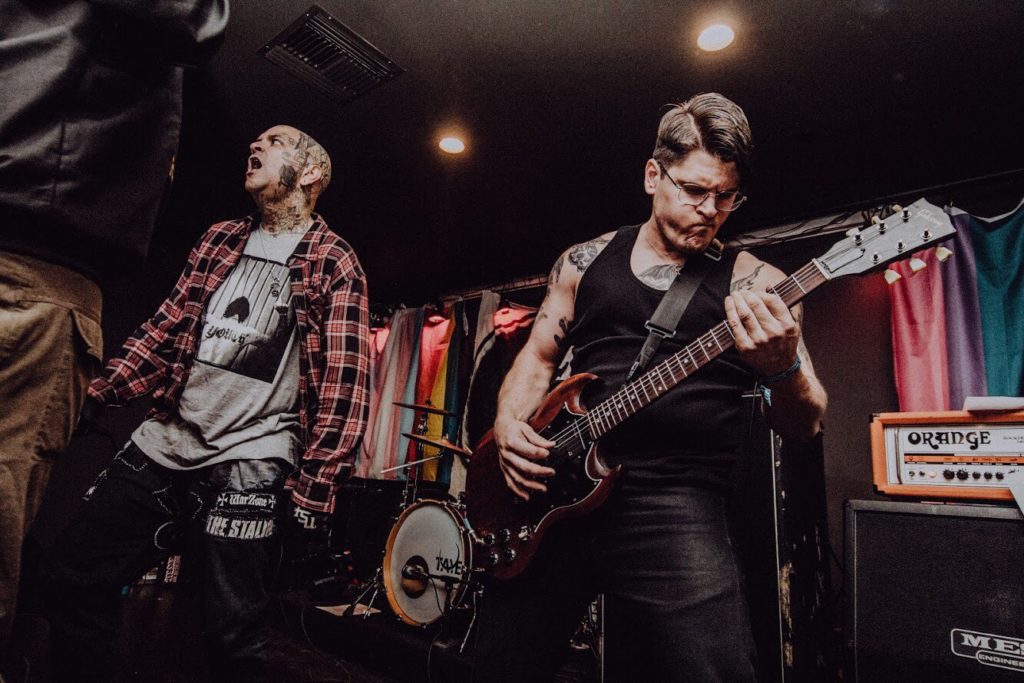 [photo by Joe Calixto]
Phase One, the pummeling debut EP from Los Angeles hardcore punk instigators SECTION H8, is officially out now through Flatspot Records. Comprised of members who also play in Downpresser, Minus, Product Of Waste, Human Garbage, Nomads, Furious Styles, and more, Phase One is a point-blank blast of unrelenting hardcore rage, unloading five tracks in barely eight minutes.
Recorded on Devils Night 2018 at The Pit by Taylor Young (Nails, Xibalba, Twitching Tongues), Phase One was mastered by Will Killingsworth at Dead Air Studios (Full Of Hell, Iron Lung, Violent Reaction), and features guest synth and samples by Ryan George.
Following its initial independent release late last year, Flatspot Records now presents Phase One through official digital distribution on all platforms as well as 7″ with two variants, 300 on grey vinyl and 100 on red/black splatter.
Stream SECTION H8's Phase One at THIS LOCATION.
Merch bundles and other ordering options can be found at the label's webshop HERE and the EP is streaming and available on all digital platforms.
Following a recent West Coast tour, and a hometown record release show this week, SECTION H8 will announce new live actions in the weeks ahead.
Formed in early 2018, SECTION H8 quickly tore a hole in the hardcore/punk community, including being dubbed the "Best New Hardcore Band Of 2018" by No Echo. Inspired by brutal American hardcore acts like Cold As Life and early Madball, metal and grind acts including Carnivore and Driller Killer, and Japanese hardcore punk acts like Judgement and Death Side. Coalescing these influences into an energetic and merciless style of groove-carved hardcore punk, the band's fury is fueled by their pessimistic outlook on society and the future of humanity. Their lyrical content depicts an impending apocalypse and humankind's dedication to conflict, its unstoppable urge to destroy itself any way that it can — be it war or substance abuse or mankind's inherit selfishness. It's a soundtrack to the end times, in which we are now living.
https://sectionh8gang.bandcamp.com
http://www.flatspotrecords.com
https://www.allinmerch.com/flatspot-records
http://www.facebook.com/flatspotrecords
https://flatspotrecords.bandcamp.com