With the final descent of Pathway, the latest studio offering from Oakland's favorite atmospheric doom alchemists, SECRETS OF THE SKY, now less than one week away, today the sound sergeants at Invisible Oranges deliver the awe-inspiring production in its lingering entirety.
Engineered, mixed, mastered and co-produced by Juan Urteaga (Machine Head, Testament, Sadus etc.) of Trident Studios with SECRETS OF THE SKY, Pathway is the gargantuan, thirteen-track follow-up to 2013's lauded To Sail Black Waters full-length. Shadowy, fluid, dark and dreamlike, Pathway is a true sonic expedition that yields varying moods and textures with each passing listen. Metal Injection crowned first single, "Three Swords" alone a "progressive metal masterpiece," while Metal Insider gushes, "Epic is a word that gets tossed around way, way too much when discussing music these days. Even after its overuse has been acknowledged, at least in metal circles, it is still heard in places it shouldn't be…this is not one of those places. SECRETS OF THE SKY have truly crafted a sound and an album fitting of the 'e'-word moniker. It's a colossal effort with some stupendous songwriting and production work." Dead Rhetoric shares the sentiment calling Pathway, "an emotionally draining journey… the type of album that you can just close your eyes and visualize your own tale, even as some parts seem to prop up only after repeated listens," further advocating Pathway for having, "all of the inner workings of a great and resonating album."
As a precursor its release, today Invisible Oranges is pleased to offer up Pathway, likening it to, "the doom equivalent of Alcest's Écailles_de_Lune or Solstafir on last year's Ótta, records with beauty, staying power and just enough grit to carry the day."
And sample the stark and gorgeous Andrew Nethery (Melvins, Kyuss Lives, Dead Meadow)-directed visual accompaniment to fourth track "Angel In Vines" at metalblade.com/secretsofthesky where you can also sample second movement, "Three Swords."
SECRETS OF THE SKY is currently ravaging ears with their epic psalms supporting UK extreme metal duo/labelmates, Anaal Nathrakh. The tour commenced on May 11th in Sacramento, California and will draw to a close on May 22nd in Trenton, New Jersey, clawing its way through twelve cities with additional support from special guests, Incite. From there, SECRETS OF THE SKY will conquer eighteen more locales through eleven states alongside Tucson sludge ensemble, North, on select dates. The band is also confirmed to appear at the inaugural Death To False Metal gala in Hamden, Connecticut in August alongside Whiplash, Krieg, Valkyrie, Imperial Triumphant, Nightbitch, Godhunter, Immortal Bird, Secret Cutter and many more, with future onstage endeavors in their strategizing stages.
SECRETS OF THE SKY w/ Anaal Nathrakh, Incite:
5/14/2015 Club X – Salt Lake City, UT
5/15/2015 Black Sheep – Colorado Springs, CO
5/16/2015 Riot Room – Kansas City, MO
5/17/2015 Live Wire Lounge – Chicago, IL
5/18/2015 Empire Concert Club – Akron, OH
5/19/2015 TBA – Rochester, NY *SECRETS OF THE SKY only
5/20/2015 Sammy's Patio – Revere Beach, MA *SECRETS OF THE SKY only
5/21/2015 St. Vitus – Brooklyn, NY
5/22/2015 Championship's – Trenton, NJ
End Tour
5/23/2015 Goodfellas – McMechen, WV w/ Brimstone Coven
5/24/2015 The Rabbit Hole – Charlotte, NC
5/25/2015 The Odditorium – Asheville, NC
5/26/2015 TBA – Atlanta, GA
5/27/2015 Vino's – Little Rock, AR
5/29/2015 The Cave – Santa Fe, NM
5/30/2015 Tempe Tavern – Phoenix, AZ
6/06/2015 Golden Bull – Oakland, CA
w/ North:
6/12/2015 The Complex – Glendale, CA
6/13/2015 Caravan – San Jose, CA w/ Cold Blue Mountain
6/14/2015 1078 Gallery – Chico, CA w/ Cold Blue Mountain
6/15/2015 The Wandering Goat – Eugene, OR w/ Cold Blue Mountain
6/16/2015 Rotture – Portland, OR w/ Cold Blue Mountain
6/17/2015 Black Lodge – Bremerton, WA
6/18/2015 The Pin – Spokane, WA
6/19/2015 The Railyard – Billings, MT
6/20/2015 Foot Foot Fest – Fort Collins, CO w/ Reproacher
6/21/2015 7th Circle Collective – Denver, CO
8/14/2015 Death To False Metal @ The Outer Space & Ballroom – Hamden, CT w/ Whiplash, Valkyrie, Imperial Triumphant, Nightbitch, Immortal Bird more…
SECRETS OF THE SKY's Pathway will be officially released on May 19th, 2015 via Metal Blade Records. For preorder bundles, scroll on over to: metalblade.com/secretsofthesky.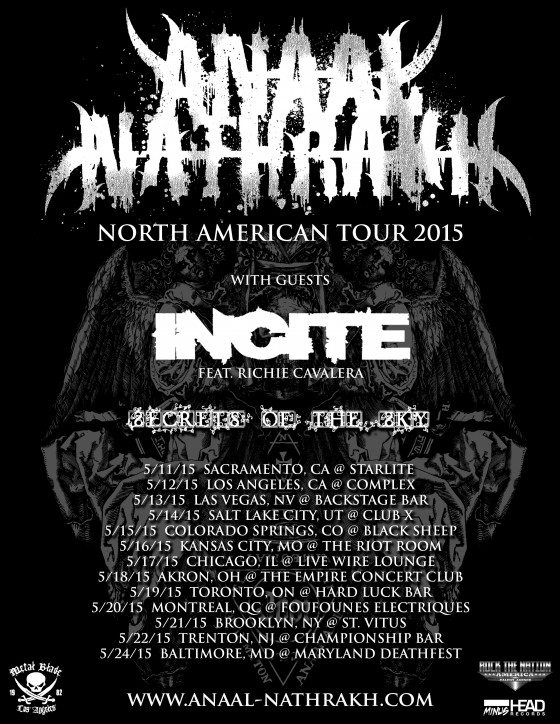 http://www.facebook.com/secretsofthesky
http://www.twitter.com/secretsofthesky
http://www.metalblade.com/secretsofthesky