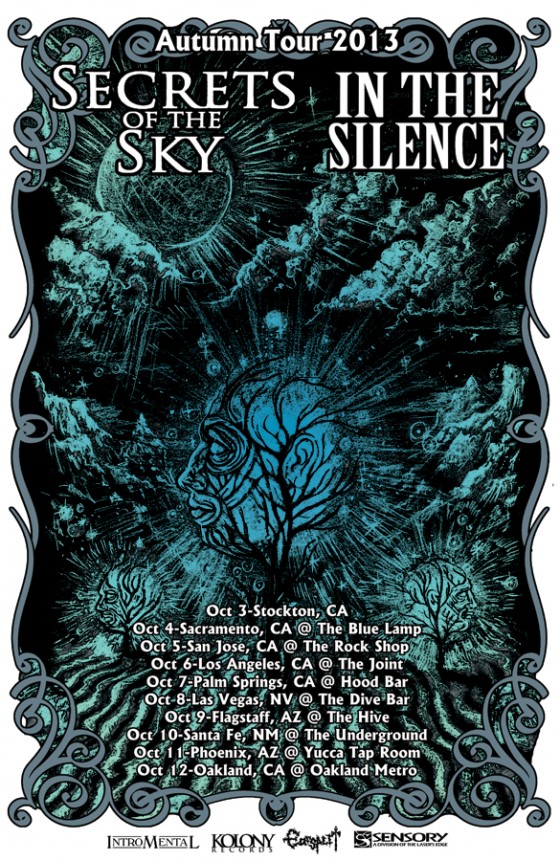 Sacramento-based IN THE SILENCE and Oakland's SECRETS OF THE SKY have collaboratively booked and confirmed an upcoming tour for this October, the trek promising to bring some of the best underground progressive and doom metal to stages throughout the entire US West Coast. View the current confirmed itinerary below and stay tuned for the final details to be announced in the next few days.
New Jersey based progressive label Sensory Records released the debut full-length from IN THE SILENCE, A Fair Dream Gone Mad, in May of this year, following the band's own self-released version which they sold out of twice before joining Sensory. With incredibly moving riffs and otherworldly atmospheres, boasting a huge mid-tone clean vocal performance atop a thunderous display of technical metal percussion, A Fair Dream Gone Mad's forty-five minute lifespan possesses massive, pristine production, further magnifying the IN THE SILENCE's skilled approach. Since the release of the album the band expanded their lineup to a quintet and will now bring this more amplified and expansive lineup to the live setting.
Italian metal label Kolony Records will release SECRETS OF THE SKY's anticipated debut album, To Sail Black Waters, throughout Europe on October 4th and 5th and in North America on October 8th. Projecting a unique brand of cinematic, cerebral, atmospheric metal with a persuasion towards doom and black metal, on To Sail Black Waters, three of SECRETS OF THE SKY's six-member lineup each make contributions with multiple instruments, layering synth/keys, violins and an array of vocal styles atop the crushing rhythm section and massive triple guitar attack. The resulting forty-one minute opus is the outcome of a massive spread-out eight month period of recording sessions at Trident Studios with engineer/producer Juan Urteaga (Testament, Machine Head, Cattle Decapitation).
Listen to all of IN THE SILENCE's A Fair Dream Gone Mad now AT THIS LOCATION.
Check out a lyric video for SECRET OF THE SKY's massive track "Sunrise" RIGHT HERE, and listen to the track "Decline" via Decibel Magazine HERE.
SECRETS OF THE SKY & IN THE SILENCE Autumn Tour 2013:
10/03/2013 TBA – Stockton, CA
10/04/2013 The Blue Lamp – Sacramento, CA
10/05/2013 The Rock Shop – San Jose, CA
10/06/2013 The Joint – Los Angeles, CA
10/07/2013 Hood Bar – Palm Springs, CA
10/08/2013 The Dive Bar – Las Vegas, NV
10/09/2013 The Hive – Flagstaff, AZ
10/10/2013 The Underground – Santa Fe, NM
10/11/2013 Yucca Tap Room – Phoenix, AZ
10/12/2013 The Oakland Metro – Oakland, CA
http://www.facebook.com/secretsofthesky
http://www.inthesilence.net
http://www.kolonyrecords.com
http://www.lasersedgegroup.com